Contech, fintech firm aims for stock market listing in 2023
Rome was not built in a day. Neither was the success of Builk, the Thai startup.
Now in its eleventh year, Builk is older than most other Thai startups, and the co-founder and Chief Executive of Builk One Group, Patai Padungtin, says the firm still has a long path ahead. But it is set to build an empire in further firm steps. 
Patai says the past eleven years can be likened to groundbreaking in the construction process. Builk has spent those years preparing its site before the start of construction. Poised to leap forward, it is now focused on construction technology (contech) and financial technology (fintech) for business growth.
Looking back, Patai says Builk began transforming itself from a small- and medium-sized enterprise (SME) into a startup in 2009. He recalls that he embraced the transformation upon seeing opportunities on the internet. He felt that staying on as an SME – although profitable – would not promise any significant growth.
Thailand had hardly heard of the word "startup" in 2009, but in that year, Builk set off down the startup path and established Builk Asia in preparation for its planned entry into the Asian market. In 2010, it launched a free construction software program without any clear idea of how to generate revenue (at that time, builk.com's business model had yet to materialize). In its first days, Builk had just a few employees. Now, it has a staff of 110 people.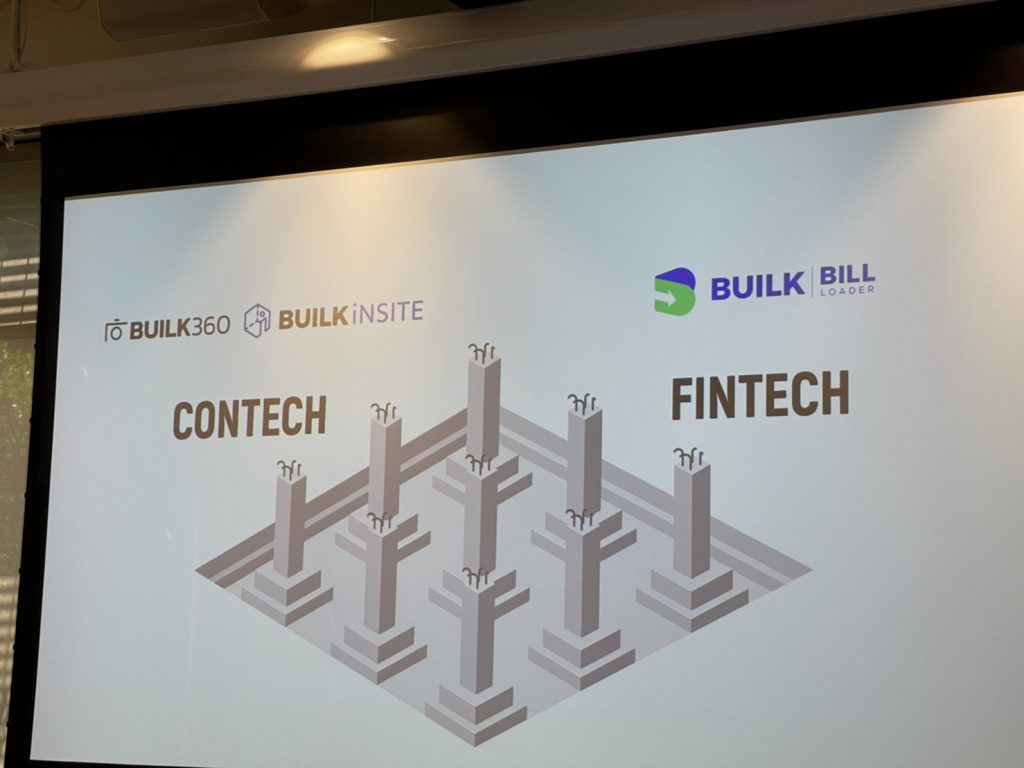 The company is well used to going through ups and downs. Its latest crisis came in the form of the COVID-19 pandemic, from which it learnt two big lessons.
First, its business cannot go ahead simply by spending the money it has raised from investors, the way many startups do. The landscape changed after investors discovered that the estimated value of several startups and their businesses was inflated, amid lingering dreams that they would become unicorns. Today, the world is more realistic about what will sustain a startup. Growth is important to a business, but so is sustainability. Patai emphasizes that a business should be scalable, repeatable, and profitable. These principles represent the goal of Builk's development.
"We have yearned for scalability and repeatability over the past eleven years. Over that period, we have raised funds and – like most startups – have sustained some losses," Patai says.
Further, he says the first lesson from the COVID-19 crisis was about cost control. Builk has become acutely aware of unknown factors 'out there'. The construction industry has been adversely affected by COVID-19. Some of Builk's customers – which are property firms – have taken big blows, and as a result, Builk has realized that it must not pin its hopes on favorable external factors. As COVID-19 begins to fade, Builk has learnt to boost its immunity by developing its internal management standards and a detailed cost-control system. By adapting, the firm has survived the COVID-19 crisis without any layoffs.
The second lesson highlights the principle that a diversified portfolio means greater flexibility. Builk One Group has many small businesses under its wings. When any of them falter, Builk One Group determines how to adjust its business model to suit both the situation and its customers. Because it responded actively to the changing context of its customers, it recorded business growth and a profit last year.
Builk One Group has kept rolling out new products, with the aim of exploring new business opportunities and to offer career-advancement to its talented staff. At present, the firm has six major products or businesses. Pojjaman 2 is the first highlight product. Designed as a management program for big construction firms, it facilitates business management and cost controls. Customers of Pojjaman 2 include Japanese construction firms as well as leading Thai constructors.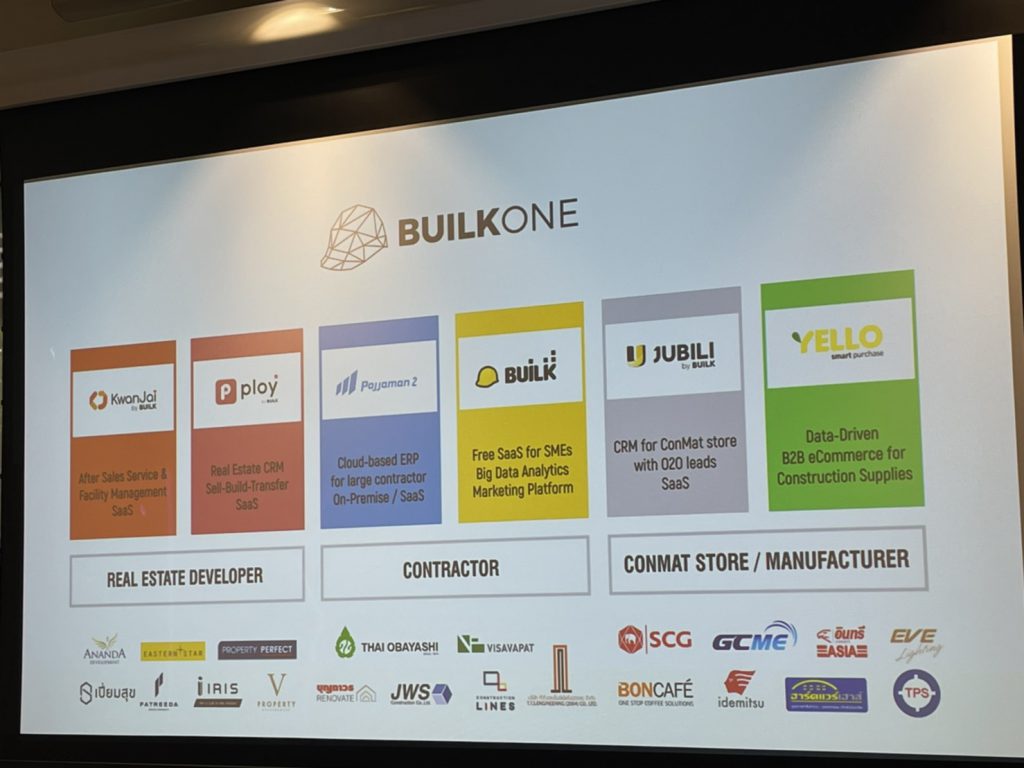 Another highlight product, builk.com, is designed for SMEs in the construction business. This website allows the use of enterprise resource planning (ERP) services free of charge, enabling users to enjoy business management and cost control systems without having to pay for anything. These services have been free for the past eleven years and the firm says they will continue to be free in the future. Builk's intention is to lay down a tech foundation for business operators in the construction industry while having confidence that it will be able to develop business models for them in the future. When they are thus empowered, these businesses will be stronger, and when they prosper, they will naturally become interested in buying other programs from Builk.
The third product is Jubili, which is a sales-management system for businesses selling building materials, and the fourth product, Yello, is an e-commerce system for providers of building materials. Two other products are Ploy and Kwanjai, which are designed to support upstream players, or the owners of property projects. After a project owner sells all of the houses or condo units in a project, they still need to manage after-sales services such as repairs, maintenance and general support. Ploy and Kwanjai will help them to handle these tasks efficiently.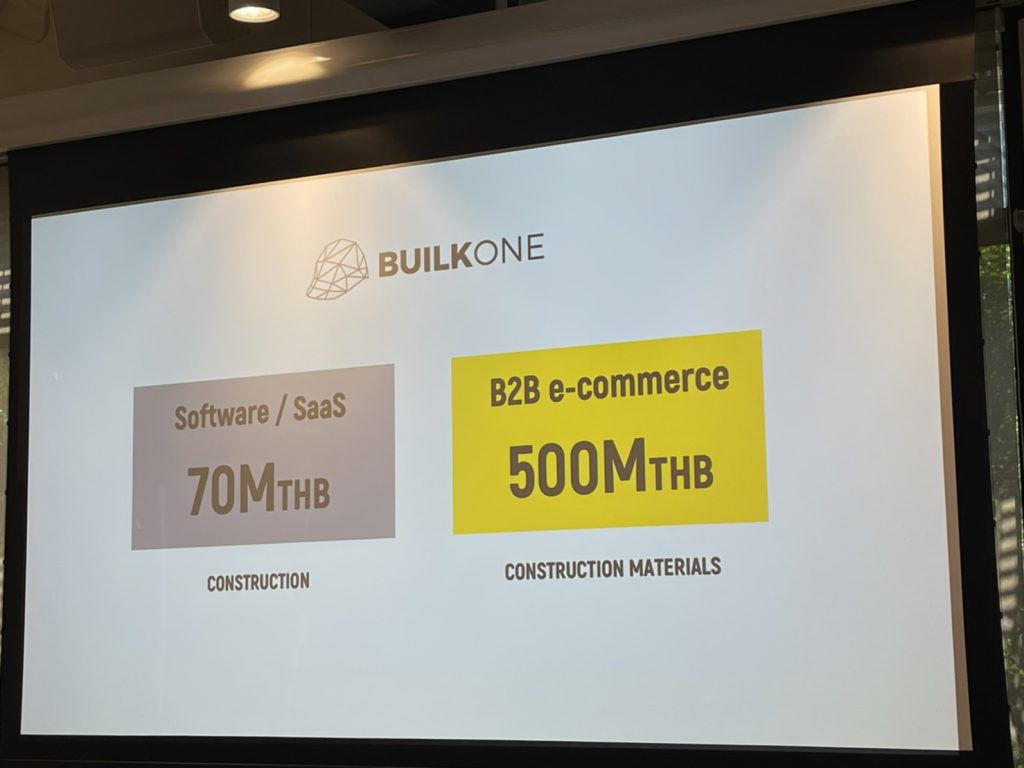 "All of these products are managed by startup-like units," Patai explains. "I don't dare describe myself as a venture builder. But I think I can say Builk has a startup-within-startup structure. Each of our team leaders is like a CEO, taking charge of his own business. In the past, the job done by our team leaders could definitely be described as that of a CEO, and their teams functioned like startups. In other words, each had made an investment even though it had not yet come up with a business model. What we have done over the past eleven years is to lay down a foundation for our six current products. These products are now well-linked."
Builk has two methods of income generation. First, it provides software programs to enterprises in various industries. While some programs are free, others involve license fees. These programs have provided Bt70 million a year to Builk. Also, Builk has operated e-commerce platforms for suppliers of building materials. Driven by data, the platforms are effective and generate about Bt500 million in sales annually.
"Our startup has already grown to an extent, with annual sales of Bt570 million. Thanks to the solid foundation we laid down, Builk recorded positive operating results and a profit last year. We are now moving into a new phase, in which we will expand and strengthen our businesses," he says.
Because the COVID-19 crisis posed big challenges for the construction industry, Builk recently ventured into non-construction sectors for diversification and risk-reduction purposes. Its software programs have now extended to the healthcare and packaging industries, and more. Using these programs, business-to-business (B2B) enterprises in these industries are able to implement digital transformations, similar to those that happened in the construction industry. Since Builk was able to digitally transform an industry as low-tech as construction industry, it has solid potential for similar transformations in other industries. Its solid foundation – which is closely linked to digital transformation – promises to sustain Builk's growth and profitability.
"We will go deeper into the fields in which we have specialized," Patai says "We have grown from the construction industry, where there are very few startups in the field. So, it is hard to find a peer for partnership. That's why we have developed construction tech through collaboration with our customers instead. Our partners are medium and large constructors and manufacturers. From these partnerships, we have brought Contech to the next level."
Builk has now connected many supply chains together through its programs for building materials suppliers, small and big constructors, and even property developers. Behind these supply chains are financial supply chains that help with the facilitation of transactions, credit, and payments. Builk, therefore, is now developing fintech, and is making progress.
"We are rolling out two new products that are based on our existing contech. These are Builk360 and BuilkInsite. Our fintech team has now prepared Builk Bill Loader – a system for managing trade documents over a cloud system. Builk Bill Loader can be linked to banks' products. Because of the wide foundation we have laid down, we stand out from other startups. At the age of eleven, we are well differentiated. We can survive on our own business model. All of our products or businesses are profitable. Better still, they also have springboards for roaring ahead," Patai says.
"During the COVID-19 crisis, we helped leading construction firms from both Thailand and Japan to reduce their need to dispatch staff to construction sites. Builk360 is being used at the sites of large construction works or important projects. Our partner in Builk360 is Creful, which has worked with us all along. Thanks to Builk360, constructions are done faster, with greater efficiency and fewer mistakes," he says.
The construction industry has been relatively slow in its digital transformation. While other industries adopted technologies to significantly speed up their work, it still takes eight months to build a home and more than two years to construct a condo building. And after construction is complete, quality issues often emerge. Construction deadlines are regularly missed, especially those in so-called 'mega projects'. Patai hopes that Builk will make a difference, and enable these common problems in Thailand's construction industry to fade and disappear in his lifetime.
Builk360 enables architects and engineers to check ongoing construction works without having to physically turn up at the site. Through this tech solution, they will be able to monitor work with a 360-degree viewing feature and coordinate with all staff, including designers, constructors, and project owners. Builk360 comes complete with reporting, comparison, and even time-travel features. This means its users will be able to trace work flows and easily prepare reports. Engineers and architects, as a result, will not have to worry about paperwork. They can use technologies to easily complete these tasks.
BuilkInsite is another program for construction sites. With this program, constructors can track their ongoing work. They can determine whether cement has been poured in a designated spot, whether a cement foundation is ready for the next construction steps, and whether power cables have been installed. This program offers checklists for construction inspection and has begun to catch on among Thailand's giant constructors.
Builk Bill Loader – the program for managing trade documents – also offers enterprise resource planning (ERP) features. Presently, Builk's Pojjaman has served more than 400 medium and large constructors. The website builk.com, meanwhile, has empowered dozens of thousands of small constructors. After starting to digitalize their work systems, they will have new opportunities to expand their businesses. Builk's solutions will support such expansions by linking them to digital data for relevant suppliers. Banks and financial institutes will be able to use such data for risk assessments. This will benefit constructors, enabling them to access loans faster and easier, based on their credit status.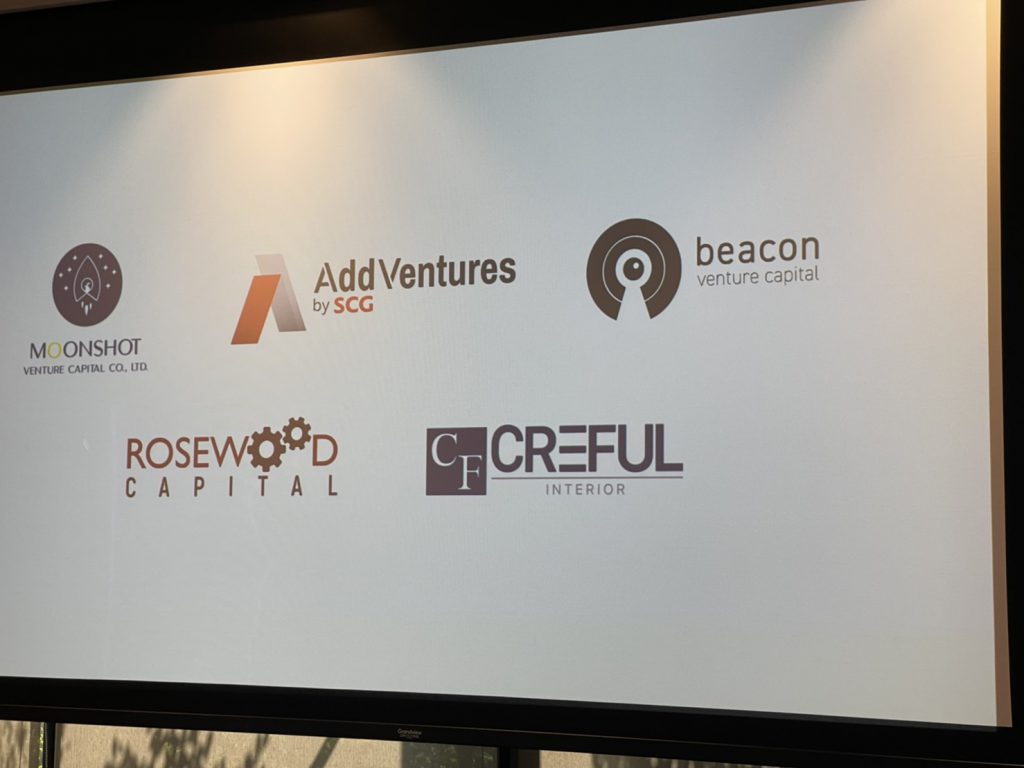 "In our journey, we have worked with several partners. Moonshot Venture Capital, our first big core investor, has been with us for years. Thanks to its support, we have been able to make a serious presence in the construction industry. Add Ventures by SCG is also our partner. Because of this, we can get all the building materials we want in Thailand. In our latest round of fundraising, Beacon VC has been the lead investor, alongside Rosewood Capital and Creful," Patai says.
"We used to be just a platform service provider. But today, our platforms cover all types of business operators in the supply chain – constructors, real-estate developers, building-materials suppliers and banks. This is our firm foundation. We are an 11-year-old startup in the construction sector, and we are ready to grow further.
"We will design our own tech startup story, in our Thai way. Our current goal is to bring Builk into the stock market in the near future, or by 2023," Patai concludes.