In collaboration with Carabao Group Public Company Limited (Carabao Group), KASIKORNBANK (KBank) is going to invest more than 15 billion Baht to develop Tookdee shops as a hub for advancing the community economy throughout Thailand. The initiative aims to create an opportunity for people in rural communities who seek to own a shop while also providing them access to one-stop financial services including loans. KBank's investment will involve debt instruments together with warrants of TD Tawandang Co., Ltd. It also plans to sign a joint investment agreement to establish a joint venture offering comprehensive loan services. The Bank aims to see Tookdee shops at the forefront of local community convenience stores which also offer comprehensive transactional banking and loan services, with around 30,000 stores to be operational by 2024.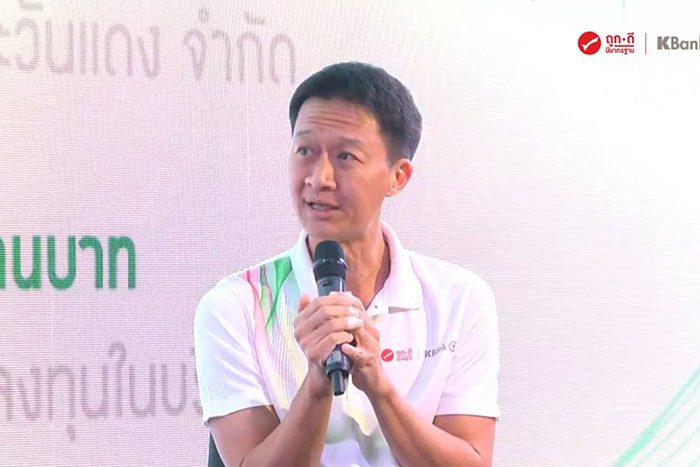 Patchara Samalapa, KBank President, noted, "Demand for financial services in rural communities across many provinces has been rising. However, many local people have no deposit account or lack proof of income, which prevents them from accessing funding sources. On the other hand, no KBank branches are located in those areas. Our cooperative effort with Carabao Group represents KBank's strategy of developing Tookdee shops to be the center of the community economy for everyone within the store chain, ranging from store owners to trade partners and local residents, providing them greater convenience in their spending and ease of access to financial services, including KBank loans, which will thus generate greater income for local residents and advance the community economy." 
Development of Tookdee shops to be undertaken with Carabao Group is composed of the three following aspects:
Enhancement of Tookdee shops to become community convenience stores that serve as an important economic foundation of the country, with the adoption of technologies in shop management and payment systems.
Development of Tookdee shop services as a funding source for daily needs and trade – KBank will make use of people's daily spending data in loan consideration to better respond to the demand of customers with no proof of income, or shop owners seeking working capital to run their businesses.
Introduction of Tookdee shops' financial transaction services to meet the daily requirements of community residents, for example, funds withdrawal and bill payment. Digital services will also be added, such as QR code scanning for payment, which community residents are now familiar with, thanks to the government's policy to promote cashless payment amid the COVID-19 crisis.
Patchara added that, under this cooperation, there will be an additional 3,000 KBank Service points above the existing number of 27,000, so that the services will be available in a greater number of communities across Thailand. At present, KBank's service channels include 830 branches, 11,000 ATMs and cash deposit/withdrawal machines, and K PLUS, providing services to more than 18 million customers. 
KBank's total investment of more than 15 billion Baht includes a joint investment via debentures and warrants of TD Tawandang Co. Ltd. KBank is scheduled to enter into a joint-venture agreement for the establishment of a joint-venture company offering comprehensive loan service along with financial facilities for companies within Carabao Group.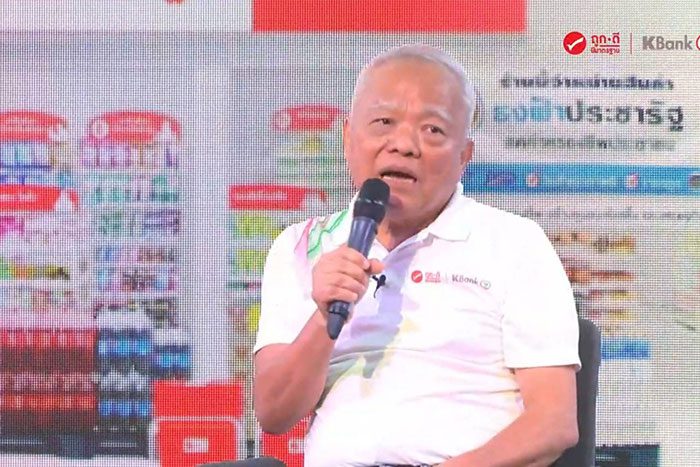 Sathien Setthasit, Chairman of the Board of Directors, TD Tawandang Company Limited., said the current collaboration between Tookdee shops and KBank will not only help bolster community purchasing power, but also strengthen Tookdee shops in terms of their service standards, giving store owners greater confidence while also offering opportunities for those who wish to own a store, and encouraging suppliers and manufacturers to become our future partners. If achieved, this would help further enhance the competitiveness of Tookdee shops in the retail market.  
The company's strategies in the development of Tookdee shops include an upgrade of such convenience stores so that they become more modern and can serve as a 'platform' or 'network' that meets the needs of consumers nationwide. Additionally, the company aims to link Tookdee shops with manufacturers and service providers such as financial services, couriers and agricultural commodities that local residents, particularly those in remote areas, have previously found hard to reach.
Tookdee shops are set to be solutions which meet the needs of and increase convenience for people in the communities, leading to a simpler lifestyle for consumers nationwide. This cooperative effort with KBank is one of the company's key strategies in achieving the goal.
Tookdee is the retail store network under management of Mr. Sathien Setthasit, Chairman of the Board of Directors, TD Tawandang Company Limited, with the concept of creating a new standard for the local retail industry. With elevated standards to modernize retail stores, knowledge and technology-based management, Tookdee is set to become the "community store by the community, for the community" that offers modern and friendly service to enhance living conditions of people in the communities. Additionally, its business model aims for benefit sharing with all related parties, with the concept of 'Benefits Shared, Not Solely Gained'. Tookdee community convenience stores are enjoying rapid growth. Currently, more than 5,000 stores are open nationwide.