A positive impact post-COVID is that digital has become an inescapable part of the social context. The challenge is to apply existing skills and augment them digitally, to solve issues efficiently, aligned with the altered situation.
This is how AIS Academy has taken on a role in the Thai educational sector by prioritizing people at the start of their journeys as professional teachers, in collaboration with the Ministry of Education and leading educators.
Since 2021, it has developed a course for Thai teachers to augment their skills in designing educational material for the modern world, which is appropriate for education in the digital age.
The course runs from setting out the course outline, teaching tools and media, to assessing the results on students, under the program, "THE EDUCATORS THAILAND".
This is now in its 2nd consecutive year and has seen over 800 applicants after the first class of teachers proved that digital skills are at the heart of developing curricula sustainably.
"THE EDUCATORS THAILAND" is the first program open to over 2,000 key personnel from both state and private sector education, including educators, instructors, educational staff of every affiliation and trainees to both unlearn and re-learn teaching skills.
The course has been designed and developed by AIS Academy and the Ministry of Education, and other leading personalities in the world of education, and certified by the Secretariat Office of the Teachers Council of Thailand.
This content will develop skills and teaching innovation to support transformation of the modern educational sector, and incubate students at the present time, which is the starting point for a new generation of nation builders. Finally, the program benefits from participants being role models in communicating teaching techniques that can be applied to education.
Kantima Lerlertyuttitham, Chief Human Resources Officer at AIS and the InTouch Group commented, "AIS Academy'smission to 'Think in Advance' is still relevant in upgrading end-to-end learning. Today, we are proud that THE EDUCATORS THAILAND has fulfilled its mission to incubate and give Thai teachers opportunities to develop their teaching techniques and promote creative skills in preparing educational media under the concept of 'More than just a teacher, innovating Thai teaching into the future.' Performances seen in this competition are a good example to inspire confidence that in the big picture, Thai teachers are ready to give children the benefit of their knowledge in charming and unusual ways, by using the potential of digital, which has irreversibly transformed the sector."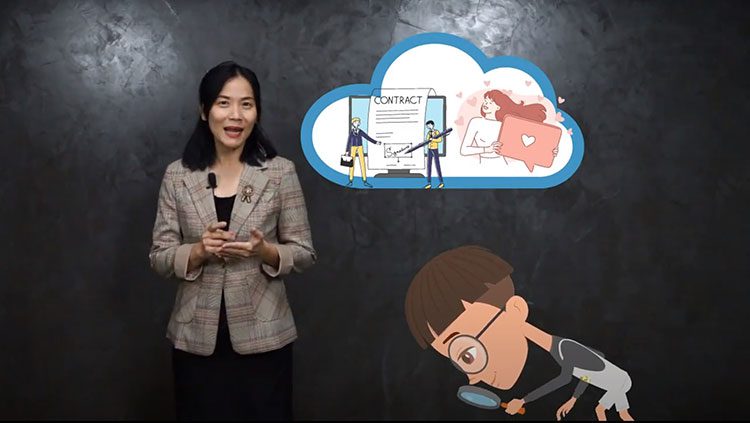 Each of the participating teachers agreed that the knowledge they had obtained from this program such as Storytelling would help them compile material that was easy to understand and interesting. As well as this, they obtained the skills to produce short 3-minute videos for use in online teaching. Skills included presentation, video editing and even using avatars which can help modern teaching to better reach their students.
For instance, there is Suwannee Thammaratthara from Bangkok College of Business Administration and Tourism. Her entry to the competition is "Fun to think about commercial law with Teacher Ja, in depth look at independent contracts."
She said, "The content is highly academic which might be difficult to understand, so we have found ways to communicate to students for them to see the picture more clearly. I am very lucky to have joined with The Educators, which has enabled me to train in digital skills and adapt them with clear and easy content to explain the text in many different forms."
Kannaree Thamkhonburee, a teacher from Pakkred Secondary School in Nonthaburi entered "Abnormalities in immune systems". She said, "Biology is a subject that is close to us, but becomes difficult when it comes to things we cannot see or touch. Using digital to teach this topic helps students visualize pathogens, so it very much meets our needs. As a teacher, I have learned and become confident in experimenting with these technologies, which I had previously seen as difficult, and not accessible to my generation."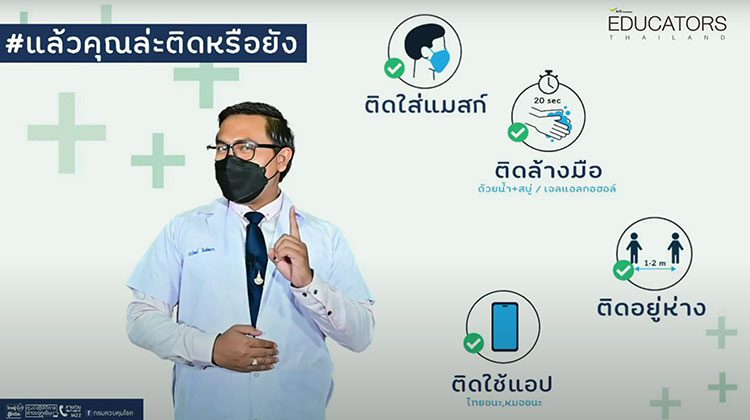 Panuwit Sinmuk, a homeroom teacher at PSU.WITTAYANUSORN School in Songkhla teaching hygiene and physical education, entered "How to prevent Covid-19". He said, "Children are familiar with online media and it has become a part of their lives. As teachers, we should integrate knowledge around us into formats with which they are familiar. Of course, this make children fully able to receive knowledge. Participation in The Educator was a lot of fun for developing our teaching skills, because we could arrange components of the training content in the right places and use it really well."
Finally, Nannicha Ditphanich, a teacher at Tessaban 1 (Khajornnetiyut) School in Pathum Thani and a teacher of the Thai language, entered "A vowel changes." She found the event impressive. "Teaching small children is absolutely necessary, and we must use our imaginations to tell them stories about topics in a fun way, to enhance the imagination process. Digital technology and the principles of storytelling which I have learned will help me a lot. From now onwards, I can teach without limitations, which can be further passed on as inspiration for other teachers."
All of these inspiring works developing the future of teaching can be seen at https://learndi.aisacademy.com/, which can be accessed by educators wanting to participate in THE EDUCATORS THAILAND. For more details see www.aisacademy.com/theeducatorsthailand
AIS unveils 2022 results, Revenue growth of 2.3%
GWM celebrates 2nd anniversary in Thailand, Ready to launch TANK 500, TANK 300 and ORA Grand Cat in 2023