Central Pattana plc, is joining hands with KLOOK, a leading travel e-commerce platform, to continue boosting tourism by launching the 'City Bus Transfer' to provide a shuttle bus service from Bangkok to Pattaya to facilitate and fulfil the needs of foreign tourists.
Dr.Nattakit Tangpoonsinthana, Executive Vice President of Marketing for Central Pattana plc, said: "According to the Tourism Authority of Thailand (TAT), more than 6.4 million foreign tourists entered Thailand in the first quarter of 2023 attracting more than 2.5 billion baht in tourism revenue into the country. The top five foreign tourist nationalities visiting Thailand are from Malaysia, Russia, China, South Korea and India, and the TAT forecasts that Chinese tourists will rank first, with at least 5 million people visiting Thailand.
Bangkok is the most-searched destination, followed by Pattaya, Chiang Mai, Krabi and Phuket. In order to support the increasing number of tourists visiting Thailand from around the world, Central Pattana is joining hands with KLOOK to offer space in our shopping centers in strategic locations that are very popular among tourists such as centralwOrld, Central Village and Central Pattaya to operate shuttle bus service points in order to facilitate transportation.
The service is easy to book, fast and convenient, with a high level of safety. This collaboration is part of the 'Stimulate Spending & Spread Income' strategy and highlights the role of our shopping centers as hubs that connect the retail and tourism ecosystem to complement the whole tourism system."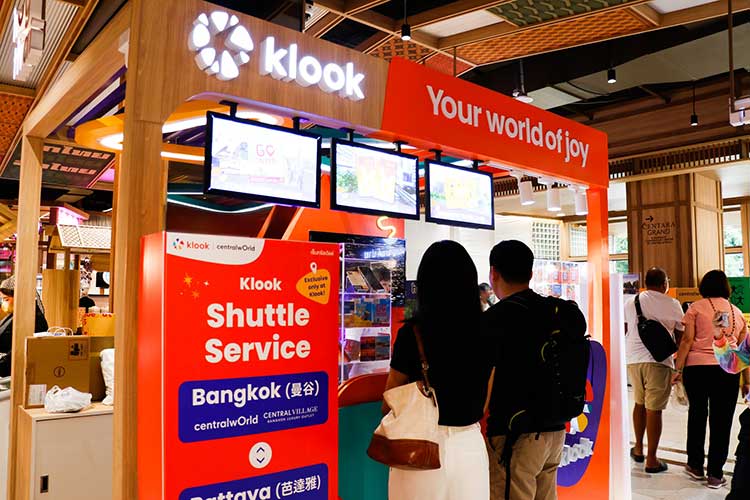 Alex Wang, Business Development Director of KLOOK Thailand, said: "Tourists usually have to hire a car or take a bus from the bus station, which can be inconvenient for some. We want to facilitate these tourists with a shuttle bus service for Bangkok-Pattaya, and Central Pattana has a number of tourist malls that support these tourist cities.
The bus service is very convenient with ample space, comfortable seats and reliable drivers for a safe journey. The tickets can be conveniently purchased online and passengers can book and purchase a ticket on the day they wish to travel by simply confirming the order two hours in advance.
Passengers can choose the travel package and date as they wish and they will receive additional privileges from participating shopping centers as follows:
· Become a member of The1 Tourist to get a Welcome Package (shops' discount package) worth more than 3,000 baht, a premium gift of 'Good Goods' pouch and two hours free Wi-Fi.
Get a glass of delicious herbal drink when spending 1,500 baht and up on shopping in the shopping centers.
Fares for City Bus Transfer (per trip/person)

centralwOrld to Central Pattaya: 190 baht
Central Pattaya to centralwOrld: 190 baht

Central Pattaya to Central Village to centralwOrld: 190 baht  
QSNCC adds new event profile to Thailand by hosting "Jewellery & Gem ASEAN Bangkok 2023"
Return of travel in Southeast Asia presents big opportunities for local tourism