Central Pattana announcing the readiness of Central Westville, with a total project worth of 6.2 billion baht, marks the 40th shopping center by Central Pattana. It is the new prototype of a 'Semi-outdoor' and 'Low Carbon Mall' of the future, designed to seamlessly connect the lives of people, pets, and eco-friendly trends. Central Westville is the most complete lifestyle venue in Ratchapruek, offering a comprehensive experience from morning to midnight with more than 300 well-known brands and 80 restaurants, providing all-day dining options.
Central Westville is opening on 29 November 2023 under the concept of the 'West at Its Best', with a spectacular grand opening event, where nature and technology are seamlessly combined to deliver a sensational experience for everyone.
Dr. Nattakit Tangpoonsinthana, Chief Marketing Officer for Central Pattana plc, said:"Central Pattana is committed to creating great things for everyone as a 'place maker'; a space developer of the future to help upgrade the quality of life for all while caring for our society and the environment, and that's why we created Central Westville with the main concept to combine nature with urbanization to achieve 'the first-ever nature-harmonized retail' and a prototype of shopping center for a sustainable future for all. This is the first shopping center that meets the needs of 'People, Pets and Planet', with an around-the-clock lifestyle covering people's lifestyles from morning to midnight.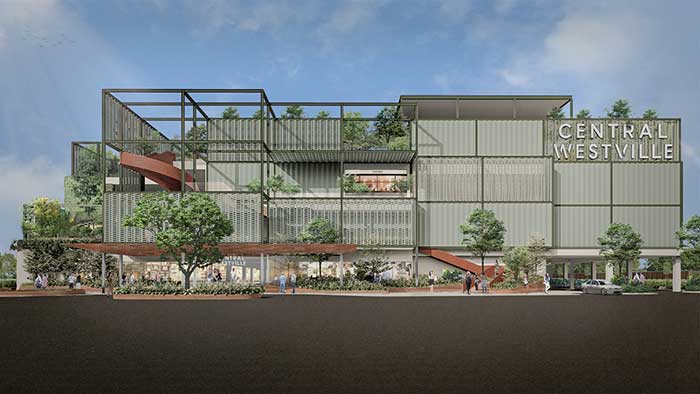 Central Westville meets four lifestyle trends:
Family Destination –the destination that meets every lifestyle of every generation in the family for Dining/Kids/Pets/Sports/Fashion:

Synergizing business forcing of Central Group – 'New concept stores' for Central Department Store with over 750-million-baht investment to transform 19,000 m2 under the concept of 'Central Factory', with a focus on loft design – utilizing reused materials such as steel frames and woodwork with a smart design that allows for as much natural light as possible, along with Tops Food Hall, Power Buy, B2S ThinkSpace, Supersports and OfficeMate.
Best Dining Destination – brings together over 80 brands for all-day dining from morning to late at night, covering Thai, Asian, Japanese, Korean cuisines, fusion styles and healthy cafés along with desserts from Thai and international brands from popular restaurants under the Iberry group such as Thong Smith, ros'niyom, Rongsi Pochana, Ăn Cơm Ăn Cá in addition to Prai Raya Signature, Lim Lao Ngow, Nana Coffee Roaster, specialty coffee cafés that open early at 7.00 AM, Cath Kidston Tearoom, Mil Toast House, Nam Nam Pasta and Tapas, Yakiniku Like, Nice Two Meat U, Saemaeul, etc.
Best Style Destination – shop to the fullest with over 70 popular fashion brands carefully selected for Ratchapruek residents such as Uniqlo, Muji in a new concept, Adidas, Pandora, LUSH, Skechers, etc. There is Beauty & Wellness with 15 leading beauty institutes, health and beauty stores such as MATSUMOTO KIYOSHI, etc. and many more.
Family & Edutainment Hub for children and families: SkyRise Adventure, an adventure on the largest rope course in Thailand; Kiztopia, the first in Thailand with a large indoor playground from Singapore, and be amazed by new innovative and beyond-imagination cinemas in Thailand at Westville Cineplex.

Health Enthusiasts & Active Tribes– now have a new alternative for enhancing their fitness levels at the premium fitness center: JETTS Black, the only premium fitness center in Ratchapruek, open daily from 6:00 AM to Midnight. Central Westville also features a professional rooftop running track for sporty individuals and a complete selection of sports fashion items from brands such as Adidas, Puma, Vans, Skechers, Le Coq Sportif, and more."
Petsumer Community – the very first shopping center where you can bring your four-legged family members to enjoy life together in the Pet-Friendly landmark. It covers a total area of more than 1,000 m2 and offers the most complete range of pet facilities, including 17 pet-friendly restaurants in semi-outdoor zones and the Buddy Yard zone – an open area where you can take your pet for a walk, exercise, and enjoy life together. Additionally, you can find a full range of great products and services at the Pet 'n Me Flagship store.
Eco-consumer & Sustainability – promotes Thailand's transition towards a low-carbon lifestyle society. Not only have we designed the shopping center with a strong focus on sustainability, including the use of clean energy and reducing greenhouse gas emissions during construction, but we've also fostered an environmentally friendly business ecosystem by collaborating with all our partner stores to engage in green activities. These activities include organizing marketing campaigns to promote planet-saving behaviors among the public, reducing the use of plastic bags and plastic straws, and encouraging customers to use their own cups, among other initiatives. Additionally, for electric vehicle users, Central Westville is equipped with 23 EV charging ports.
Juthatham Chirathivat, Head of Business Development for Central Pattana plc, said: "Central Pattana has accumulated experience, expertise, and success over 42 years, and Central Westville in Ratchapruek is the 40th shopping center, which complements our 'strategic ring' in every direction of Bangkok. It supports urbanization and meets customers' needs for access to restaurants and shopping venues with popular-brand products without the necessity of traveling to the center of Bangkok. The Ratchapruek area holds great potential, with high urbanization growth, comparable to the CBD area, as it connects several major zones in Bangkok, from Sathorn, Phetkasem, Borommaratchachonnani to Nonthaburi and Pathum Thani.
These are the main routes that people use to travel in and out of Bangkok, as well as to various other provinces. Ratchapruek encompasses the expansion of the transportation system and various train lines, especially the major MRT Purple Line, which directly connects Ratchapruek to the city center. The population in the catchment area is approximately 600,000 people. Therefore, having Central Westville as the first shopping center in the area and the only destination that fulfills all living needs in every aspect is an exciting upgrade for the western side of Bangkok."
Juthatham added: The main concept of Central Westville is to blend nature with urbanization. Even with rapid growth, Ratchapruek maintains its natural beauty, with abundant green areas throughout the district. As Ratchapruek becomes more urbanized, we aim to create the perfect synergy with the 'Semi-Outdoor Model,' inspired by the success of Central Eastville. Central Westville is designed to establish a multi-dimensional relationship with nature. This can be observed in the facade design, characterized by open and airy architecture that incorporates trees and green spaces, harmonizing with the building. Every part of the semi-outdoor area maximizes exposure to nature in all its forms, including sunlight, wind, the sound of water, and plants. To ensure sufficient natural light, the main indoor area features a skylight. Our designs primarily utilize natural and recycled materials.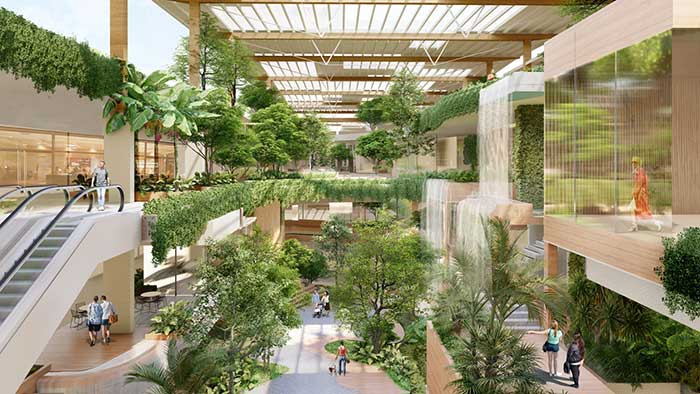 Highlighted designs:
Waterfall Amphitheatre: The over 20-meter-high amphitheater falls are one of our highlighted designs and are located in the heart of the shopping center. It serves as an ideal meeting venue for people in the Ratchapruek area.
Triple Playgrounds: To cater to the needs of our family groups of customers, Central Westville features three playground areas that strengthen learning and play in different natural environments.
Sky Garden & Running Track: Meeting the needs of health-conscious individuals, there's a running track longer than 400 meters within a beautiful rooftop garden. The design meets the standards of running tracks used in professional competitions. Additionally, there are fantastic outdoor activities to meet the needs of family customers, such as SkyRise Adventure, which is the first outdoor rope course in Thailand.
Pet Destination: The Pet-Friendly landmark covers a total space of 1,000 m2, bringing together the most comprehensive and complete pet facilities found in other Central Pattana projects. The Pet-Friendly landmark features a Pet Lobby, Cart Service, Leash Pole, Water & Waste Station, as well as the first Pet & Me Flagship Store, in addition to Nana Café, Pet-Friendly Café, and more.
Central Westville will open on 29th November 2023, starting at 10:00 AM. The grand opening will feature a special highlight performance by the popular actress, 'Bow Melada.' This event aims to connect happiness with the world of nature beyond imagination, offering captivating images, sights, and sounds of the 20-meter-high amphitheater falls, alongside a new form of nature delivered through technology.
Explore the Eco-pet Town and Paw of Fame, the only pet celebrity landmark in Thailand, reminiscent of the Hollywood Walk of Fame on both sides of Hollywood Boulevard and Vine Street in Hollywood, Los Angeles, California, USA. 'Pet Influencers' like Jum Meng from Japan and Friends Page will leave their paw prints at the Paw of Fame.
Visit Sweet Sensation, a delightful photo landmark complete with a giant macaroon truck and various sweet dessert shops, including Michelin-guide listed food options. All booths are constructed from environmentally-friendly materials that can be reused.
Have fun on the Clean Energy Butterfly Swing, where the remaining power generated can be used to recharge your device's battery. You can also enjoy your favorite drinks and music during the opening event."
Make sure to attend our joyful year-end event and celebrate under the 15-meter-tall 'Hiran Ratchaphruek Christmas Tree,' a large Christmas tree sculpture crafted from renewable resources. The Hiran Ratchaphruek Christmas Tree was designed and created by the Doi Tung Development Project. Don't forget to visit the Christmas Craft Market, where a variety of environmentally-friendly Christmas gifts from renowned designers, known for their outstanding gift designs made with recycled materials, will be on display.
Don't miss out on our special promotions for all shoppers. Shop every day for a chance to win a Toyota Corolla Cross HEV Premium, valued at over 1 million baht, when you spend 1,000 baht on shopping. Spend 5,000 baht on shopping and receive a free eco-friendly Limited-Edition Tumbler. Additionally, the top spenders with the highest accumulated spending throughout the campaign (100,000 baht and up) will receive a free Alexandrine parrot pattern woven bag. From November 29th to December 27th, 2023, when you purchase participating brands of fashion items valued at 4,000 baht and up, you'll receive a 400-baht E-Voucher.
For The1 members, you can earn up to four times the points when shopping at participating stores. When you spend 10,000 baht and up, you'll receive an additional 2,000 points, and you can redeem 100 points for a special 100-baht discount at popular stores and top restaurants.
Experience the spectacular year-end grand opening of Central Westville, the premier shopping center on Ratchapruek Road, embracing the concept of 'West at its Best' to cater to every need in western Bangkok. This initiative aligns with Central's commitment to enhancing the quality of life while promoting care for society and the environment. The official opening is scheduled for Wednesday, November 29, 2023.