True Digital Park and 101 True Digital Park, a landmark mixed-use development situated in Punnawithi launched a grand year-end "THE PARK OF TRUE HAPPINESS FESTIVAL". The grand celebration landmark themed, 'COSMIC CHRISTMAS' will teleport various moments of happiness along with fun and special activities from the space dimension straight to everyone in this year-end's season of happiness, starting from today until the end of December.
Be dazzled with the iconic "Photoshoot Landmark" with an enchanting Christmas tree as well as Space Santa and his jolly space crew that social media enthusiasts should not miss. Join us for an unforgettable holiday season as well as special promotions, discounts, and deals from leading shops and restaurants at 101 True Digital Park from today – January 8, 2023.
Dr. Jirapong Pipattanapiwong, President of Whizdom Landmark Corporation Limited, 101 True Digital Park, said, "101 True Digital Park and our shop partners have prepared special activities for everyone to ignite moments of happiness and welcome everyone to the New Year 2023 with a modern and unique COSMIC CHRISTMAS's event concept. This year-end's celebration theme resonates well with our venue being the first digital innovation center in Thailand and the largest in Southeast Asia. We look forward to seeing your happiness and smiles through our line-up of splendid entertainment activities over the next 2 months."
Dr. Tarit Nimmanwudipong General Manager of True Digital Park said, "Apart from the decoration andthe fun activities that will take place in the retail zone, there are many other areas at the True Digital Park designed to fulfill all aspects of new-generation's lifestyles. Throughout the year, we also curate a variety of fun and unique events such as talk fairs and multimedia exhibitions for everyone. We hope that our space and amenities will inspire and excite everyone in this joyous festival."
At the launch event of the "THE PARK OF TRUE HAPPINESS FESTIVAL", True Digital Park has invited "Bright Norraphat Vilaiphan", the most popular actor at this moment, to perform a mini concert at 101 Hillside and launched the Christmas tree, photos contest to win special prizes, and many other special activities. This is truly a landmark event for Christmas and festive season that Sukhumvit residents should not miss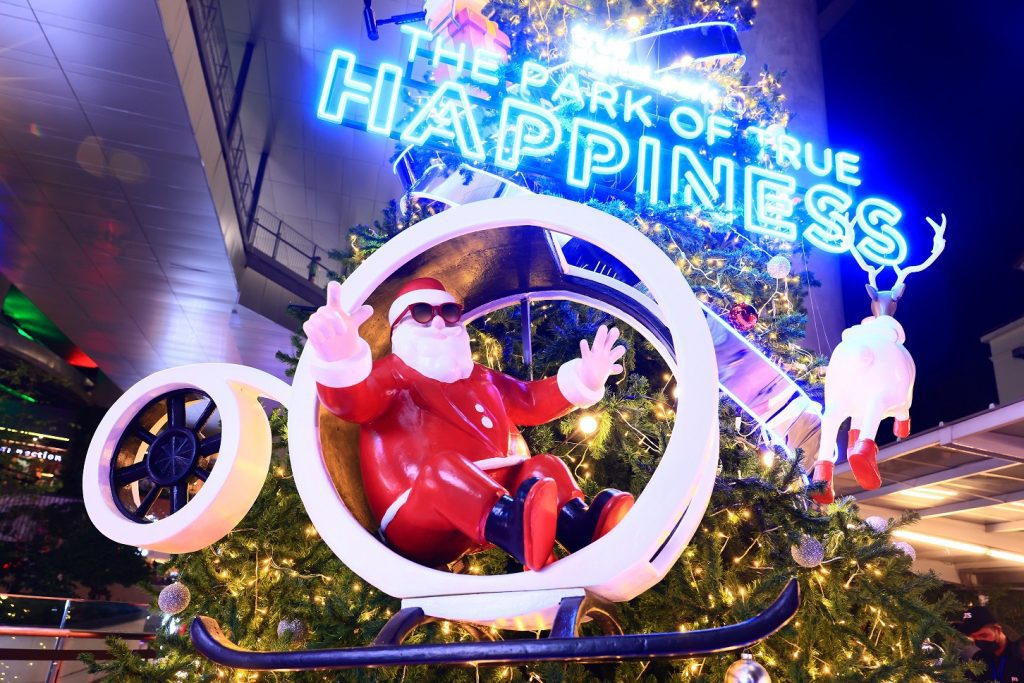 THE PARK OF TRUE HAPPINESS LANDMARK
Social media lovers will enjoy celebrating the festival of happiness as this landmark as it has been transformed into a state-of-the-art Cosmic Christmas space. Don't miss out on taking photos with the coolest characters, led by Space Santa and his jolly space crew including Frosty, Yonder, Astro-Reindeers, Buddy the Beagle, along with Snow Rabbit in his AR/VR gears and cool Drummer-Boy Dronies. All these fun characters will travel through dimension to deliver happiness for Thai people at the True Digital Park, starting from the skywalk to Punnawithi skytrain station to the 101 True Digital Park, an innovative lifestyle retail complex connected by skywalk, and the True Digital Park West Phase 2. The highlight falls on an enchanting 10-meter-tall Christmas tree, illuminated in different colors lights up the space and spreading happiness to visitors in this festive season. Be mesmerized and enjoy the spectacle light shows around the venue.
TRUE HAPPINESS PHOTO CONTEST
Join our fun photo contest to win more than 101 prizes from today – January 8, 2023. Here's how you can win our special prizes: Click like on 101 True Digital Park Facebook page, follow @101TrueDigitalPark on Instagram, and post pictures or videos with a caption describing your moment of happiness at the 101True Digital Park on your Facebook, Instagram or TikTok with hashtags #theparkoftruehappiness #truedigitalpark and #101truedigitalpark. Content that our judges like the most will win prizes. Winners will be announced on January 11, 2023 via 101 True Digital Park Facebook.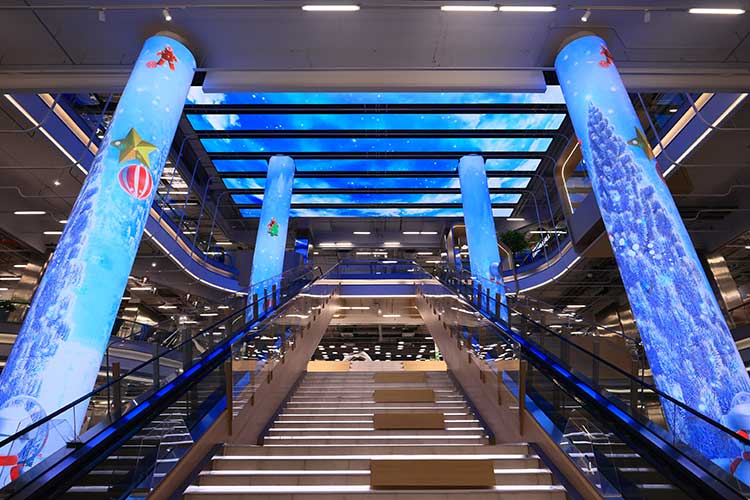 Our prizes include the TDPK co-working space's three-month membership valued 22,500 baht (5 prizes), Virgin Active's three-month membership valued 13,600 baht (4 prizes), and restaurant vouchers worth 500 baht (50 prizes)
*The company reserves the right to change conditions without prior notice and the decision of the company is considered final.
TRUE HAPPINESS FESTIVE EVENTS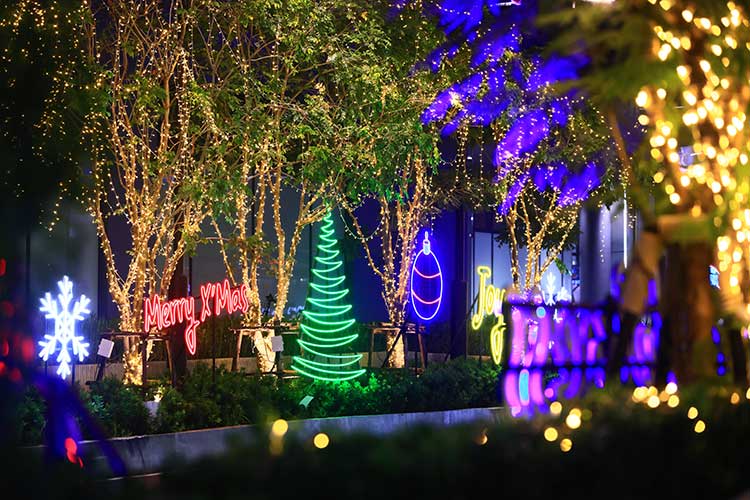 We have prepared the unmissable entertainment and fun activities to celebrate the festival of true happiness during Christmas and New Year's Eve.
December 24-25, 2022: Enjoy our Christmas ambience in the snow and join the event to receive souvenirs, snacks and gifts from Space Santa and friends during their parade. In the spirit of Christmas, the children's choir will also sing Christmas carols as a gift to everyone (The performance will take place in 2 rounds: round 1 at 6:00 p.m. and round 2 at 7:00 p.m.) You can also snap a picture at our photo booth for FREE to keep your happiness memory for every 101 baht spending at True Digital Park.
December 31, 2022: Enjoy the fun music from the DJ booth, start from 6:00 PM – 9:00 PM
Enjoy our special live bands in a laid-back atmosphere every Saturday and Sunday, from today – December 26, 2022.
TRUE HAPPINESS SHOPPING @101 TRUE DIGITAL PARK
101 True Digital Park offers special happiness rewards to double your happiness for every spending made at 101 True Digital Park from today – January 8, 2023.
Enjoy your shopping and dining discounts at participating stores and points redemption for 101 members. Spend 1,500 baht or using 500 points, get gift vouchers from IPPUDO, LT FISH RESTAURANT, MALA, OYSTER BAY, TOPS MARKET, WUAGYU valued 100 baht (limited to 1,000 privileges), spend 3,000 baht or use 1,000 points to get gift vouchers from the shop, NAILS & TOES, SHINLA, STEAK LAO worth 200 baht (limited to 500 privileges), spend 5,000 baht or use 2,000 points to get Gift vouchers from Getfresh, KUB KAO KUB PLA, TOPS MARKET, YVES ROCHER VOUCHER valued at 500 baht (limited to 500 privileges). Customers can combine up to 3 receipts within 3 days.
Special perk! KTC, Krungsri Credit Card and TTB credit card holders get cashback up to 12-15% when redeem point equivalent to amount of spending. The redemption must be made within the day of spending and special conditions will be applied according to the credit card company. Special privileges and promotions will be offered when spending with TrueMoney wallet.
GIVING IS TRUE HAPPINESS
It's the season of giving! Join us to pass the happiness to support the operation of PCR training and Zendai ambulances with Zendai Foundation. 101 members will receive extra 50 points for each donation. Share your happiness together with us throughout the festive season, starting from 17-30 November and 15-26 December 2023 at the reception area, on the 2nd floor.
Citizen Developers Program: dtac's key to a successful digital transformation and future-proof workforce
KBTG Kampus aims to produce 100,000 tech talents, turns Thailand into global tech hub by 2030