TCP Group is hosting a sustainability forum aimed at promoting collaborations within the food and beverage sector, under the concept of "Net Zero Transition…From Commitment to Action." The forum seeks to energize the food and beverage sector, encouraging discussions and the sharing of concrete approaches to accelerate actions that support Thailand's transition to Net Zero and a better world for all.
Thailand is currently ranked ninth out of 180 countries globally for its high risk exposure to climate change.1 A range of sectors, including industry, tourism, agriculture, and other economic activities, are therefore at risk. Additionally, new global trade regulations related to climate change will present a challenge to businesses as they transition from voluntary actions to formal collective agreements.
The World Bank's latest report (2022) recommends Thailand transition to a circular economy, which can potentially result in 1.2% GDP growth from the base year or growth of 0.1-0.2% annually by 2030 which can create roughly 160,000 new jobs.
"The key question of the TCP Sustainability Forum this year is how Thailand will transition to Net Zero and effectively tackle climate change problems in the future," said Saravoot Yoovidhya, Chief Executive Officer of TCP Group, explaining the origins and objectives of the forum.
Promoting the power of collaboration in the food and beverage sector
The theme of the TCP Sustainability Forum 2023 is centered on "Net Zero Transition… From Commitment to Action," underscoring the importance of tangible actions by all stakeholders, including business leaders, thought leaders, and practitioners. These participants will engage in brainstorming and information sharing sessions, and exchange best practices, contributing to the development of innovations, strategies, and business plans for a successful transition.
Dr. Veerathai Santiprabhob, Chairman of the Executive Committee of Mae Fah Luang Foundation under Royal Patronage said, "Today, conducting business with a focus on sustainability should not be viewed as the old CSR we are used to. Sustainability is a business strategy. We should adapt our business models to stay ahead of society's challenges and expectations, not to exploit society and create problems for future generations. Businesses that effectively implement sustainability will see new business opportunities, thereby enhancing their competitive edge over their competitors or creating a 'win-win' for both business and society. Conversely, businesses that do not take sustainability seriously will be exposed to numerous risks such as strategic, regulatory, and operational challenges."
TCP Group is ready to embark on the path to Net Zero together
"For TCP Group, our challenge is not only the transition to Net Zero, but unifying all sectors to transform our commitments into 'actions' to bring about tangible change. And 'speed' is of the essence. We must now clarify the route to Net Zero, ensuring its alignment with Thailand's goal of achieving Net Zero by 2065," said Saravoot.
He added that, "TCP Group envisions transitioning to Net Zero as a business. This requires changing both our mindset and approach to doing business 'to be a better version of ourselves.' We are not competing against others, but instead trying to find common ground between what needs to change and the direction we aim to take. The challenge lies in growing our business while minimizing negative impacts and increasing positive contributions to the environment and society, all under our purpose of 'Energizing a Better World for All.' This will involve supporting sub-goals and plans, as well as continuous performance evaluations, and ongoing adjustments in our transition."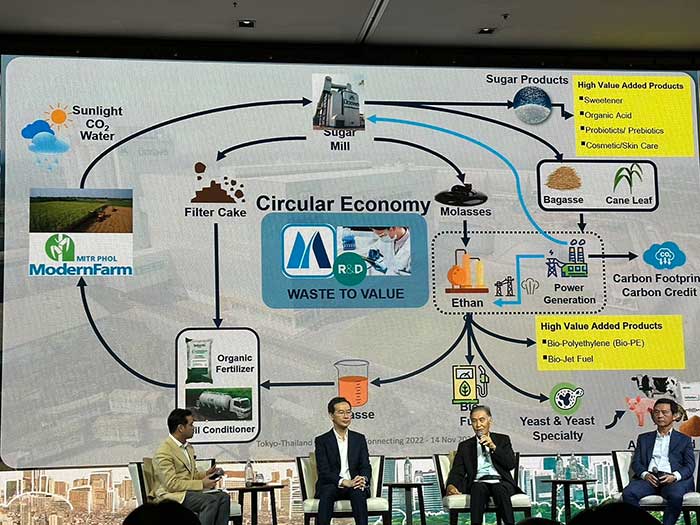 TCP Group continues to "Energize a Better World for All" by focusing on Caring, one of the company's key strategies, with the following clear targets:
Circular Economy: By 2024, the company aims to develop 100% recyclable and environmentally friendly packaging. This involves reducing the thickness of aluminum cans as well as the weight of glass and plastic bottles, thereby decreasing resource consumption.
Carbon Neutrality: The company is striving to achieve carbon neutrality by 2050 across all its business operations, both in Thailand and internationally.
Water Sustainability: The company's goal is to reduce water consumption and return more water to nature and communities than is used in the production process, becoming Net Water Positive by 2030.
The TCP Sustainability Forum 2023 is structured into three segments:
Thailand's Sustainability in Transition: The keynote speech by Dr. Veerathai Santiprabhob, Chairman of the Executive Committee of the Mae Fah Luang Foundation under Royal Patronage, will provide an overview of the current situation and how Thailand is navigating the transition to Net Zero at the policy level, in terms of business adjustments, together with the role of individuals.
Circular Economy and Climate Positive Perspectives: This panel discussion explores perspectives on the circular economy, organizational adaptation strategies, and how businesses can accelerate the transition. The panelists include Saravoot Yoovidhya, Chief Executive Officer of TCP Group, Isara Vongkusolkit, Honorary Chairman of Mitr Phol Group, and Tanawong Areeratchakul, CEO and President of SCG Chemicals Public Company Limited (SCGC).
There will also be a keynote speech on "Thailand's Economic Outlook in Transition" by Dr. Pipat Luengnaruemitchai, Chief Economist, Kiatnakin Phatra Securities Public Company Limited, who will touch climate change, trade rules, and new geopolitical rules.
Challenges in Making the Circular Economy and Climate Positive Happen in Thailand: Keep updated about the challenges in driving the circular economy, achieving zero emissions, and making positive impacts on the environment in Thailand. Two experts will provide valuable insights:
Climate Change Impact: Dr. Boripat Siriaroonrat, President of the Green World Foundation, will cover the three main crises facing the world, climate change models set to potentially impact Thailand, and the country's approach to tackling climate change.
Climate Change and Water Management: Asst. Prof. Dr. Sitang Pilailar, Head of the Flood Surveillance Center under Friends in Need (of "PA"), Faculty of Engineering, Kasetsart University, will present on the future of water resources, El Niño, the impacts of climate change. The participants will also learn about water management approach and adaptation strategies for the private sector in handling climate risks.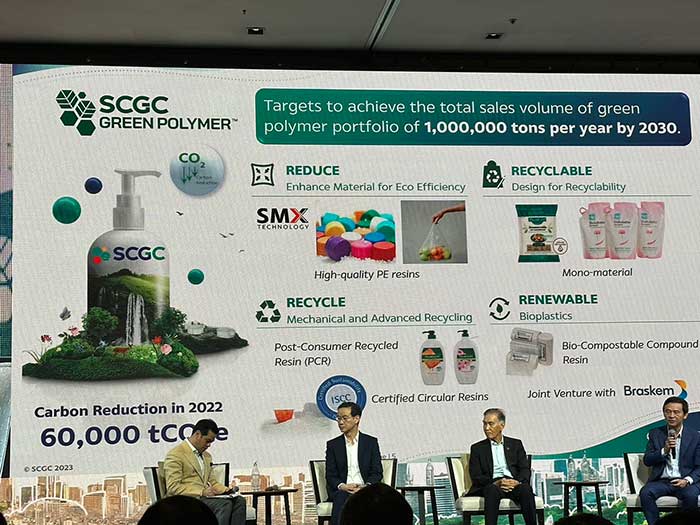 The forum will conclude with a panel discussion on the Challenges in Making the Circular Economy and Climate Positive Happen in Thailand, featuring Dr. Thanapong Duangmanee, Director of Environmental Policy at the Mae Fah Luang Foundation under Royal Patronage; Dr. Sujitra Vassanadumrongdee, Researcher at the Environmental Research Institute at Chulalongkorn University; and Supranee Kampongsun, Head of Thailand Programme at IUCN Thailand. The panel will also address the current state of the circular economy, opportunities and threats facing Thailand today, and an exchange of viewpoints on carbon credit mechanisms, circular economy pilot models, and lessons from using carbon credits in development projects.
"We are confident that the TCP Sustainability Forum 2023 will energize and inspire people to take concrete actions. It is crucial that we take action to make our shared sustainability goals a reality and address the pressing challenge of global climate challenge. Let's begin today, working together to create a better world for all," concluded Saravoot.
KBank advances on its decarbonization journey ; investment topped 19.4 billion Baht during 1H23 
POP MART, announces the official launch of its first flagship store in Thailand