KBank spearheads revolutionary digital gateway for simple worldwide investment
The realm of personal-wealth building through investment has been opened wide for ordinary Thai wage earners with a flair for online transactions.
In conjunction with two distinguished partners, KASIKORNBANK (KBank) has launched FinVest, a digital investment platform that promises to take the complexity and risk out of personal investments in mutual funds around the world, with commitments of as little as five or ten baht. But the sky is the limit, and the platform aims to open 120,000 fund accounts and attract assets under management of Bt1.4billion in its first year. 
Developed under a "Your Wing, Your Way" concept, FinVest gives Thais easy access to investment opportunities. After downloading the FinVest application, Thai users get easy-to-understand content and objective investment tips. The platform offers a diverse range of investment choices in mutual funds from as many as 15 leading securities firms both in Thailand and overseas. Moreover, FinVest is highly reliable and on a par with world-class fintech standards. There is no need for prospective investors to visit any securities firms to open an account. The FinVest app can do it all.
KBank has recently been forging ahead as a specialist in digital banking. Its partners in the FinVest launch are Singapore's Lu International and Bangkok-based wealth tech firm Robowealth. Lu International has a team of investment-tech specialists and operates under Lufax Holding of China's Ping An Group, which has become a giant in the business sector. Robowealth, an expert in wealth tech, serves as administrator of the FinVest platform and ensures that it matches well with the Thai market and complies with the regulations of Thailand's Securities and Exchange Commission.
KBank President Patchara Samalapa says FinVest will definitely empower small investors in Thailand as it enables them to directly invest in mutual funds across the world. 
"Of KBank's 16 million customers, just 300,000 have invested in mutual funds. With this partnership, we aim to give more comprehensive services to our customers," he says. "Not only will this partnership underline KBank's status as a strong banking-service leader, but it will also leverage KBank's digital-banking expertise and that of its world-class fintech partners to achieve a great synergy that will make banking services omnipresent.
"The average age of mutual-fund investors has been reducing over the years. Younger investors usually conduct transactions online and are interested in securities listed not just in Thailand, but also on foreign stock markets. We have found that open-architecture investments have been growing every year," he says.
"Thai investors normally do not have much choice. In the past, they made investment decisions based on the advice of fund managers. From now on, FinVest will present them with a greater range of interesting investment choices, including foreign funds. The platform will offer clearly differentiated services. App users can open their accounts online; there is no need to process account opening at bank branches. Although the account-opening process on the platform involves more than one click, it is still very simple and easy," Patchara says.
Lu International (Singapore)'s Chief Executive Kit Wong believesThailand will become an important market, with a capability for the fastest growth in investment and economy in Southeast Asia. "Our cooperation with KBank and Robowealth in developing and offering services under the FinVest platform is intended to meet the needs of investors in the current era, who emphasize the use of digital technology as a personal investment tool. Lu International is confident that the launch of the FinVest platform in Thailand will help to bring its digital-based investment to the forefront in Southeast Asia."
Wealth Building for Thais
The Chief Executive and board member of Robowealth Mutual Fund Brokerage Securities, Chonladet Khemarattana, says Thailand will become a super-aged society in the near future, but on average, the wealth of individual Thais is just a little over Bt100,000. This, he points out, is a far cry from the average wealth of global citizens, which is more than Bt200,000. In Thailand, fewer than four million people have more than Bt200,000.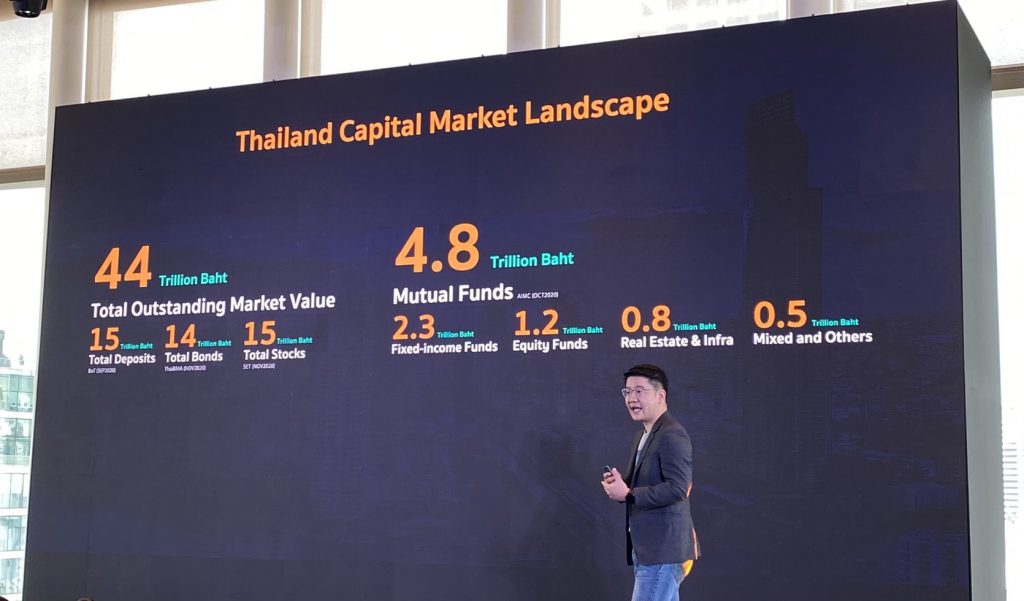 Overall, Thais' savings amount to about Bt44 trillion. Of this, about Bt15 trillion is in the form of deposits, about Bt15 trillion is invested in securities, and about Bt14 trillion is invested in bonds. Only Bt4.8 trillion has been invested in mutual-fund units. These figures show that mutual-fund units account for just 10 per cent of Thais' overall savings, so there is plenty of room for the mutual-fund market to grow.
"Our market research has found that most Thais do not invest because they consider investing to be too risky. They have been scared by the 1997 financial crisis – the Hamburger crisis – and right now, the COVID-19 crisis. In their eyes, investing is complicated, time consuming, and out of their league because they are not rich," Choladet says.
He points out that FinVest has been designed to tackle investors' 'pain points'. It offers investors opportunities to diversify their portfolios for risk reduction, by featuring good funds offered by 15 leading securities firms in Thailand and beyond. Moreover, FinVest presents concise content in the form of articles and video clips so that app users can easily select which mutual funds they should invest in. Thanks to this easy-to-understand content and analyses, app users are able to invest in interesting choices at the right time. Products featured on the platform are selected by Robowealth's Product Screening Committee, which comprises both specialists and executives. Robowealth handles account opening, transactions, and customer services for FinVest users by linking the platform to its Robowealth Open API and related platforms.
"In the past, mutual-fund investors were people aged between 40 and 50 years old. They had to contact a bank branch to open an account and then they were able to invest in just the few funds offered by that specific branch. Most funds invested in the money market. Those familiar with time deposits invested mainly in fixed-term funds. Nowadays, the success of Apple, Google, Facebook, Tesla and Netflix has spurred interest in investing in stocks through mutual funds. The average age of investors has also fallen. About 60 per cent of investors are now younger than 35, and these younger investors usually conduct their transactions through digital channels. They do not go to a bank branch to conduct transactions. We believe that the percentage of investment transactions conducted by investors themselves will increase, and so will transactions conducted over the digital platform," Choladet says.
FinVest is the first app to feature both Thai and foreign funds, through collaboration with the Stock Exchange of Thailand (SET), over the Fund Connext platform. Thanks to such collaboration, app users can exchange currencies conveniently; there is no need for them to buy global funds on their own.
"We are a one-stop service provider. When you open an account with us, you can invest in any fund offered by our partner securities firms. Importantly, we do not make investing exclusive to the wealthy. We make investing accessible to everyone. To open an account, app users need to put forward just Bt1,000. After that, investing can start from just Bt1," he says.
"We offer our app users the choice of mutual funds based in Thailand and overseas. There are both feature funds and master funds. It depends on how much money customers have to invest. We operate on an open-architecture basis. Thanks to the SET's Fund Connext, our platform makes investing in foreign mutual funds very easy."
Just Bt1,000 to easily open an account. Prepaid investment credit of up to Bt5 million
It is very easy to open a FinVest account. After downloading the app, users must type in a mobile-phone number and password. The app will then send a one-time-password to the mobile phone to initiate an electronic 'Know Your Customer' (eKYC) practice. The user must enter the one-time-password along with a picture of themselves and their national identification card. In this way, there is no need for them to visit a bank branch to authenticate their identity. The next step is to type in some more personal information and related bank-account information. FinVest recognizes accounts at four banks: KBank via K PLUS, Bangkok Bank, Siam Commercial Bank and Krungthai Bank. After the account-opening process is completed, app users will be asked to complete a risk-profile questionnaire, then deposit money into the app's eWallet.
"App users pay the same rate when buying mutual-fund units via our platform as they would if they bought directly from asset-management firms managing the funds, or any other brokerage firm. Even though we have rather premium services, including good content, we do not collect any extra fees. Account opening requires just Bt1,000. App users can then invest Bt1, Bt5, or Bt10 into the funds that attract their interest. Minimum investments are set by mutual funds participating in our platform," he says.
Recent investment trends reveal that the amount of minimum investments in mutual funds has been going down as fund managers seek to attract new investors and make investing easier. With a more diversified portfolio, investors' risks are reduced.
FinVest makes no extra charges for currency exchange. App users pay the same fees as those charged by the SET system. With its aim to give investors more alternatives, FinVest offers feature funds from both Thailand and foreign countries. To simplify investing, the app even helps its users to choose whether they should invest in Thai or foreign funds as soon as they specify the amount they have earmarked for investment.
RoboWealth arose from Robo Adviser, an online application providing solely automated financial guidance and services. However, FinVest only uses robots for preliminary fund screenings. Final choices are picked by fund managers. Moreover, marketers are recruited to prepare concise articles and 5-to-10-minute video clips so that users can easily understand content.
The FinVest application can be downloaded from iOS App Store, Google Play Store or Huawei App Gallery:finvest. To become a user and open an account or get more information, please browse to https://bit.ly/3nsvYEm; to the FinVest Facebook fan page: @finvestapp; Line id: @finvest; or call (02)0266222. Note a special launch offer: When you have downloaded the FinVest app and your fund account has been opened, Bt200 will be credited to your FinVest account. This offer ends on December 31, 2020.