Collection boxes at all dtac Hall shops aim for zero landfill by 2022
Thailand'sthird-largest GSM mobile-phone provider, dtac, has launched a campaign to collect electronic waste at its dtac Hall shops throughout the country. The electronics firm, which sells hundreds of thousands of mobile phones each year and generates considerable quantities of in-house e-waste, says the campaign will make it a "zero landfill" operator by 2022.
The move comes amid growing international concern about disposal of used, broken or obsolete electronic devices, many of which contain contaminants capable of polluting areas near landfills if disposed of improperly. This can impact the health of nearby communities.
Dtac's journey to zero landfill has begun with the installation of blue e-waste disposal boxes at all of its dtac Hall shops. The boxes, and the campaign, are named "Think Hai D". 
After a comprehensive selection process, dtac has also named its e-waste recycling partner in the "Think Hai D" campaign. The waste will be processed to international standards by TES, a global leader in environmentally-friendly electronic-waste recycling.
TES will collect disused mobile phones and electronic devices from dtac's "Think Hai D" boxes, and will begin their disposal with an inventory detailing the number of items and their weight. The e-waste will then be sorted into different categories such as mobile phones, batteries, earphones, charging cables and power banks. Items will then be dismantled and parts sorted according to their materials.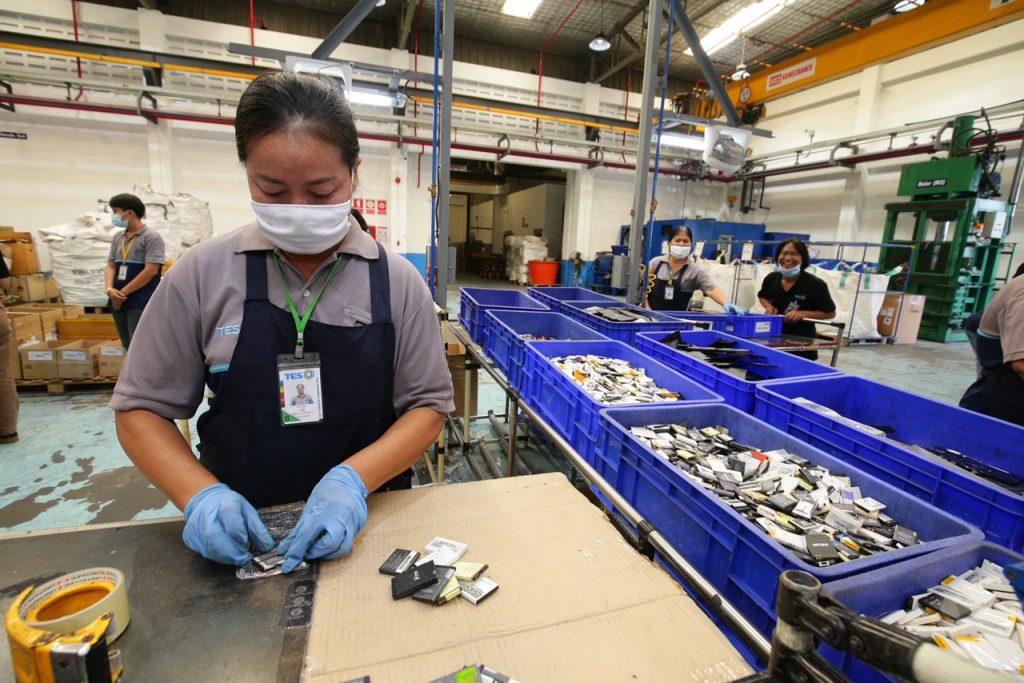 The dismantled parts will then be sent to a TES processing facility in Singapore, where precious materials like gold, copper, palladium and lithium will be retrieved, along with iron, aluminum and plastics. These materials may then be used as raw materials in new manufacturing processes. The process is able to recover 96 to 98 per cent of raw materials before reintroducing them into the circular economy.
In launching its campaign, dtac said proper e-waste management would contribute to preserving limited natural resources, reducing carbon footprints and achieving the company's goal of zero landfill.
A survey by the Department of Environment on management of disused e-wastes has underlined the need to "Think Hai D" and be concerned about e-waste. It found that more than half of users sell their obsolete devices to waste buyers. These buyers dismantle the e-waste devices and sell any retrievable parts. However, the remaining waste is improperly disposed of as general household trash, and heads for landfills where it can be a source of pollutants that contaminate the air, soil and water.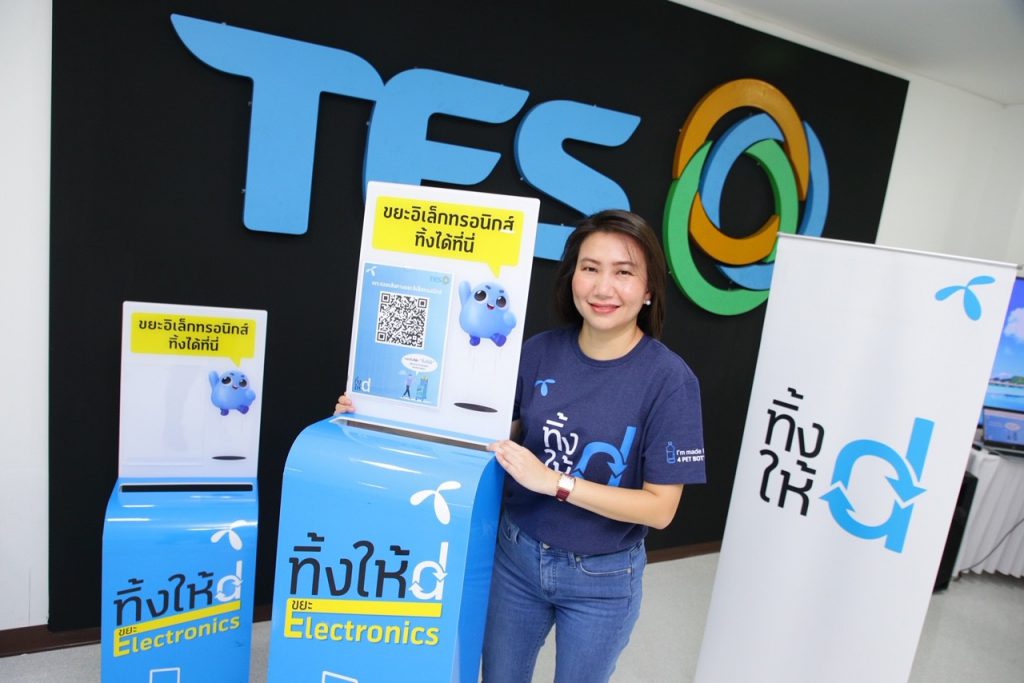 The Senior vice-President of Total Access Communications (dtac's) Communications and Sustainability Division, On-uma Rerkpattanapipat, said the "Think Hai D" program offers a convenient solution for those who want to properly dispose of electronic devices like old mobile phones and accessories in a safe and environmentally-friendly way. 
"As a major telecom operator, dtac sells hundreds of thousands of mobile devices each year. We aim to do business responsibly, according to an Environmental and Climate Management System under the dtac sustainability policy. Apart from our commitment to collect e-waste from consumers, dtac also responsibly manages e-waste generated by our own operations. The company is committed to managing all collected and internally produced e-waste with the target of zero landfill within 2022," he said.
Dtac also revealed the exacting process by which its e-waste recycling partner, TES, was selected. Risks such as good governance and environmental management were vital aspects of the qualification process, including consent to dtac's Agreement of Responsible Business Conduct. Candidates had to have a valid Department of Industrial Works factory license type-106 for proper e-waste recycling and disposal, as well as being certified to NIST 800-88R1 standard – one of the most widely used data-sanitization standards for electronic devices.
TES, which was established in 2005, is certified to international standards and is established at 38 locations in more than 20 countries. All of its facilities are certified to ISO14001, OSHAH18001, ISO9001 and ISO27001. TES focuses on sustainable development and provides comprehensive electronic-waste management services, data security, refurbishing and recycling.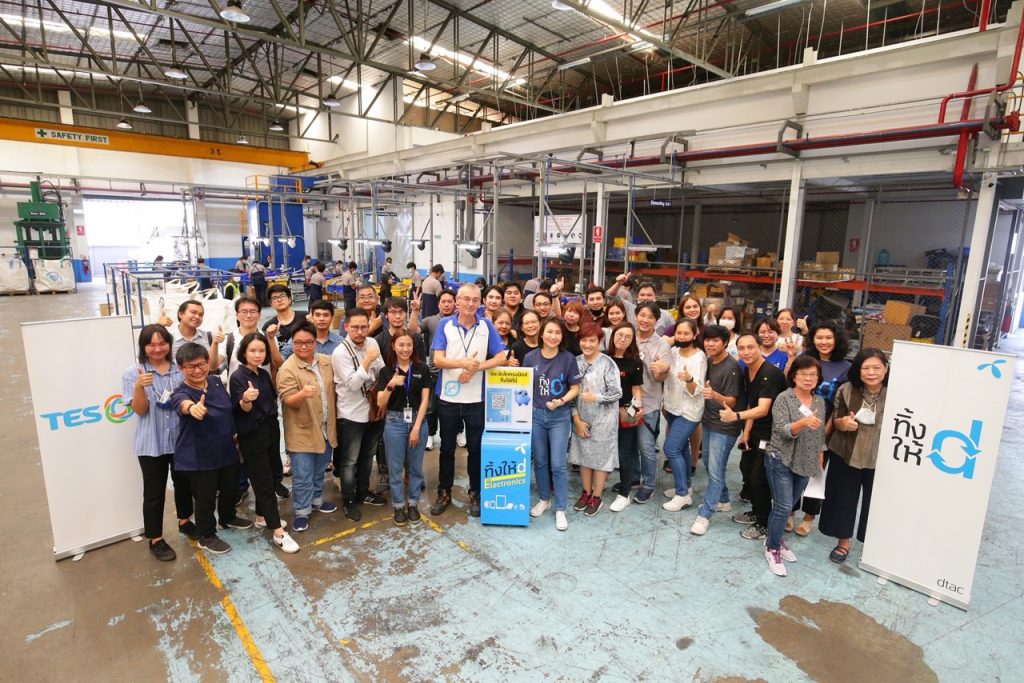 Helping the formulation of its "Think Hai D" program, Dtac has years of experience in e-waste recycling. In 2019, it collected 213,476 pieces of e-waste: 21 per cent came from general users, while 79 per cent was from dtac's own network operations and expansion.
Internally produced e-waste also includes demo units, obsolete models of mobile phones and accessories. Dtac has a specialist team to inspect these units and sort them for either re-use in various activities or for proper disposal if they are no longer in working order. Electronics marked for disposal are put through a proper disposal and recycling process by contracted e-waste recyclers.
Dtac has a Supply Chain Sustainability team that assesses and inspects recyclers on a list of vendors on an annual basis, to ensure that they maintain environmentally-friendly operations and comply with dtac's standards.
The company says it is committed to managing e-waste produced internally, starting with storing collected e-waste in a warehouse where safety and security systems align with the Department of Internal Trade's Notification on Warehouses. This ensures that surrounding communities will not be adversely affected in the case of an unforeseen incident at the facility.
For more information on the "Think Hai D" and "Think Ti dtac" programs, please go to:
https://dtac.co.th/sustainability/ewaste/