COMMY takes strategic initiatives to reclaim its position as the market champion in Thailand's smartphone accessories sector. Through a budget of more than 100 million baht in marketing, the brand undertakes a comprehensive rebranding campaign after three decades with the debut of its hero product, "Commy Super Hydrogel Film," Thailand's first high-performance screen-protection film. The innovative screen protector solves all consumer pain points with flexibility, impact dispersion, and quick scratch healing in just two minutes. Besides, the brand plans to utilize distribution channels across all dimensions: offline, online, and O2O (online-to-offline) and expects revenue growth to exceed 100% this year.
Ornpreeya Manovilas, Vice President of Commy Corporation Co., Ltd., said that "COMMY" is a Thai manufacturer and distributor of batteries and IT equipment with a strong presence in the market for over 30 years. The company was established in 1989 with the emergence of mobile phone services in Thailand. At the time, access to essential accessories such as batteries, chargers, and cables was limited. In response to the market needs, the company began importing and selling these accessories directly to retailers, shops, and customers.
Meanwhile, as demand grew and technology advanced, the company recognized the need to establish a battery assembly plant and created the brand "COMMY", which has successfully gained widespread recognition from customers nationwide.
COMMY's enduring success lies in a business concept that prioritizes "Quality" as its core principle, complemented by a firm commitment to fostering exceptional "Innovation."
Currently, the brand offers a wide range of products catering to diverse needs, encompassing two categories: Mobile Gadgets, which include screen-protection films and cutting machines, chargers, cables, batteries, power banks, headphones, Bluetooth headphones, Bluetooth speakers, and smartphone cases. Additionally, the company has expanded its product portfolio to include Health Products, such as portable air purifiers for personal and car use, N95 masks, and oxygen-generating and measuring devices. These offerings target a diverse customer base, including B2B groups, entrepreneurs, dealers, and B2C customers.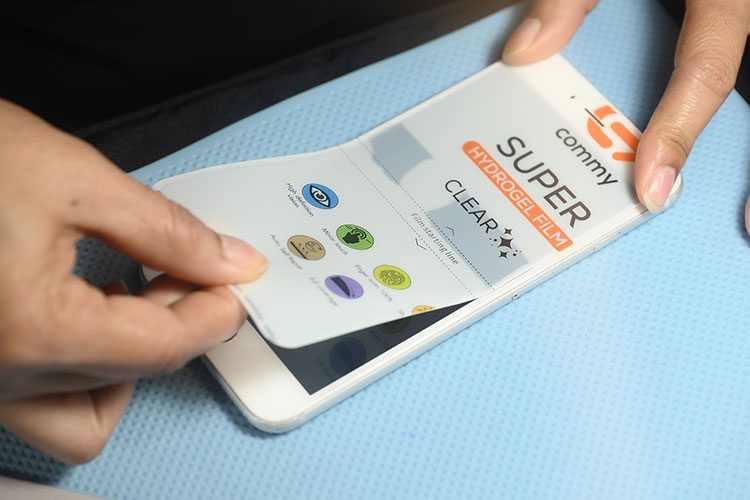 Ornpreeya also add that "The smartphone accessories sector in Thailand demonstrated steady growth, reaching a market value of 14,000 million baht. This growth, however, stood in contrast to the decline observed in the smartphone market. According to a market analysis by Canalys, in 1Q 2023, global smartphone sell-in shipments experienced a 12% decline to 269.8 million units. Meanwhile, the average sales of smartphones in Thailand stood at 13 million units per year. The decrease is attributed to changing consumer behaviors influenced by the pandemic. Rather than purchasing new smartphones, consumers tend to repair their existing devices and invest in accessories like batteries, smartphone cases, and screen protectors to prolong the usability of their smartphones.
To reclaim its position as the market leader in the digital transformation era, COMMY has budgeted over 100 million baht in marketing that focuses on a customer-centric approach across three key areas. The first area of focus is Rebranding. In an ever-evolving landscape of IT products and changing consumer preferences, it is essential for the brand to stay ahead of these transformations. As a result, COMMY embarks on repositioning its brand to cater specifically to those seeking distinctive and high-quality IT products, with an emphasis on personalized product offerings.
The second area of focus revolves around the development of Hero Products, specifically screen-protection films. The company aims to tap into this market in Thailand, now valued at over 6,500 million baht and exhibiting consistent growth. Sales of these films are projected to surpass 1.1 million units this year. COMMY is among the market leaders in manufacturing and distributing premium screen-protection films and has witnessed a surge in the popularity of hydrogel screen film products in the last 2-3 years. These thin films, measuring only 0.15 mm, offer a smoother surface than tempered glass types. The hydrogel screen films also possess excellent impact dispersion features, making them more durable than tempered glass and solving all customer pain points. They offer flexibility to fit various screens, including normal, curved, and even folding screens. Notably, these films boast an innovative self-healing feature, repairing scratches within minutes to enhance longevity and usability.
To accommodate the market demand, COMMY has recently introduced the first-ever "Commy Super Hydrogel Film" in Thailand. This innovative film incorporates an enhanced gel texture and self-healing technology, providing an exceptional user experience. With this technology, minor scratches can self-heal within 30 seconds, while larger scratches require no more than 2 minutes for a seamless repair.
Lastly, the third area of focus is the Hybrid Distribution Channels. COMMY aims to cater customers needs via all dimension of distribution channels. For online, customers can place orders at the official store and receive services at a representative store near their homes. Alternatively, customers who prefer to apply screen protectors themselves can conveniently order COMMY products through popular e-commerce platforms like Lazada and Shopee. Meanwhile, for offline channels, COMMY offers the availability of its products through various dealers and retail chains, including 7-Eleven, TG Fone, and Jaymart. The brand also plans to set up its kiosks at leading department stores by the end of the year."
Ornpreeya added, "COMMY is gearing up communications to enhance awareness among new target groups. Throughout this year, there will be a series of on-ground marketing activities for customers to experience the quality of our products. Also, online activities will leverage the power of influencers and employ entertainment marketing to strengthen consumer awareness of our products. COMMY is confident that the successful execution of this plan will result in revenue growth of over 100% by the end of 2023."
Singha Estate highlights Q1 revenue of THB 3.335 billion
TCP Group demonstrates its leadership in Asia's F&B sector at THAIFEX 2023