Helping with push for K PLUS to become regional mobile app
On the 21st floor of Friendship Tower in central Ho Chi Minh City, Vietnam's largest city, is where KBTG Vietnam is located, serving as KBTG's third key tech base in Southeast Asia.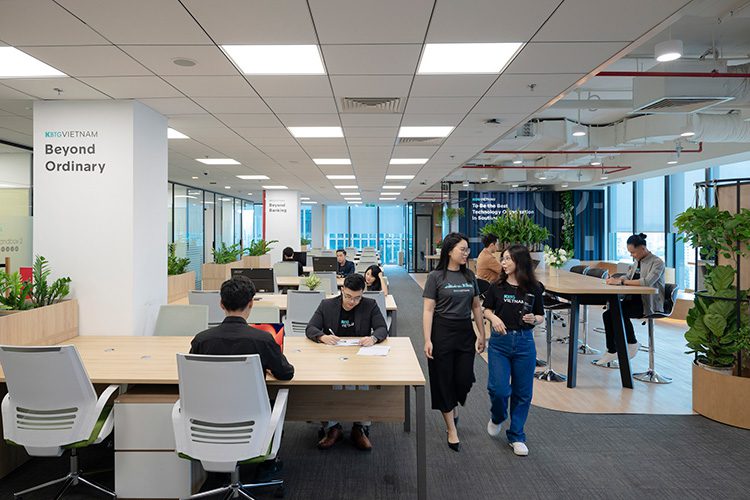 KBTG Vietnam is an important strategic move of Kasikorn Business-Technology Group (KBTG), a subsidiary of Thailand's Kasikornbank (KBank), to become a regional tech company. KBTG Vietnam has the role of KBTG's tech hub for the entire Southeast Asian region. It serves Kasikornbank while working together with KBTG in Thailand and K-Tech in China's Shenzhen city.
KBTG Vietnam is one of the nine companies under the KBTG Group. It is part of KBTG's IT Delivery Shop sector, which also includes K-Tech and KSoft. Companies in this group have the main duty of developing IT projects, having delivered some 150 projects while overseeing more than 400 mobile applications.
One of those apps is K PLUS, KBank's flagship mobile banking application which has over 22 million users.
KBank has a mission to become a regional digital bank, aiming for more than 200 million customers in Southeast Asia. And the K PLUS app is the Thai bank's main "weapon" in its foray into the region's digital banking market.
The bank is expanding the potential of K PLUS – Thailand's most popular mobile banking app – so that it becomes a super app for financial services in Southeast Asia or a regional mobile app. It has to rely on KBTG's tech workforce to create the K PLUS user experience that meets customers' demands in each country.
The first success was the launch of K PLUS Vietnam in March last year. The mobile app, which is based on the same KBTG technology used in the development of the original K PLUS, now has about 600,000 users in Vietnam. The goal is to reach 1.3 million users within this year and as many as 8.4 million in 2027.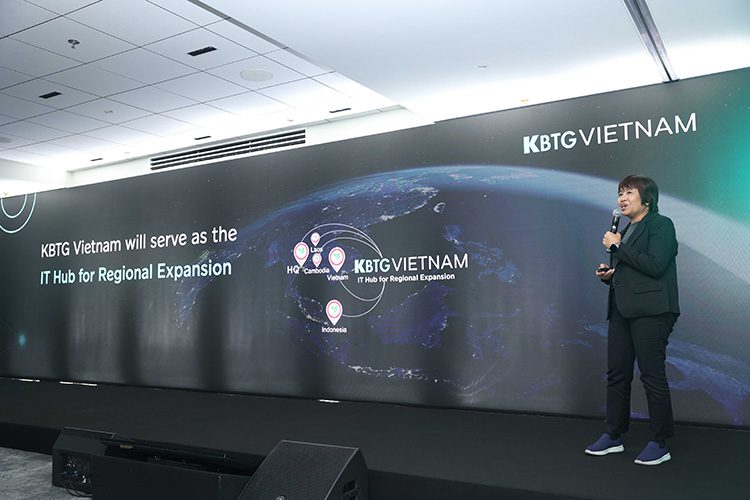 KBTG Executive Chairman Voranuch Dejakaisaya said that as a regional tech firm, KBTG has a mission of serving KBank's goal of becoming a regional digital bank. KBTG in Thailand works with K-Tech in China and KBTG Vietnam to achieve the goal.
According to the chairman, KBTG focuses on mobile banking and cyber security technologies while K-Tech deals with blockchain and KBTG Vietnam takes care of the K PLUS Vietnam app and "beyond banking" services.
The plan calls for KBTG Vietnam to serve as a tech hub for KBTG in this region in order to support KBank's goal of becoming a regional digital bank, Voranuch says.
Vietnam has a vast potential pool of young tech talents, larger than Thailand. Vietnam's working group aged 15-64 is expected to reach 71 million in 2030, compared to 45.4 million for Thailand in the same year. Also, Vietnam had 22.6 million science and engineering graduates in 2020, compared to 19.6 million for Thailand.
To qualify as a KBTG regional tech hub, KBTG Vietnam must have more tech talents. There is a plan to increase its tech talents from 100 at present to 500 by the year 2025. The plan calls for an expansion to northern Vietnam, with the opening of a new office in Hanoi, the capital city.
According to Voranuch, KBTG Vietnam will become a key supporting force – along with K-Tech in China – to help KBTG become a top tech company in Southeast Asia and China. Also, KBTG Vietnam is expected to become one of Vietnam's best tech firms by 2025.
Moreover, KBTG Vietnam is involved in deep tech research and development to create innovations for KBank operations in Vietnam and other Southeast Asian countries.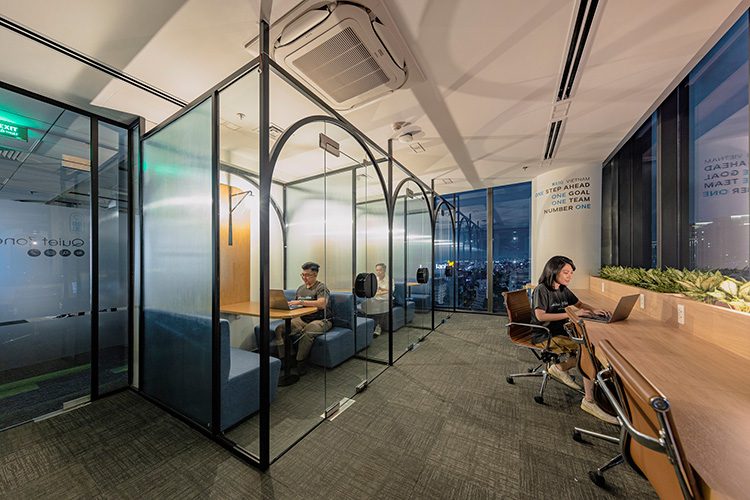 KBTG Group Chairman Ruangroj "Krating" Poonpol said that KBTG Vietnam is not just a development center. It is also involved in research, development, and education in collaboration with Vietnamese academic institutions. 
This arrangement – similar to what KBTG is doing in Thailand – is meant to boost KBTG Vietnam's potential in a country where up to 10,000 new tech talents graduate every year.
"When KBTG declared the goal of becoming the region's best tech firm, many people thought we might go too far. But now that vision is being realized. We have K-Tech in China with talents in blockchain and KBTG Vietnam with personnel of multiple skills, both in Ho Chi Minh City and Hanoi," Krating said.
KBTG is working on artificial intelligence (AI) transformation and landscaping, as part of a plan to use AI in boosting its potential in technology development. The goal is to improve the capability of KBTG's developer teams in Thailand, Vietnam and China so that they can work together and "scale agile" with increased efficiency.
"Augmented intelligence, or AI, will help us to greatly improve our capability in technology development. We have to expand the potential to prepare for a bigger market in the region. This applies particularly to the expansion towards Indonesia, which has a population of 240 million and is expected to become one of the world's 10 largest economies in 2050," said the KBTG group chairman.
Vietnam is significant for KBank and KBTG – serving as a market for the Thai bank's digital services and also a key source of tech talents for KBTG. Vietnam has a large population of young people who are familiar with digital services.
That country has leapt across the technology development threshold. For instance, the Vietnamese can now easily open new bank accounts through mobile applications.
KBank has seen a good opportunity to bring K PLUS – which is one of its significant strengths – to Vietnam as part of its market expansion plan there. Also, Vietnam has numerous tech talents that can serve in KBTG's "tech army" for Southeast Asia.
KBTG Vietnam was started by Managing Director Thanussak Thanyasiri and Pakawat Maneechaemsai, who is its Head of IT Strategy & Operations. The pair represent KBTG in launching a "squad team" startup business in Vietnam in 2021, paving the way for KBTG Vietnam to start operational officially in June 2022.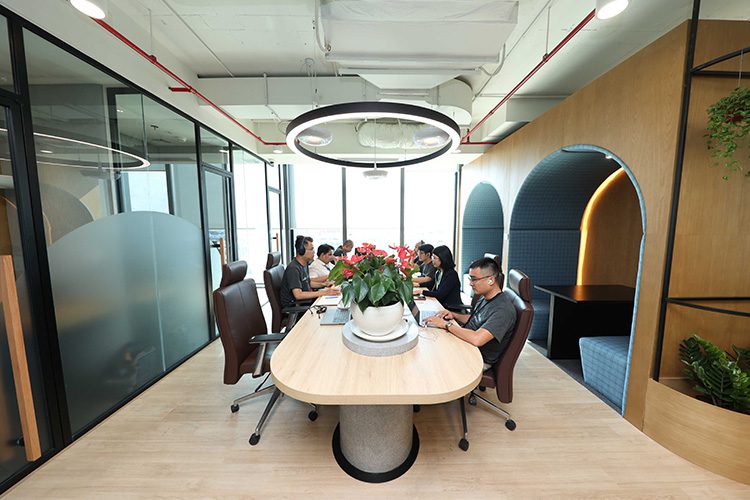 The company now has 100 employees – only three of them are Thai nationals while the remaining 97 are Vietnamese. They all have a good understanding of technology and Vietnam's business sector.
KBTG Vietnam's office is located on the 21st floor of Friendship Tower. It is decorated in the same way as the KBTG head office in Thailand, with a distinctive corrugated design inspired by shipping containers and meant to portray the company as an innovative organization.
The office has an area of 700 square meters that includes rooms for meetings, work presentations, sandbox projects, and one research lab. There are 100 hot seats, with a pitching area and a snap room.
KBTG Vietnam has a hybrid work arrangement, with the employees working at the office two days a week and working from home three days a week.
In May 2023, KBTG Vietnam set up a new office in Hanoi, which now has about 20 employees, and there is a plan to increase the workforce soon. The Hanoi office focuses mainly on business analysis.
KBTG Vietnam is assigned to continue and improve further from what KBTG has done in Thailand while serving KBank, its business partners, and customers in Vietnam and other Southeast Asian nations as a KBTG tech hub in the region.