Hopes of better quality of life from Family Folder Collector (FFC) App
An increasing number of doctors and other medical workers in Thailand are pouring praise on a medical-records application created by the Assistive Technology and Medical Device Research Center (A-MED), a unit of the National Science and Technology Development Agency (NSTDA).
The app, called the Family Folder Collector (FFC), was designed to ease the workload of health professionals. It was developed after a six-months research effort in Thai hospitals and has recently been intensively trialed by doctors. Feedback from health workers led to updates in which some rarely-used features were removed while frequently-used features were upgraded. The FCC is now in its Version 4.0, has been downloaded by about 300 organizations, and its use is spreading rapidly.
Creation of the app sprang from realization that all hospitals have "household health work", with files recording the health history of patients, including family members and relatives and their contact information.
"Paper-based data leads to a pile of problems," explains a member of the FCC development team, A-MED researcher Watcharakon Noothong. "First, it is hard to update. Second, it is very difficult to decipher handwritten data. Data usage, as a result, takes so much effort. We came up with an idea of making health records easy to record, easy to update, and easy to read, all without consuming a huge amount of paper and taking up lots of physical storage space."
The FFC functions as a smartphone app, and links its users to the Public Health Ministry's JHCIS system. All state hospitals and community health centers use the JHCIS system for compiling patients' data. Information from the database is accessible by the FCC through a cloud system, and artificial intelligence (AI) is also used to analyze the health issues of each patient. Public-health officials can easily gather information on active home-visits and record treatment data, which can be retrieved for later follow-ups. In addition, the FFC automatically draws a family tree showing the health data of household members and checks their risks of them contracting hereditary diseases.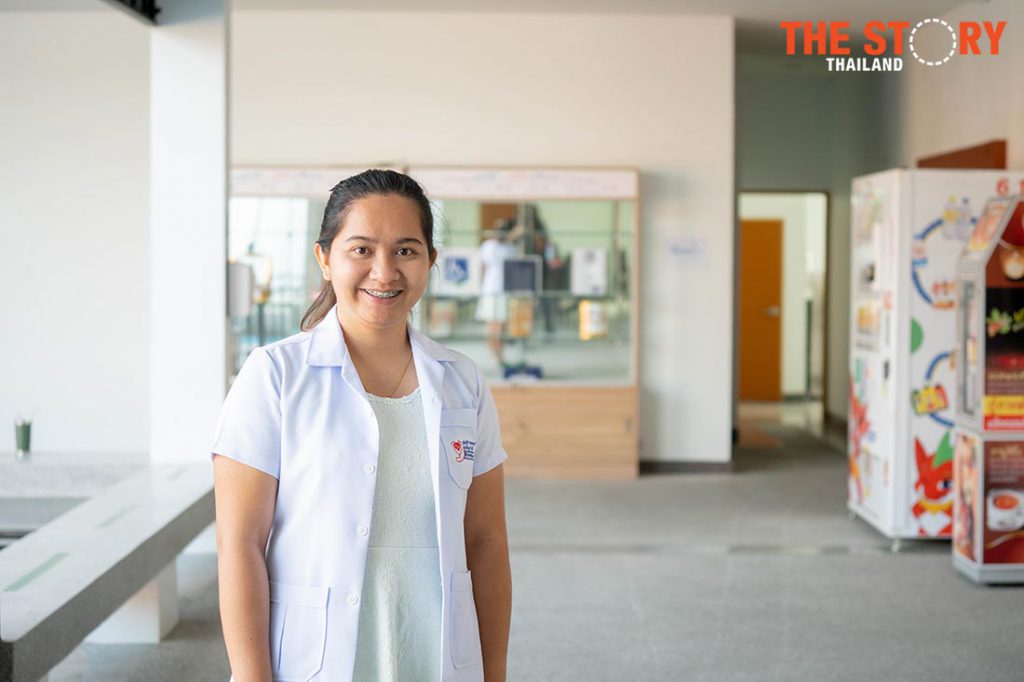 Watcharakon says the FFC-development team plans to give the app the ability to predict future health risks for every person. Advice will be given in advance so as to help patients to take better care of their health, particularly those battling non-communicable diseases.
FFC lauded after four-month trial
Among the organizations trialing the FFC is the Bueng Yitho Medical and Rehabilitation Center, in Pathum Thani's Thanyaburi district, which is responsible for the healthcare of more than 80,000 people. The center has five doctors, three dentists, two pharmacists and seven physical therapists, and together they treat between 200 and 300 patients each day. One of the doctors, Dr. Thitinan Nakphu, says the centre began using the FFC app last October.
Thitinan explains that detailed health records maximize the efficiency of health promotion, disease control, treatments and rehabilitation because they allow doctors to give quick and accurate diagnoses. With detailed health records, the risk of wrong diagnoses and malpractice are significantly reduced. As a result, all medical facilities compile patients' health records in a systematic manner. However, medical service providers often face constraints in managing and maintaining this information because data at many hospitals are hand written, and must later be digitized, so recording health information becomes a huge workload for staff.
Medical workers at the Bueng Yitho center are therefore enthusiastic about the FFC app. Most of their patients suffer from non-communicable diseases like hypertension, diabetes and chronic kidney disorders, and many are unable to control their conditions well, so they need home visits and constant assessments. Health advice usually aims at adjusting patients' behavior, so that they lead healthier lifestyles. The center's staff find the FFC app very useful during home visits. Moreover, it gives statistical analyses that help medical teams to recognize health threats faced by patients.
They say the application works well with smartphones as well as with tablets. Medical workers can add information to the app during home visits, in real time. There is no need to jot down patients' information on paper.
Thitinan says the FFC app has huge benefits for medical workers, offering a high level of convenience in the long-term care of elderly, bedridden patients, the physically challenged and those suffering brain disorders.
Because recording data with the FFC is so easy, health professionals find that they can skip several work procedures. Gone are the days when they had to transfer data from their handwritten notes to the online system. With the FFC, new data from each home visit appears on iCloud storage instantly, and the iCloud is directly linked to the JHCIS system that is used in all state hospitals and medical facilities. Data may be retrieved at any time, making it easy to monitor patients' conditions and progress.
"Another big highlight is that the FFC can provide statistical analyses," Thitinan says. "When it analyzes a health issue, it can present the overall picture of that particular health concern. With features like that, the FFC has the potential not only for wider use in practice, but also in research, and this may facilitate the development of health solutions in a range of medical areas."
The Bueng Yitho Medical and Rehabilitation Center is now planning to expand its use of the app, and within two years it aims to use the FFC on at least 80 per cent of its home visits. While it is presently used by the center's doctors, nurses, public-health academics and physical therapists, it hopes in the near future that the app will also be used by dentists, practitioners of traditional Thai medicine, social workers and psychologists who may join multi-disciplinary teams for home visits.
Because of the comprehensive nature of data collected by the app, the Bueng Yitho center is also hoping it will help to identify health threats in the community, perhaps before they occur, and find solutions.
FFC creates personal health profiles for everyone
Thitinan points out that the FFC creates a personal health profile for everyone whose name appears on the app as a patient. This profile lists not only past illnesses and health records, but also inherited behaviors and illnesses. In this way, an overall picture of a person's health is created, making it possible for health professionals to determine the risk of hereditary diseases. Data and statistics from the FFC also allow health professionals to understand every aspect of a patient's health, allowing the development of more holistic and efficient approaches to healthcare.
'The more integrated health data there is at a national level, the better health professionals will understand health issues in their area," she said. "In the picture are endemic diseases, local cultures, local beliefs and local healthcare practices. When these factors are taken into account, it is possible to develop proper healthcare activities or programs for particular patient demographics."
A keen ear to feedback
A-MED researcher Watcharakon says that his team is listening keenly to feedback from health workers experimenting with the app.
It was decided from the very beginning that the innovation must be compatible with tablets, as well as smartphone. Data registration is easier because of the size of tablets, yet they are still small enough for health workers to carry around. Tablets, moreover, have GPS technology and access to the internet. Data from the devices can thus be conveniently uploaded and linked to the subdistrict health promotion hospitals' database.
Watcharakon says he hopes the FFC app will become a trusted aid to health personnel; a tool that will let them see problems clearly, identify causes, and find solutions. Despite the rave reviews, he points out that the app should be upgraded to keep pace with emerging diseases and changing social contexts. His team is currently trying to efficiently link the FFC to the IoT (Internet of Things). When they establish such a link, data from medical devices such as blood-pressure gauges or glucose-monitoring devices will be sent automatically to the FFC. Inaccuracies in recording data will be prevented and adjustments in treatments will be very effective.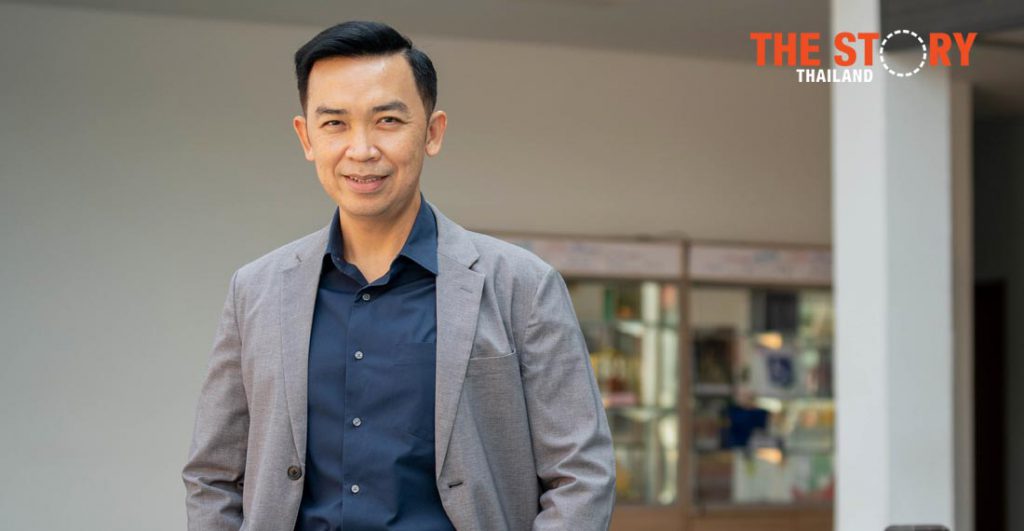 Watcharakon believes that widespread use of the FFC is a part of proactive healthcare, the ultimate aim of which is to reduce the number of patients. Thailand's soaring budget on medicines and treatments may be halted and these expenses may even reduce. Moreover, when people are healthy, they will be capable of contributing to the country's economy.
The FFC app is free to any interested organization. Its developers, moreover, are on hand to support users. If any technical problem arises, Watcharakon and his team are standing by. The only expense faced by interested organizations is paying for devices such as tablets.
FFC-driven volunteers for community patients
Meanwhile, the Bueng Yitho Medical and Rehabilitation Center wants to work with the A-MED researchers on another use for the FFC app.
The center not only provides medical treatments, but also conducts what it calls "public-health missions," in which home visits are made by a multi-disciplinary team with the help of local volunteers. Kwanjai Jamtim director of Public Health and Environment Division, Bueng Yitho Municipality said that many of the volunteers have been working with the patients for a long time, and they are essential in connecting health professionals with their patients. Health data from the home visits must be recorded, including any changes in a patient's condition, so that further treatments and care can be planned. For example, some patients need physical therapy over an extended period, and when their progress is accurately recorded, physical therapists are able to design further rehabilitation programs, and data can also be compared over time.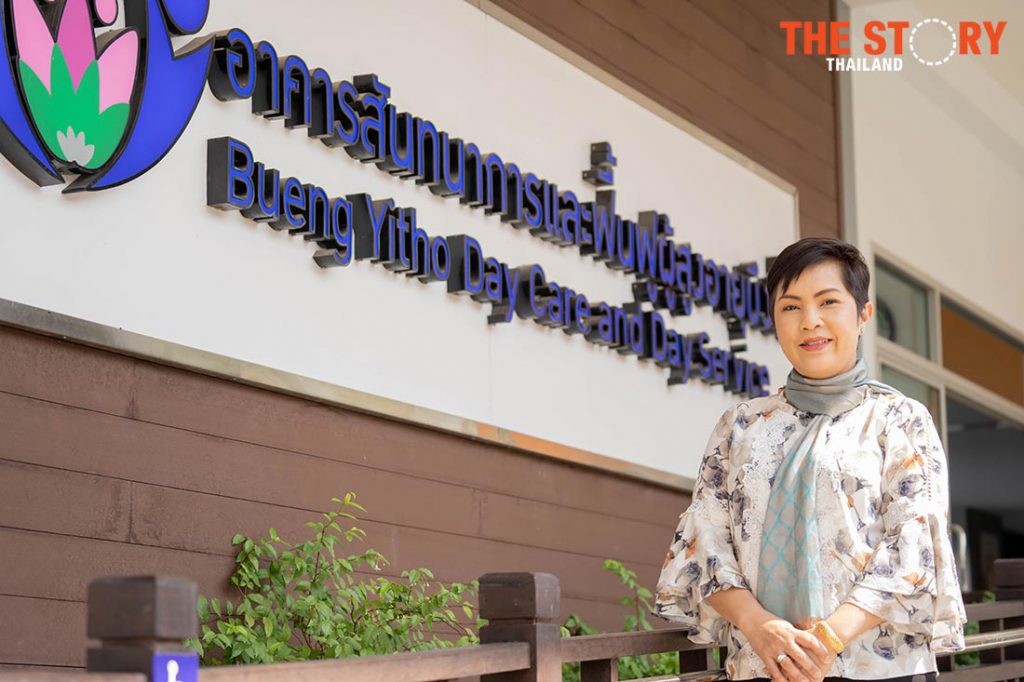 The Bueng Yitho centre is now interested in introducing the FFC app to its force of community health volunteers. For example, it currently has 27 volunteer caregivers who providelong-term care to elderly, bedridden patients and others. These people have all been trained for their caregiving role, but according to a center spokesperson, their work could be made much smoother with the FFC tool.
I think the app would be even better if it could show whether caregivers actually visit the homes of the people that we put under their care, and how much time they spend on each visit," she said "This will make a big difference because paperwork alone cannot prove what caregivers have done. There are 120 people under their care, and if the app uses technology to show the whereabouts of caregivers in real time, we will know where and when they make home visits, and whether they comply with their assignment schedule."
The Bueng Yitho municipality, in which the medical and rehabilitation center is located, is also considering equipping its 200 village health volunteers with the FFC app. During the COVID-19 pandemic, the village health volunteers have played an important role in educating people about how they should protect themselves. They have also monitored people's movements and coordinated with various agencies to obtain necessary supplies, including face masks.
The village health volunteers, along with the Bueng Yitho center's home-visit teams, have visited up to 10 families each day during the COVID-19 outbreak, and technology-based solutions are seen as offering faster and more convenient data registry and therefore greater efficiency in responding to the crisis.
The Bueng Yitho Municipality is also exploring other "health tech" innovations, such as Telemedicine, a touchless system for medical devices at the Bueng Yitho Medical and Rehabilitation Center, a tech-enabled data registry system for its elderly daycare center, and a data-registry system with smart functions for post-natal mothers.