Asides from 5G, Cloud, or Digital Power smart technologies, AI seems to be the current hot and trending topic among most industries in Thailand. With manufacturing, financing, and even communication industries adopting AI into their working processes to increase productivity and reduce costs, the foundational technologies required to support widespread AI adoption have now been built and are ready to use in many countries, including Thailand. But does Thailand's digital ecosystem ready for this innovation? Do Thai entrepreneurs really ready to adopt this new Cloud and AI technology to create real business use cases? And what direction will AI technology drive Thailand towards?
There is no denying that in the past few years, Cloud and AI have been one of the biggest enabling technologies that can bring a direct impact to organizations, whether private public or individual Businesses and organizations are always looking for technologies that will bring a tangible impact. Now, Huawei Thailand is one of the main players who is leading Cloud and AI innovation as well as digital adoption among Thai businesses and organizations.
Dr. Chawapol Jariyawiroj, President of Huawei Technologies (Thailand) Co., Ltd. provided an insight into AI adoption in Thailand's businesses at the HACKaTHAILAND 2023: DIGITAL INFINITY event where Huawei collaborated with Ministry of Digital Economy and Society (MDES) and depa Thailand: "The difference between success and failure of AI adoption depends heavily on the ability of AI to bring an impact to your
organization. And the abilities to adopt an AI and the speed of the adoption depends on the practicality of those AI technologies. Thailand is one of the countries that has a very good national digital strategy in support of the digital economy strategy. And I believe that we can bring AI technology to create an impact and actual use cases for each industry and the country. To do that, Infrastructure technology, people's skills, and the ability to effectively develop, connect, and adopt AI are crucial to the national AI strategy as well."
He added that the key to AI adoption depends on multiple factors. Aside from a very different type of computing power and algorithm, it also depends on industry knowledge, and this is the area where Thailand may still be lacking. As industries are growing in all directions, we are still seeing an ever-increasing gap for knowledge, talents, and industry know-how. One of Huawei's objectives is to close all these gaps with talent cultivation programs in Thailand, such as Cloud Developer and Spark programs, with a "Pangu AI Large Model" from Huawei.
"To give you an example of a real Pangu AI use case in industry, we can look at mining industry. Everyone understands that mining is a high-risk industry where there are a lot of situations that create an overall hazardous working environment. With the use of AI models, we can minimize the number of people required to be on-site as the AI will have the ability to monitor and manage routes and errors without the need for human intervention, meaning there will no longer be the need for people to physically monitor situations 24/7. The second example is the weather forecasting model, which will be an important feature for an agricultural country like Thailand. Having an accurate weather forecast that allows farmers and farming-related businesses to have a high-quality source of information is the key for success.
We have seen the actual usage of Pangu model in the European Weather Forecasting Agency, which provides the highest accuracy that they have ever seen. The Pangu AI provides the ability to come up with accurate whether forecasting within 10 seconds, compared to the hours of processing time needed in the past, which makes it a real-time high quality and accurate weather forecasting tool." Dr. Chawapol added.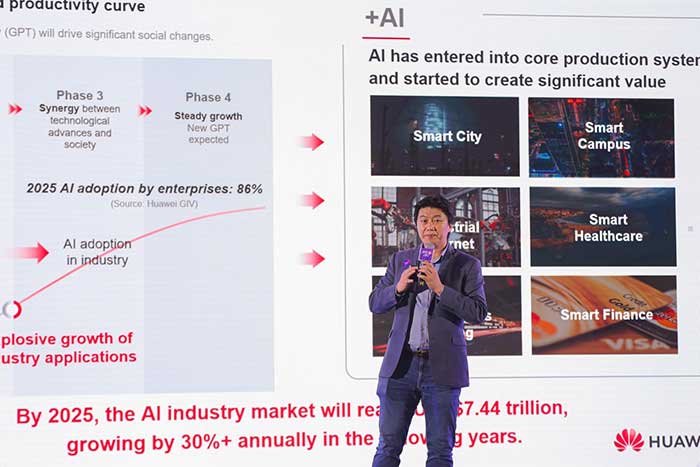 For additional interesting use cases on how to utilize AI technology, Surasak Wanichwatphibun, CTO of Huawei Thailand Cloud Business, elaborated that many pharmaceutical organizations utilized the model to provide pharmaceutical-related data to positively impact the treatment of COVID-19 patients, quickly analyzing and delivering potential pharmaceutical lists to cure COVID-19. In addition, many people in the fashion industry in China used Pangu AI to analyze potential fashion trends in the future to help with designs or used the AI to check whether their new design would infringe on any intellectual property of previous designers.
The GF Securities company in the financial sector utilized Pangu AI to increase industry prediction accuracy to 90% compared to their own internal solutions which had an accuracy of 70-80%. These real use cases could be adapted for use in Thailand very easily with Huawei Pangu AI, driving many Thailand vertical industries and businesses toward success by increasing accuracy and efficiency for private and public sectors.
"In the near future, we will see most of enterprises in various industries adopt AI technology. we will see support for the Thai language in Pangu AI Large Model to better serve our Thai clients who prefer to use AI technology in their own language. Finally, Huawei will train personnel to have the expertise and know-how to effectively use AI technology." Surasak stated at the event.
To help enable Thailand's digital ecosystem even further, depa and Huawei have joined forces through a memorandum of understanding (MOU) to propel the creation of a Thailand Innovation Center aimed to collaborative efforts between the public and private sectors. The initiative seeks to pioneer and incubating new digital services in the realm of Cloud Service, AI and Big data and projects that support talent cultivation in Thailand such as Huawei Spark Incubator Program and Huawei Developer Program. Huawei Thailand also set up an exhibition booth at the HACKaTHAILAND 2023: DIGITAL INFINITY. The event aims to elevate digital knowledge and skills among the youth and the general public, preparing them to effectively navigate a future world where digital technology plays a pivotal role in all aspects of life. In addition, it aims to foster confidence for Thailand's position as a technological and digital innovation hub for the Southeast Asian region.
Huawei Thailand remains steadfast in its commitment to contributing to society, nurturing next generation of digital leaders, and fostering innovation that propels Thailand's digital transformation journey. Huawei Thailand would like to emphasize the importance of Cloud and AI technology adoption and to see AI become a vital tool for people to improving productivity.
In addition, Huawei anticipates faster AI adoption in Thailand and Huawei has many personnels people who are ready and capable to support all of our clients and partners. Huawei will continue to be an organization that truly believes in investing in Thailand and always committed to our "Grow in Thailand, Contribute to Thailand" mission, in order to enhance Thai peoples' life and capabilities and empower a fully connected and intelligent Thailand for the future. 
Google Cloud expanding Duet AI, across Google Workspace and Google Cloud
SCB TechX joins forces with VMware, forming multi-cloud management platform with Scaled DevOps