'Thailand has no more time to waste' in preparing for a hi-tech future – KBTG President
The Kasikorn Business-Technology Group (KBTG) has launched a major initiative to unite Thailand's research and development organizations and build an ecosystem in which local tech and tech talents can thrive. It is called Tech Kampus.
The initiative will kick off with joint research projects and academic collaboration between KBTG and nine partners before expanding to cover at least 10 more partners before the end of this year. 
The company says tech capability is very important to fostering Thailand's competitiveness, given that the country was rocked by technology disruption in 2016 and "disruption domino effects" came in 2018. The media, commerce, financial and logistic sectors have already been disrupted, and the COVID-19 pandemic has seen continuous disruption "raging across the globe".
KBTG believes that if the trend continues, the world is bound to see drastic changes within the next 10 years. It expects a "sharp turn" next year, followed six or seven years later by another drastic turn, and if Thailand wants to survive, it must pay immediate serious attention to its tech capability. The country's expertise and application of tech will determine where it will stand in the future.
At present, Thailand ranks among the world's countries with the lowest expenditure on research and development (R&D). Developed nations such as Japan and South Korea have allocated more than three per cent of their gross domestic product (GDP) to R&D. With Japan's GDP totaling USD4 trillion, its R&D budget is around US$150 billion a year. Thailand's GDP, meanwhile, is around US$500 billion and it spends only 0.34 per cent of this on R&D.
KBTG says that in these circumstances, Thailand cannot afford to build its tech capability without a clear direction and a serious focus on efficiency and collaboration. Otherwise, it risks losing its competitiveness.
The Tech Kampus project has been implemented in collaboration with the National Electronics and Computer Technology Center (NECTEC), the Artificial Intelligence Association of Thailand, and seven higher-education institutes, including the Asian Institute of Technology, Chulalongkorn University's Faculty of Engineering, the Information Technology Faculty of King Mongkut's Institute of Technology Ladkrabang, Kasetsart University, Thammasat University's College of Innovation, CMKL University and Mahidol University's International College.
KBTG's President, Ruangroj Poonpol,says "deep tech" has been continuously disrupting the world. "In Thailand, there are in fact many talented people. Therefore, KBTG is seeking to engage in deep collaboration and deep focus with research institutes and universities. For Thailand, there is no longer any time to waste."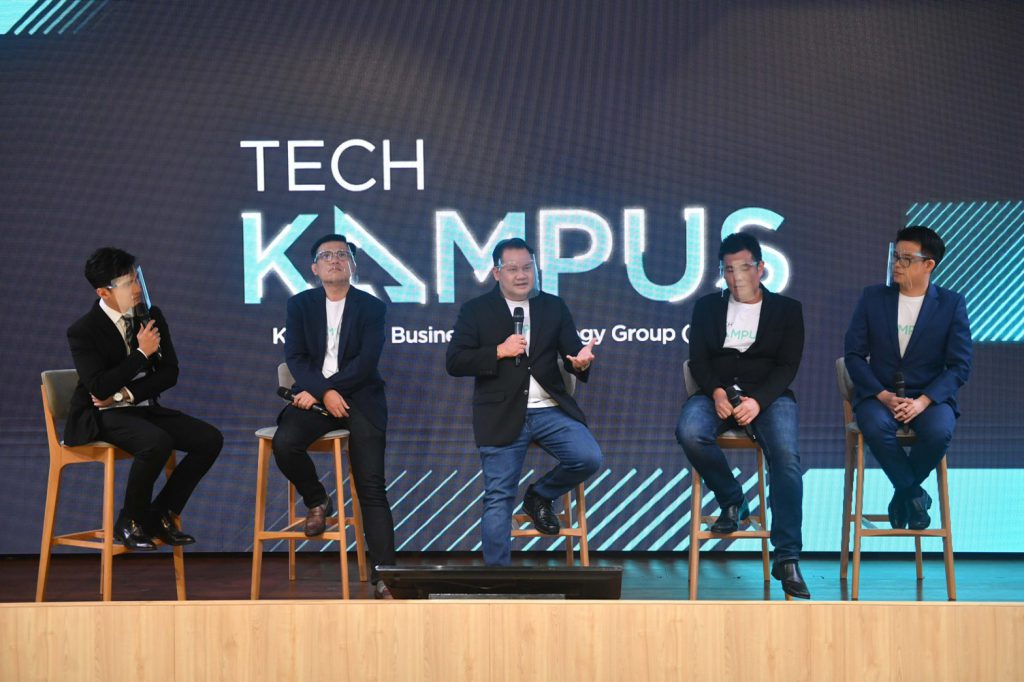 KBTG is the technology arm of Kasikornbank (KBank), which is not only Thailand's leading bank for financial innovations, but is also one of the leading banks in Asia Pacific. It records revenue of about Bt120 billion a year.
Ruangroj says his organization cannot "go solo" on tech R&D because deep collaboration with Thailand's leading universities and research institutes is needed, so that all parties can help one another along the way. Together, research initiatives will have a clear focus, and collaboration can be expected to deliver solutions that apply well to KBank, especially in its ongoing pursuit of overseas expansion.
Kasikornnank aims to become one of the world's best digital banks. Its KPLUS app now has nearly 15 million users, and as the bank's businesses keeps expanding, the number of users of KPLUS is expected to reach 100 million.
The deep tech research that is expected to result from collaboration between KBTG, research institutes and universities will be used across Asia. 
"Our collaborative efforts will allow researchers, research institutes and universities to present their work to about 100 million people. Their findings will be used to upgrade the quality of life among this body of people. This is what would happen if KBank and KBTG were the sole partners. If our partnerships expand, with other private firms jumping on the bandwagon, impacts will become even bigger," Ruangroj says.
Every tech hub in the world has fostered intensive collaboration among enterprises, universities, and research institutes, he says. With such deep collaboration, private companies have set up labs within the compounds of higher-educational institutes. The tech hubs have truly pursued deep collaboration and synergy, which are keys to developing a world-class tech ecosystem. KBTG now strives to create such a system for Thailand's future.
"Deep collaboration, in terms of research and education, lies at the heart of a tech-talent ecosystem. We need to prepare such a system to produce new-generation tech talents for our country," he says.
Even in the face of the COVID-19 crisis, KBTG recruited 300 more employees last year. This year, it plans to recruit 450 more for its operations in Thailand and 80 others for its operations in foreign markets. In all, it intends to hire 530 more employees this year and will be interested in tech talents offered up by its collaboration with nine partners in the Tech Kampus project.
"If we attract 530 applications and find that all applicants are great, we will hire them all," Ruangroj says. "We hope that universities will want to work with us. We are ready to provide support, cooperation and contributions. We will share with them our insights and requirements. Our staff will even help with curriculum development and teaching. This year, results will become more tangible."
He points out that KBTG also accepts interns. Even first-year students are welcome because KBTG believes that the earlier students can get an internship, the better. When they become interns, they will understand the corporate world better. When fourth-year university students serve as interns at KBTG, they receive pay as well as credits for their course of study. These credits enable them to finish their courses one year earlier than normal. Moreover, such internships give a boost to education in Thailand. The country's educational efficiency will rise by 25 per cent because graduates with internships are able to start working immediately; they do not need to be reskilled to work in the real world.
"KBTG has clear plans for the application of research," Ruangroj says. "For example, Vietnam has 100 million people, and in the Vietnamese market, we plan to apply the findings from collaborative research on the development of AI as a Service for commercial purposes. We will also upgrade research findings and use them to benefit universities. In addition, we are ready to connect Thai higher-educational institutes with foreign private firms that are customers of KBank or KBTG."
To date, KBTG has conducted some projects with research institutes. This research has covered Natural Language Processing (NLP), an important field that is concerned with interactions between computers and human language, and is effective in significantly raising work efficiency; Computer Vision, which can be applied in electronic Know Your Customer; Contactless Technology that has had growing use; and Touchless Navigation as well as Smart Branch. While KBank's physical branches will continue to operate, the unfolding retail transformation is expected to overhaul all touch points of retail banking. Many more uses of collaborative research will follow.
KBTG has already begun co-innovation activities with business partners such as Major Cineplex and Black Canyon. Their needs will be discussed in KBTG's collaboration with universities, with a view to joint research, leading to joint development. The results of such collaboration and partnerships will be applied in a market of 100 million people. The number of users will grow even further when KBTG taps into the Chinese market.
"Imagine that the outcome of our research will benefit about 100 million people. It will also boost Thailand's competitiveness," Ruangroj says. 
KBTG will launch its Tech Kampus with an initial focus on the important fields of Data Science and Artificial Intelligence. However, KBTG is also keenly interested in Quantum Computing, Cryptography and Computer Security. It believes that Thailand should be capable of producing many more IT personnel, and in its drive to recruit more employees, is offering unlimited internship opportunities and has organized an Internship Boost Camp for interns. KBTG sees huge demand for versatile and talented people.
In its plans for deep collaboration with higher-educational institutes, KBTG says clear expectations will be laid down and the collaborative relationships will be open to other players, because both KBank and KBTG recognize that research must be interdisciplinary to be practical.
"KBTG Tech Kampus is about Deep Collaboration, which covers both Deep-Research and Deep Academic Education," Ruangroj says. "The goal will be to raise Thailand's technological capabilities. This will pave the way for Thailand to not just survive, but also to win in many industries. We are doing this to build a better Thailand for the next generation."
​Co-research and academic knowledge
KBTG's Senior Principal Visionary Architect, Dr. Thadpong Pongthawornkamol, has long experience in tech industries. He has been a lecturer, a researcher and an IT specialist. He says that in the past, the tech industry, the academic sector, and the research sector had separate ecosystems. Universities were expected to produce human resources, research units focused solely on having their work published, and the tech industry strived to develop good products for customers. In the wider world, tech ecosystems are different. For example, the tech ecosystem in the United States not only connects the three sectors together, but it is also designed for the three sectors to work together and pursue shared goals.
"KBTG wants to deliver good products to customers and to be an employer of choice, by offering career-advancement opportunities," Thadpong says. "We have presented our ideas to various meetings, since our efforts have led to the development of good products and we have contributed to curriculum planning."
He says applied research can be divided into three major groups, from the perspective of enterprises. First is research that makes for smoother delivery of services by personnel. For example, a bank Smart Branch now has Cognitive Technology, such as Facial Recognition, integrated into its services. Artificial Intelligence, chatbot, and Natural Language Processing have also been adopted for the smoother and faster delivery of financial services.
The second group involves research applying to digital transformation. Within organizations, this means that less work will be done manually, as automation takes an expanding role, with a faster speed and higher efficiency. For instance, document processing in the back office will be done 10 times faster when using technologies arising from research.
The third group refers to research that can transform an entire financial-service format or even a banking business model. For example, Quantum Technology looks set to redefine financial services once and for all. KBTG is currently conducting research on this aspect of deep tech.
Regarding the continuing development of Natural Language Processing (NLP), Thadpong says the technology will cover two apsects: technology and organization. He believes that Thai language NLP is already well advanced, but is not yet perfect and there is room for improvement. For example, it should be possible to develop models that will understand a single word in different contexts, extending the development of NLP for Thai language so that it works as well as NLP for English.
For organizational use, researchers believe that NLP, which enables interactions between computers and human language, will be developed further and will work well. However, enterprises will have to think about their budgets and cost efficiency. If NLP offers to perform a function, enterprises will have to determine the extent of its benefits as well as the cost of human resources, financial resources and time needed for technical development. Application of NLP will involve both a Technology Model and a Business Model. 
"It will be necessary to consider the cost and expected benefits. To conduct NLP research, the budget must be efficiently utilized. We must think about how NLP from research will cross business modules or industries, and how the cost of its use can be lowered. To explore solutions, representatives of the business sector and researchers must sit down together and talk before proceeding with the research," Thadpong says.
Another of KBTG's Senior Principal Visionary Architects, Yarnvith Raksri, says there are many stages of research. Some research is conducted on the basis of something that already exists. Other projects explore entirely new things. KBTG has conducted many research projects in collaboration with various organizations, involving Contactless Technology and Facial Recognition, to name just two. In the future, new technologies will emerge and preparations must be made. Both enterprises and academics should consider what they already have and think of the gaps that might be filled by technology. They should explore how academic innovations can be applied in the "real world". In the financial sector, Online Services and Smart Branch must blend together. Startups will help to fill these gaps, so KBTG is a partner of several tech startups.
"Thailand needs to be competitive. Thai tech and research should be brought to startups, where they can be developed further for real usage. It is important for Thailand to have its own technology and stand on its own feet, technologically," Yarnvith says.
Since the business, financial, and banking sectors are so much a part of people's lives, KBTG hopes that by collaborating with research institutes and universities, it will be able to help to conduct research that will be useful to a large number of people.
"We hope that Thai research will be used by a lot of Thais and foreigners. We aspire to introduce Thai technologies to foreign markets. KBTG and KBank will pursue this goal," Yarnvith says.
Backing up this point, Thadpong says that KBTG and KBank will serve as a market for research from collaborative projects, as well as being their source of funding. He says KBTG and KBank will help to differentiate between some research projects and others, while functioning as a technology platform from which their output can be tested.
"We have the technology and expertise that will empower our partners and strengthen startups," Thadpong explains.
Yet another of KBTG's Senior Principal Visionary Architects, Dr. Charoenchai Boworntummarat, says research into artificial intelligence is very important, especially Data Analytics and Deep Technology. However, this research has several crucial requirements, and the resources or potential of just one company may not be able to meet them all. On the other hand, collaboration between organizations, especially with universities, may work well. The outcome of such research can be usable, while university students will have opportunities to explore and experiment.
"This way, we will get both tech talents and usable technologies. They will fulfill the needs of the private and educational sectors," he adds.
Thadpong points out that demand for digital and information technologies has been soaring. However, tech talents are limited in number. He suggests that the private sector should speak louder, so as to guide students into relevant fields. University students should know what they are learning and how it will apply to their jobs in the future. When enterprises list clear requirements and provide support from the very beginning, the output from tech talent will be efficient.
Charoenchai says the Tech Kampus project aims to equip university students with three things. First, they should gain academic knowledge and understanding from their universities. Second, business organizations should understand the use of technologies. In this way, university students will know how to apply their knowledge and adapt. Third, university students should be equipped with the capacity for flexibility. They should acquire the ability to change and adjust technologies, such as data, AI, algorithms, and many more.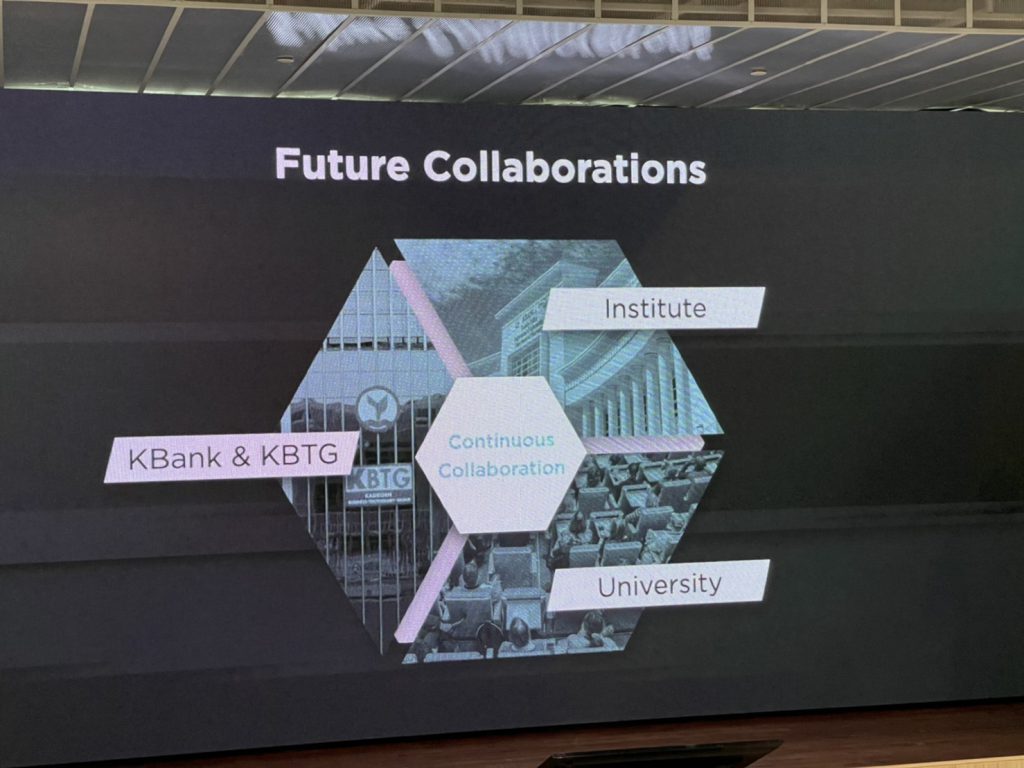 Thadpong says that enterprises can help with the production of human resources by ensuring that their staff or university students know their career paths, understand life, and have a clear picture of their future selves. Without the engagement of the private sector, university students may know nothing more than academic principles. They may not recognize the benefits of what they have learnt, and this is why some graduates cannot apply their knowledge well.
"If the business sector can send their staff to universities to help teach students from their early years, university students will get a new perspective on the subjects of their choice. They will know why they have taken this or that course and how it will help them in the future," Thadpong explains.
Building an ecosystem for technology and tech talent 
Ruangroj says he hopes to create two things in the next three to five years: a vibrant tech ecosystem in Thailand and a similar ecosystem for tech talent. The creation of the tech ecosystem will require the participation of entrepreneurs, large companies, research institutes, and universities.
"To create a vibrant tech ecosystem, four crucial elements are needed: Openness, Collaboration, Co-creation and Sharing. KBTG would like to drive these four elements and make the ecosystem happen. Our efforts will pay off. Our customers will get good services, be they end consumers or corporate clients. We, meanwhile, will get tech talents," Ruangroj says.
He says that an increasing number of research institutes, universities and players have already joined the ecosystem. The outcomes of some research projects are already being used by some enterprises. KBank has the vision of becoming one of the world's leading digital banks within the next five years, and for that vision to materialize, the bank must attract some 100 million customers.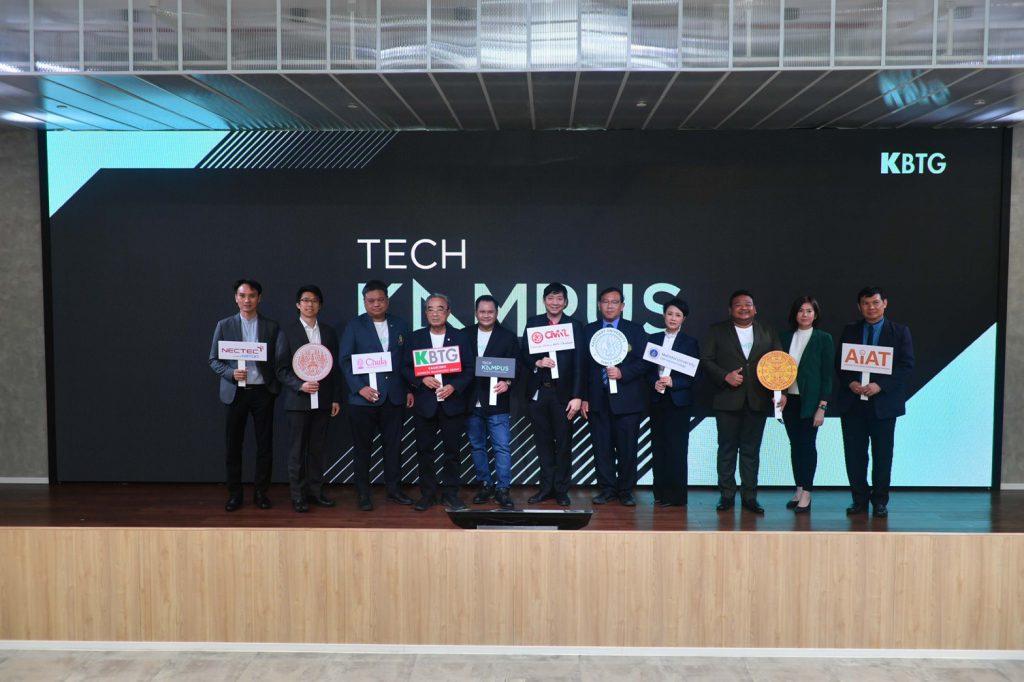 "Building a tech ecosystem has been my dream since 2012. I have always worked with startups. In my life, I have already seen two waves of startups. So, I really want to see a 'Unicorn Moment' for Thai tech startups," Ruangroj says.
He envisages that Thai researchers will eventually fly to Vietnam and various other Southeast Asian countries to conduct research. KBTG has already founded K-Tech in China, through which Thai researchers may work alongside their foreign peers. Research institutes that have already joined the Tech Kampus will automatically become the founding members of an international research network. In this way, he says, they will play a role in shifting the perceptions of people in world tech environments. Thailand will gather greater importance, so that the country will be attractive to researchers, startups, and tech talents. They will all want to come to Thailand.
"I have told you what I have dreamed of achieving over the next three to five years," Ruangroj concludes. "It will not be fun chasing this dream alone. So, I would like to encourage everyone to join me in chasing this dream together. Let's build the future together. I would like to invite research institutes, universities, and other members of the private sector to join forces with us in producing tech talents and impressive tech solutions that will be embraced by peoples across the region. By producing tech talents who can perpetuate technological changes in our region in the next three to five years, we will one day look back and feel proud. You can connect with us via kbtgtechkampus@kbtg.tech."