KASIKORN Business-Technology Group (KBTG) has unveiled its ambitious "Vision 2025" plan to become a key player in Southeast Asia in three years, focusing on both people and technology.
The plan aims to support KASIKORNBANK's attempt to become a regional challenger bank in Asia and KBTG's goal of being among the world's 100 "best companies to work for", as well as boosting their combined customer base to 100 million and earning up to 5 billion baht in revenue from innovations.
Ruangroj "Krating" Poonpol, group chairman of KBTG, says the company has undergone restructuring under the "people first" concept over the past three years in order to bolster efficiency.

As a result, KBTG has succeeded in developing and delivering technologies to KASIKORNBANK, business allies and customers, he said.
Projects have been increased from 83 to 150, with the IT cost reduced by 2 billion baht and the IT capability increased by 21,000 man-days.
The number of personnel has grown to 1,800, about 1,100 of them software developers.
Business expansion has been made in China through K-Tech and in Vietnam through KBTG Vietnam to serve KASIKORNBANK's digital lending platform. In Thailand, two new subsidiaries have been set up — KASIKORN X (KX) and Kubix.
KBTG's flagship business in Thailand involves the technology behind K PLUS, the country's most popular mobile banking application.
The app deals with 7.7 billion out of Thailand's 29 billion online transactions per year worth a total of 23 trillion baht. It has 24.9 million customer accounts and 18.6 million users, with the goal of reaching 20 million by the end of 2022.
The bank's K+ Shop app for vendors draws about 4 million users and 17 billion transactions per year.
Over the past three years, KBTG has also been behind the success of many projects, including MAKE by KBank app, Kubix initial coin offering (ICO) portal, Coral online marketplace for non-fungible tokens (NFTs), and the KhunThong chatbot for expense sharing.
MAKE has 400,000 users and about 3 trillion baht in the cloud pocket. Kubix helps raise 265 million baht in DESTINY TOKEN, which is its first digital token project.
Coral's online marketplace platform has seen more than 1,000 art NFTs created by over 120 Thai artists worth a total of 35 million baht. The art NFTs are each priced at between 25,000 and 3.85 million baht.
KhunThong, meanwhile, has drawn 850,000 users, with about 165,000 group treasurers.
KBTG has focused on the mission of research and innovation over the past three years in such areas as face recognition, natural language processing (NLP), and artificial intelligence.
Next era: People first, a universe of technology
KBTG has launched a three-year plan from 2022 to 2025 called "KBTG Vision 2025" under its strategy of "Human First, Universe of Technology".
The strategy is aimed at propelling both KASIKORNBANK and KBTG into the Southeast Asian market, a region of growth for the financial world.
In the first half of 2022, this region's finance and fintech industries saw total investments of 3.4 billion US dollars (about 100 billion baht). A supporting factor was an $850-million investment in Southeast Asian tech startups by the American venture capital firm Sequoia Capital.
KASIKORNBANK and KBTG have managed to expand into regional markets, particularly Vietnam. The bank opened its branch in Ho Chi Minh City and KBTG set up its Vietnam unit.
Among their major goals to achieve within 2025 are to build a customer base of 100 million between them and achieve total annual transactions of 100 billion baht.
KBTG aims to boost its potential of developing and delivering technology by two times, with a speed 10 times faster, and gain revenue of 5 billion baht from technologies and innovations.
The "Human First, Universe of Technology" concept will be driven by KBTG teams in seven countries, with Thailand serving as the hub. KBTG has set up local offices in China and Vietnam while aiming to have 3,000 personnel by the end of 2022 — 2,000 in Thailand and 1,000 in China and Vietnam.
Its blockchain development center was set up in China, and Vietnam is meant to be another incubator for KBTG's software developers.
KBTG has set aside 10 billion baht for technological investments over the next three years.
The "Human First" concept calls on KBTG to place more emphasis on human resources in creating technologies and innovations.
In addition to becoming a premium tech firm, KBTG also aims to be among the top 100 global companies that are most preferred by employees. Also, the concept of becoming a "universe of technology" serves as its motivating force.
KBTG's KLabs, which focused on research and development of technologies and innovations, was rebranded as KBTG Labs, with an R&D mission that goes beyond the banking industry and Thailand.
According to managing director Thadpong Pongthawornkamol, KBTG Labs acts like a "factory of research and innovation" that produces technologies for KASIKORNBANK and KBTG. Its three pillars of knowledge involve technology research, production and business, and creating the user experience.
KBTG Labs and its allies are working on retail technology regarding a smart checkout system (involving computer vision, Internet of things (IoT), and object recognition) and virtual try-on shopping experience (using computer vision, augmented reality (AR), virtual reality (VR), Thai NLP, and voice recognition).
Meanwhile, KASIKORN X (KX) has adopted decentralized finance (DeFi) and blockchain innovations for such projects as DESTINY TOKEN by Kubix and Coral's NFT Platform.
Kubix and Coral, which are both KX offshoots, plan to expand their services through various projects. Kubix has more ICO plans in the pipeline while Coral is set to launch its Coralverse, which connects the online and offline worlds of the Coral NFT community. Also, Coral aims to become a regional NFT experience platform.
KX venture director Thanaarmates Arriyavat says the company aims to expand into the venture capital business focusing on technologies of the future, including Web 3, DeFi, metaverse and blockchain.
He said that Coral aims to serve as a marketplace for inexpensive art NFTs valued below 25,000 baht each. The goal is to gain some market share from the global art market worth an estimated 65.1 billion US dollars in 2021. As much as 92 percent of the market has been dominated by only 10 countries, and Thailand is not one of them.
The latest DeFi product of KX is BigFin, which is an investment tracking tool for digital assets. The platform's artificial intelligence system aids investors by offering advice based on their investment records.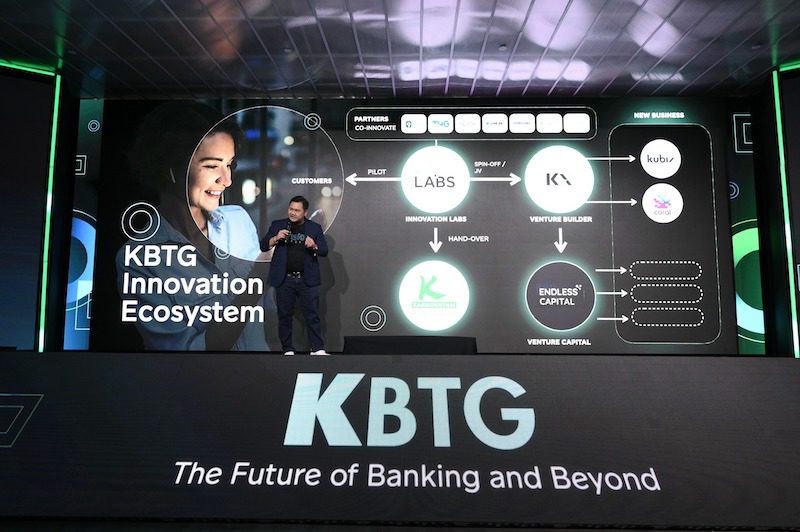 KBTG's ambitious goal is to become one of the best tech firms and the best companies to work for, while helping KASIKORNBANK to achieve its aim of being the best bank in the region — together bringing technologies and banking services to hundreds of millions of consumers in Southeast Asia in the near future.