AIS has been collaborating with Chinese digital tech giant ZTE Corporation to launch A-Z Center, the first 5G innovation hub in Thailand. The partners are now showcasing another key advantage of 5G, Ultra Reliable and Low Latency Communications (URLLC), in another Thai first. The 2.6 GHz AIS 5G network is capable of delivering latency of only 1 millisecond.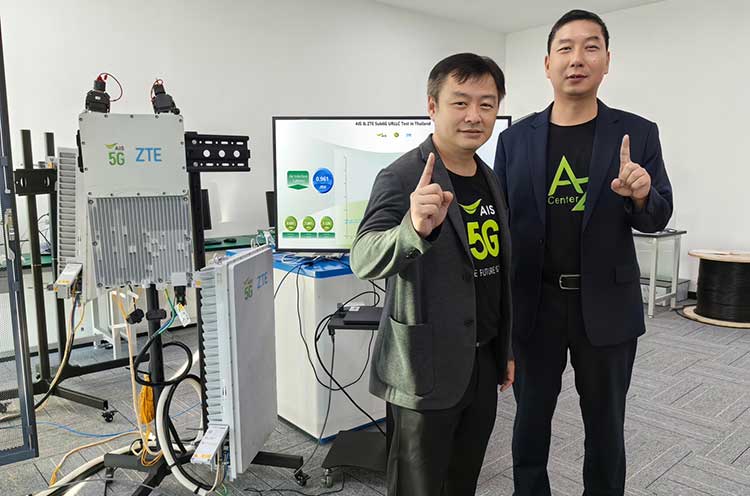 Wasit Wattanasap, Head of Nationwide Operation and Support Department at Advanced Info Service Pcl. (AIS), noted, "Alongside developing our services to deliver maximum quality, we are powered by cutting-edge innovation to level up 5G tech, part of our obligation to support the future sustainable growth of the digital economy. This was the spark for the collaboration with global partners such as ZTE to upgrade Thailand's 5G network to world-class digital infrastructure. The 5G Smart Autonomous Network adjusts itself in real time to implement a range of solutions for the businesses, industry and the general public.
"We have now been holding successful trials of another key feature of 5G, Ultra Reliable and Low Latency Communications (URLLC) for the first time in Thailand on the AIS 5G network's 2.6 GHz waveband. This delivers latency at the level of 1 millisecond, suitable for rapid data transmission with the greater stability required for critical applications.
These include applications for retail customers requiring low latency such mobile cloud gaming, which requires instantaneous responses in real time. Industrial use cases include a factory's machine control systems, autonomous vehicles, or remote surgery.
Wasit added, "Our trials show that AIS 5G with URLLC is capable of supporting latencies of as low as a millisecond. The right kind of Terminal providing instant service can now be developed to provide these kind of low latencies in regular service."
Han Zhiming, Ceo of Zte Thailand commented, "As a strategic partner in this collaboration with AIS, to develop 5G technology, we are confident that Thailand has strong capabilities with a rapid range of innovation, and in particular deploying the 5G network to lay the basis of Research & Development. This will create new Use Cases in the future, ready to support demand from retail customers, while creating more opportunities for the industrial sector."
NTT DATA introduces loyalty programs with blockchain based
Ericsson & depa Join Forces to Drive 5G Digital Transformation in Thailand