Advanced Info Service (AIS) is promoting cyber-wellness among young Thais through fictional storytelling.
Thailand's leading mobile network operator is partnering with the popular Joylada chat novel platform over the "Let's Level Up" campaign, which is aimed at promoting digital literacy with the focus on children.
AIS and Joylada jointly provide storytelling about cyber threats in the form of seven chat novels emphasizing seven key skills everyone should know in the cyber age.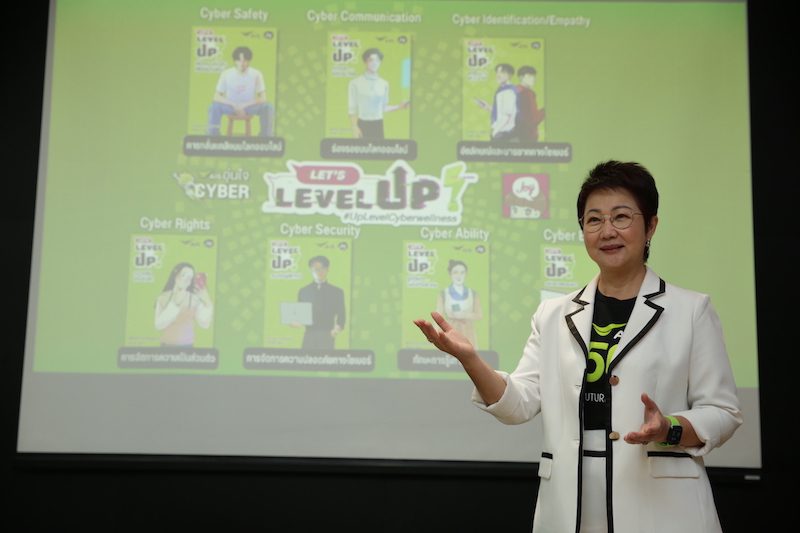 Saichon Submakudom, head of public relations at AIS, says online users — particularly the young ones — need basic digital skills to protect themselves from cyber threats.
She said the collaboration is part of "AIS Aunjai Cyber" project, which aims to promote digital literacy among customers, the public at large of all ages, and society.
The cyber wellness project aims to boost digital literacy among over 4.7 million school children and 436,000 teachers and educators in schools under the Basic Education Commission, according to her.
"In the past, we used much effort to improve the digital literacy of Thai people. Covid-19 suddenly swept Thais into cyberspace. It's a challenge for AIS to deal with this situation," Saichon said.
"Our goal is to create cyber-wellness among Thais. But we alone can't reach the young generation. We need to work with Joylada, which is a popular platform among young people."
Thailand's leading storytelling chat platform, Joylada has over 3.1 million users — most of them are those in the Y and Z generations.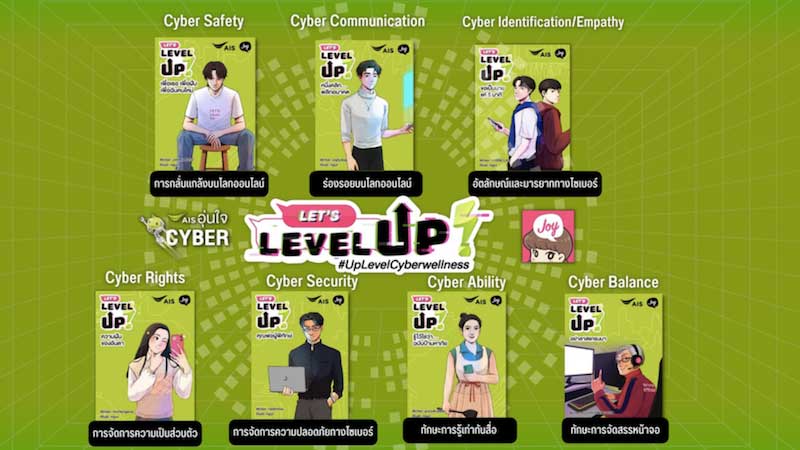 Seven chat novels have been selected for the AIS campaign. They reflect seven issues and skills required for identifying cyber-threats that arise from the use of the internet or online media:
Cyber balance – skills for screen management,
Cybersecurity – managing personal cybersecurity,
Cyber ability – up-to-date skills and knowledge,
Cyber safety – from online cyber-bullying,
Cyber identification – cyber citizen's ID / Cyber empathy – cyber manners,
Cyber rights – managing privacy, and
Cyber communication – online footprints.
The seven novels each have six chapters and 200 chats in each chapter.
"Difficult issues are made easy and relevant to the audience. Issues that seem boring and technical are turned into chat novels that offer both knowledge and entertainment. The content is easy to enjoy and digest," Saichon said.
Based on AIS's Cyber Wellness course, the seven novels were designed together with the Department of Mental Health, King Mongkut's University of Technology Thonburi, and the Ministry of Education. They cover four areas of digital literacy — practice, personality, protection and participation.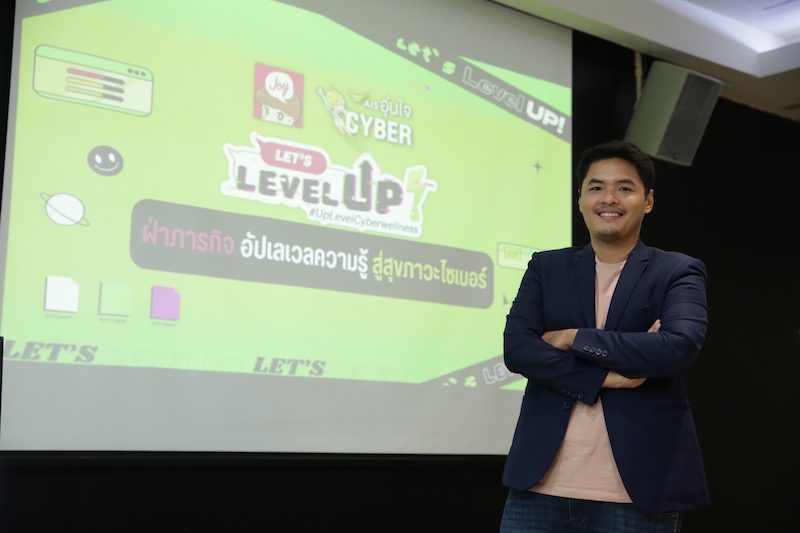 Sattra Viriyacharoentham, Joylada's managing director, says the chat novel platform attracts more than 3.1 million users, most of whom are those in Gen Z (aged 18-24) and Gen Y (aged 25-34).
The users spend an average of 90 minutes daily on the platform, which has more than 1 million novels and 100,000 more every month.
"As most of our audience are children and young people, we try to make the platform safe for them. In the past, we removed the bad content. But this collaboration with AIS will add more good content. All the seven novels will remain on the platform even after this campaign finishes at the end of August," Sattra said.
The platform users help contribute to the Childline Thailand Foundation by simply reading those novels. For every 5 million "joys" (chats) read, 10,000 baht is donated to the foundation. More than 300,000 chats have been read so far.
The seven novels are available on the Joylada mobile application and their microsite at www.joylada.com/aisxjoylada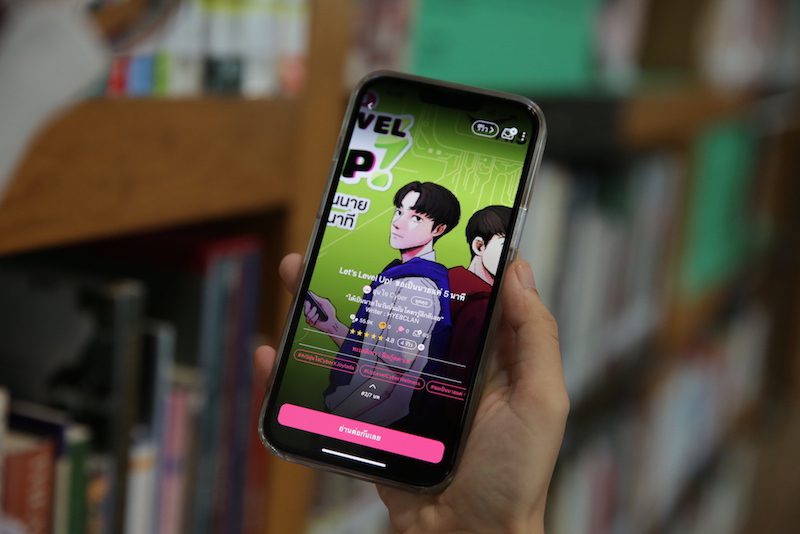 "For You, for the Dream, and a New Me"
(About cyber safety)
Akin becomes famous overnight after releasing his funny video clips online. His social media account draws a large number of followers. He later is cast to star in a "boys love" drama series, which makes him even more popular with more online followers. He earns more money as a reviewer.
However, a rumour is spread online that he got his job because of his romantic ties with a powerful woman in showbiz. His edited photos are circulated to bully him, and he is rumoured to insult gays while in high school.
Akin cuts himself off from society, suspending his study and withdrawing from the drama project. He is diagnosed with panic disorder. Luckily, his families and friends come to his rescue and help strengthen him.
"One Click Changes the Future"
(Cyber communication)
In 2050, job applications by Iron, a new university graduate, are rejected by leading companies despite his good academic records. A foreign hacker named Andy helps him find out why. Iron has to travel back in time to correct his past.
"Just Five Minutes Being You"
(Cyber identification & Cyber empathy)
A twin named Im-aim wants to be "someone" in order to get acceptance from people around him. He is often compared to his twin brother Im-un, who seems to be more popular than him.
Im-aim thinks of becoming his twin brother for "just five minutes". He steals his brother's online identity by logging into his social media accounts. Posing as his brother makes Im-aim feel valuable. However, he ends up getting into trouble.
"Anda's Dream"
(Cyber rights)
Anda wants to be a YouTuber and singer. But she fails to get support from her family as she is the youngest daughter. They want her to focus on studying instead while Anda has been struggling with her study.
She often complains about her frustrations on Twitter. Only her two close friends know about this. One day, Anda gets a message from Woon, who later offers her words of care and encouragement.
Two months after she first got Woon's message, Anda feels that she is followed when she goes places. Parcels are sent to her address. Anda tells Woon and two other friends. Woon offers to accompany her to file a police complaint. Anda is hesitant at first but later agrees to meet Woon.
Akin happens to see the chat messages between Anda and Woon. He consults with Dad. The family later talk to Anda and help her solve the issue.
"The Protector Dad"
(Cyber security)
Khun Jet wants to use the personal information of fellow residents in his housing estate for a company marketing project. However, he does not ask for permission from those people, unknowing that it is unlawful to do so. Khun Ekkarat tries to find a way to warn and educate his close friend without embarrassing him.
"Dangerous Auntie"
(Cyber ability)
A mother named Orn lacks the ability to analyze media messages and tends to believe everything social media say. That brings her many problems, starting small before turning big. Some neighbours tell her a newcomer in her neighbourhood is a young actor with a drug scandal and a history of sexually harassing minors.
Orn is worried this "dangerous man" could harm her children. So, she joins hands with the neighbours in keeping track of the man she views as a threat. Her attempts to expose the man by finding evidence against him are increasingly pulling Orn towards a series of troubles she causes for many people.
"Don't Mess with Grandma"
(Cyber balance)
A woman retiree draws much attention as an online game streamer. Despite her old age, the grandma is a highly skillful gamer. She hides the hobby from her family. Starting with a couple of hours per day, the grandma later accepts an offer for her to increase the game streaming time.
In the meantime, her ties with family members worsen. They come to her rescue when the grandma suffers a severe health problem.