Navanurak platform breaks new ground in recording the multifarious aspects of 'Thainess
Culture is described as the customs, institutions and achievements of a particular nation or group of people. For Thais, culture has been refined over countless generations and can be seen, heard, felt, tasted and found literally everywhere; in a state of omnipresence.. It has been carried overseas by expatriate Thais, to grace kitchens and fascinate observers in many countries.
Now, the National Electronics and Computer Technology Center (NECTEC) is working to bring Thai culture out of the abstract and intangible, and into a digital collection that it hopes will provide a foundation upon which future achievements may be built.
-The Thai Berng community of Khok Salung
-A mission to tell the oldest stories on the newest media
The project is based on NECTEC's online platform, previously known as Anurak (anurak.in.th). In the past, the platform provided back-office support for Museum Pools, an electronic application that led visitors on tours of chosen museums. The platform has now been renamed "Navanurak". Nava means "new" while Nurak means "conserve". Together, the name proclaims the new conservation effort of a website (navanurak.in.th) that is also an online platform.
NECTEC's Executive Director Dr. Chai Wutiwiwatchai says that Navanurak aims not only to conserve Thailand's cultural heritage, but also to provide basic information for the country's development, into what is known as the Thailand 4.0 era.
"Without such information, there is no value for Thailand to sell," he says. "When it comes to tourism, we do not sell just a product because everything about tourism is linked to culture. It is very appropriate for Thailand to compile cultural information in support of its tourism and community products .'
He points out that digitalization of cultural data is nothing new: several other countries have come up with similar efforts. Europe, for example, has the web portal Europeana, which is a major source of cultural information from a number of countries. . It has a diverse range of information with impressive presentation techniques. The first thing visitors see, when browsing Europeana, is a map of Europe displaying a network of museums..
Moreover, Europeana presents open-access data for people to use. For example, innovators may use data they have found on Europeana for the development of applications, websites or stories. If any piece of information is copyrighted, it is marked accordingly with clear guidelines for its use. The whole system is managed in line with international standards. .
"I would like to see the same thing happen in Thailand. I would like to see a Thailand map that shows where each and every museum is located," Chai says.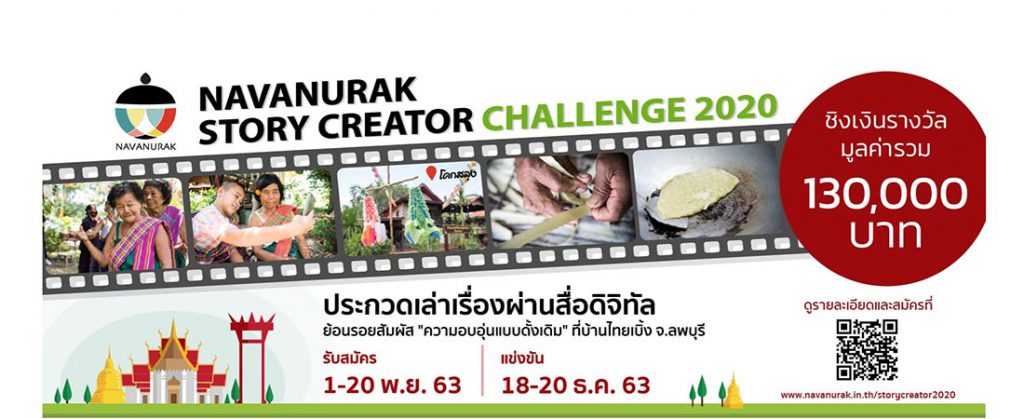 Initially, Navanurak focused on gathering data only from major museums. Its team went to the National Archives of Thailand, national museums, the Culture Ministry and communities. A big network was formed in Thailand's North, expanding from Chiang Mai to nearby provinces such as Chiang Rai and Lampang.. As the network grew, so Navanurak gathered information from more and more organizations, both big and small. It now covers more than 70 organizations and holds data on thousands of artefacts.
"Culture has many forms – tangible and intangible," Chai explains. "Stories and traditions are also culture. Nationality, ethnicity, bio-identity, and even indigenous species have value."
He admits that Navanurak still has a long way to go before it can shine like Europeana. He believes that Navanurak has now gathered less than 10 per cent of Thailand's cultural data.
"To develop cultural data at a community level, we need to actively engage communities. Realizing this, we have developed Navanurak as a platform that enables small agencies or communities to compile and manage data themselves," he says .
Although many people believe that cultural data indirectly generates revenue, in Chai's view generation of revenue is a direct consequence of using cultural data because it is what has attracted tourists; foreigners are keen to travel to Thailand because they have heard about Thai culture.
However,cultural data on its own may not be capable of attracting tourists. Rather, cultural data must first be presented in an interesting way, particularly if there is an impressive story to tell..
"Some countries have accomplished this before. They have found an interesting aspect of culture to tell a story, and in doing so have attracted tourists," he says, and goes on to make the point that if a cultural story is linked to community products, such as food, then communities will be able to generate income.
"With this perspective, it should be clear that cultural data can directly deliver income. Thai food is second-to-none in the world. If the country has a process by which it can tell great stories about it, Thai food will shine more than ever."..
Chai now expects Navanurak to engage people in the process of developing impressive stories from cultural data available on the platform so that these stories can attract tourists and generate income for Thailand.
Digitize data for added value
NECTEC, which is a part of Thailand's National Science and Technology Development Agency (NSTDA), is now responsible for digitizing cultural data gathered from across Thailand, thus making it able to be processed by computers, and promoting its use for economic, social, and other benefits .
The NSTDA and NECTEC have recruited several ministries as partners in the hope of ensuring that cultural data is well used, especially by the entertainment industry, which is seen as a sector with solid potential for use of cultural data, if it is given more support and more time to realize ambitious goals.
Meanwhile, the two organizations have been promoting use and development of the Navanurak portal with a variety of activities. It has become the ultimateplatform for digitized cultural data from several commmunities, especially those in the north of the country. Every year, a contest is held to find the best creators of local cultural content. As well, NECTEC organizes contests involving innovative use of cultural data, such as creating fun and novel applications.
These activities have arisen from a realization that developing the Navanurak application does not mean that NECTEC's goals have been achieved. "In essence, people are not interested in the application itself," Chai admits. "They like an app because of the content it provides, and that means we need to ensure that our app has interesting content. Most of the data available at NECTEC-NSTDA is academically interesting, but not very appealing."
Last year, NECTEC changed its approach. For the first time, it held a contest within a single community; a contest that was designed to bring benefits to that community. By using such an approach, the contestants got first-hand experience of both the community and its culture.
"Instead of focusing on development of the application, our contestants were expected to compete on story development: we saw our contestants as story creators. Each finalist team was given an opportunity to visit the target community and spend time there so that they could gather information to develop an interesting story," Chai explains.., adding that in his view, storytellers and story creators will be the driving force in presenting digitized cultural data for use, added value and economic benefits.
The first community in which this new approach was used was Khok Salung, in Lop Buri province – a strong community with a clear identity. Although it was not a "star attraction", it has still attracted a constant flow of tourists and has made money from tourism without adverse impacts on the community or its residents.
NECTEC and its Navanurak network are now reaching out to all Thai communities, with the message that their local attractions will be sustainable only when the communities are strong and boast distinctive identities.
"The development of sustainable attractions is extremely important," he says. "Attractions should not change simply in response to tourists' needs. We must communicate with tourists to make them understand that conservation is worthwhile: 'When you come to our place, conserve its identity'. With such an approach, tourism has growing value. It will be sustainable, and no damage will be done to these attractions – just like what has happened at Khok Salung."
Technology: A tool for cultural conservation
In NECTEC's reckoning, "conservation" refers to the conservation of antiques, languages and culture. In the case of ancient artefacts, conservation means making them untouchable. Some ancient artefacts or structures are lost because they are not well maintained. For languages and culture, however, it is the other way around: people must be actively involved in their conservation and interact with them on a constant basis. Some languages fade from existence because no one teaches them, or learns to speak them..
The current level of cultural conservation has raised the question of how effective existing methods are, and NECTEC claims that digital technology is a key to better conservation. As antiques and traditional cultures are known to fade, it becomes clear that languages and ancient items will be well conserved if they are more widely known.
To introduce such vital aspects of culture to a wider audience, relevant data should be digitalized and presented in an attractive manner.. When they become widely known, more people will be interested in them and will be keen to see them conserved. Although the number of people willing to support serious conservation may be few, this is better than none. Data on antiques can be digitalized and kept forever, and on this basis alone, digital technologies and online platforms will contribute greatly to conservation.
Holding contests produces human resources
Just as NECTEC has expanded its network of partners for the digitalization and conservation of cultural data, it has also placed a strong emphasis on human-resource development. This has arisen from the belief that digital data will be successfully used to create impressive stories or for greater applications only if the right people are found for this mission.
Inorganizing contests involving the creation of stories from cultural data, NECTEC and NSTDA have found younger-generation Thais who delight in opportunities to face challenges and prove themselves.
"It is like we have found diamonds," Chai says. "At several of our contests, winners, first runners-up and second runners-up have all got jobs because they shine on stage. The job offers match their expertise, while our sponsors have also found candidates that respond well to their needs. So I think organizing contests is very good. Better still, such contests highlight target communities to a point where they become better known. Our contests provide a forum for the communities to communicate with outsiders, so in the end, communities have benefited. Simply put, our contests deliver multiple benefits," Chai says.
"The NECTEC Executive Director has high hopes that Thailand 4.0 will materialize and that Thai society will thrive on a technological foundation. Both NECTEC and NSTDA produce practical technologies; their researchers do not think simply of producing papers or work systems, they also focus on ecosystems that must exist to sustain their work.
"How high are my expectations? I have told my team to think about how our data can be discovered and used for series, or famous platforms. That is going to be a success factor for communities, story creators and researchers alike," Chai concludes.