NECTEC and Navanurak's new approach to cultural tourism focuses on Lop Buri's Thai Berng community.
At 6am on a recent morning, more than 40 university students gathered at Bangkok's Hua Lamphong station for a brief train journey, which took them about 117 km to the northeast, to Khok Salung in Lop Buri province. They were on a journey into culture and tradition, whereby the National Electronics and Computer Technology Center (NECTEC) was playing an unconventional role.
With a passing interest in the historic aspects of Hua Lamphong station – a wooden plaque from the reign to King Rama V and a statue of a three-headed elephant – the students set off for a three-day challenge that would call upon their creativity and photography skills. They were the finalists in the NAVANURAK Story Creator Challenge 2020.
For NECTEC's Navanurak platform, this was potentially a turning point. The state agency developed the platform For NECTEC's Navanurak platform, this was a potentially turning point. The state agency developed the platform about two years ago to digitize culture, tradition, and history, and to play a major role in presenting and promoting tourist attractions based on culture and tradition.
The NAVANURAK Story Creator Challenge 2020 aims to make the difference, by adding video storytelling to the platform, and it was hoped that this would inspire young generations to add value to the economic and social aspects of cultural-tourism attractions.
On their way to Khok Salung, the finalists were fascinated by their train's scenic route – especially when it passed by the Pasak Jolasid Dam. At this point, the railway track almost touched the water, leading to the local term "the floating train".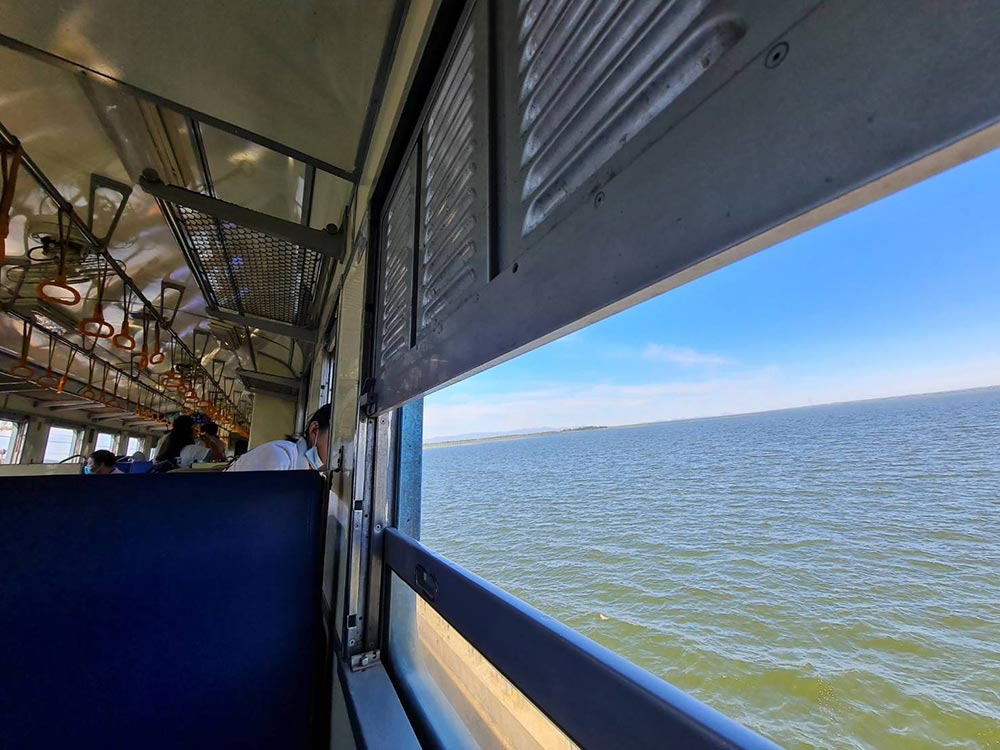 Arriving at Khok Salung station, the students were met by a collection of farm vehicles, which carried them to the focal point of their visit: Lop Buri's famous cultural attraction, the Thai Berng Community.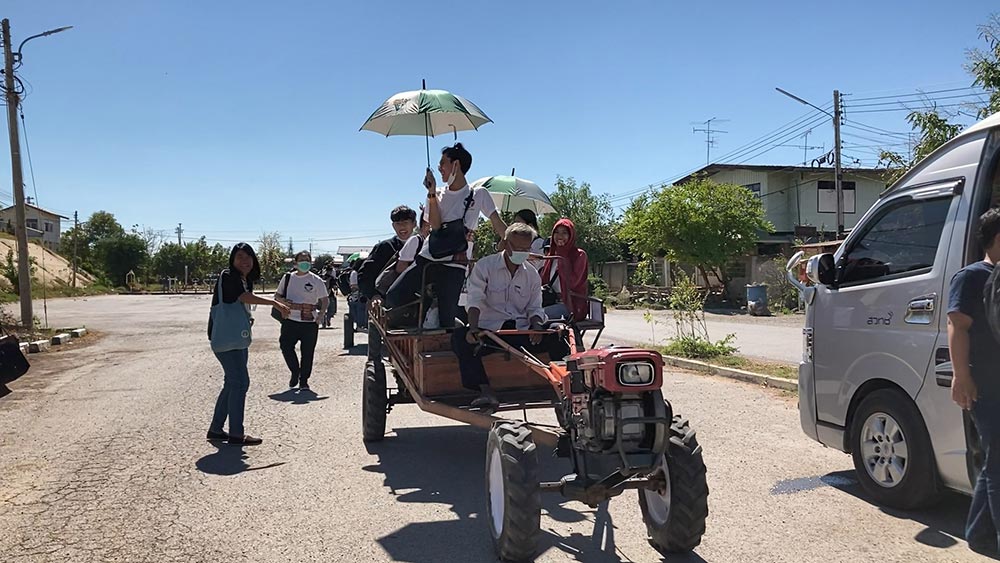 Their task was to create beautiful stories about the Thai Berng Community's culture and traditions; the local way of life and local wisdom. Their aim would be to attract tourists in a new way, via video storytelling.
Thai Berng Community representative, Prateep Onsalung welcomed and thanked all arrival participants for choosing his community to explore culture and innovation. He said the community had established a museum 20 years ago with a clear intention that it would serve as a living museum and a learning space.
"Although there were no students of culture-based community development, the locals wished to use their culture to live happily. Today, our community has prospered, with many opportunities, including economic activities," said Prateep.
The Thai Berng culture is defined by three main elements:
The Thai Berng language, which the Ministry of Culture has registered as a cultural language, has a distinctive accent and some unique words. Locals usually end their sentences with "berng". In the case of a negative sentence, they end it with "dok". If they have some doubts, their sentence concludes with "wei". When they say goodbye, their final word is "der".
For traditional costumes, Thai Berng women wear loincloths and the men wear hand-woven cotton pha khao (better known as pha khao ma). Thai Berng people usually carry a Thai-style satchel. Although most Thai Berng people nowadays wear modern clothes, the older generations continue to dress in traditional style when going to a temple.
Thai Berng people have a family name either beginning or ending with salung.
Prateep urged the youngsters to realize that money was not equal to happiness. He pointed out that living with a family based on Thai Berng culture, while having a job and safe food, could be better.gsters to realize that money was not equal to happiness. He pointed out that living with a family based on Thai Berng culture, while having a job and safe food, could be better.
The young finalists in the "NAVANURAK Story Creator Challenge 2020" were introduced to Thai Berng culture at the Local Wisdom Learning Hall, where there was a conventional museum-style zone and a zone of active learning. Visitors to the active-learning zone were taught about local culture through various activities such as cooking classes and workshops.
The executive director of the National Electronics and Computer Technology Center (NECTEC), Dr. Chai Wutiwiwatchai, gave the event a clear perspective. He addressed that young people should learn how to use fast-evolving technologies for tourism development and efficiently utilize available tech tools for differentiation.
Tourism, he said, had been a major revenue source for Thailand. In the World, Thailand ranks among the top four destinations, but in terms of international tourism receipts, the country ranks tenth. This reflects the fact that many tourists to Thailand do not spent much on what they see and learn.
"We aim to use Khok Salung as a model. We hope other communities will learn from it and develop digital tourism by highlighting and bringing sustainability to the value of their community's culture and history," he said.
"On behalf of NECTEC, or the platform developer, I expect to see video clips from this challenge used for promoting the NAVANURAK platform. But furthermore, I really hope that this challenge will inspire young innovators to directly bring knowledge to communities," Chai added.
The Chief of Lop Buri's Phattana Nikhom district, of which Khok Salung is a subdistrict, Acting Sublieutenant Songpon, said it was undeniable that people now lived in the online world as much as in the real world. Therefore, NECTEC's move created new opportunities for the Thai Berng Community at Khok Salung, the strength of which was its unique culture. Although considered a secondary city, Khok Salung was a hidden gem that was second to none.
"Prateep has played a vital role in developing the community. With a passion to communicate his community's history to others and conserve its culture, he has studied and worked hard for local causes," said Songpon, "Also, I would like to thank NECTEC for choosing this community for its project. My thanks also go to the university students who have jumped in to spread words about this community. With their contributions, more tourists will come to us."
The Director of the Tourism Authority of Thailand's Lop Buri office, Jirarat Meengam, said Khok Salung offered an impressive culture, historical sites, natural attractions, food, agrotourism and community ways of life.
"Our communities are strong," she said. "We are especially proud of the Thai Berng Community. It boasts solid strengths and self-reliance, and has generated income for Lop Buri."
Jirarat thanked the challenge for highlighting eight more aspects of the Thai Berng Community, saying that her office could use these to attract more tourists to Lop Buri.
"NAVANURAK": The cultural platform
The Director of Artificial Intelligence at NECTEC, Dr. Thepchai Supnithi, described Navanurak as a platform for cultural data. He pointed out that while community cultural museums were enjoying increasing popularity, they lacked the opportunity to gather knowledge and technology to develop their own local museums.
NECTEC therefore decided to create the Navanurak platform to support this aspect of community cultural conservation, with a focus on using technologies for this purpose.
As a first step, the platform will enable communities to gather cultural data and manage it on their own. The concept under which the platform was developed insists that communities must learn to be self-reliant and pursue a sustainable approach to cultural conservation.
"Importantly, we emphasize data digitalization and data utilization," he said.
Eight teams, eight themes
During the final round of the NAVANURAK Story Creator Challenge 2020, eight teams were assigned to produce video clips based on eight different themes:
Wonder team: Khok Samran temple;
Arch Travel team: Mat weaving;
Victory team: Chilli-salt mixture;
Digital Local team: Fabric weaving;
Black Light team: Thai Berng pancakes;
Team 921: Hanging decorations
Charlotte team: Palm-leaf toys; and
Baby Group team: The train station.
As well as producing video clips on these assigned themes, each team also had to produce a second clip based on its own choice of subject.
The Story Thailand interviewed some of the finalists and learned of their points of view.
Members of Team 921 said they had previously spent time in Khok Salung and studied its culture, so they were chosen to join the challenge.
"The local culture is interesting. It can be applied to learning. When we came to Khok Salung, we also discovered its distinctive local wisdom. But we were most impressed by its friendly and kind people. Every visitor will love this community because of the hospitality and kindness of its people," the team chorused.
Members of Black Light team said, "We have majored in culture. So, when we saw a poster about this challenge, we decided to jump in. Not only do we love cultural tourism, but this challenge is interesting. Normally, when people visit Lop Buri, they go to Three Pagodas and check out the monkeys. But Khok Salung presents something different. It underlines cultural tourism".
Black Light team members said Khok Salung had very strong tourism management and promotion. Locals welcomed tourists very warmly, and the team said they felt like members of local families when they walked into the community.
""In joining this challenge, we are not focused just on cash rewards. We are focused on local ways of life. We really want to produce great clips for this community."
An official at the community museum, Areerat Mansalung, said she returned to her home town after finishing her university studies. During the NAVANURAK Story Creator Challenge 2020, she was assigned as a mentor to Baby Group team.
"Khok Salung has a distinctive culture, which is being kept alive," she said. "Although locals do not wear traditional costumes in their everyday life, they continue to carry a satchel and wear pha khao. Local dishes are also widespread. We are sincere in hoping that tourists will truly experience our local and traditional way of life."
For the finalist teams, Areerat also oversaw "knowledge stations" related to making pancakes, preparing chilli-salt mixtures, making palm-leaf toys and hanging decorations, weaving mats and fabric, the train station and the Khok Samran temple. She was also in charge of the finalists' food and accommodation.
"The NAVANURAK Story Creator Challenge 2020 is a very good project," said Areerat. "With the help of the online platform, it will become easier for outsiders to see our community's value. When university students come here, they will experience our culture too. Many will be inspired to develop their own communities and conserve their own culture."
The finalist teams, all of which spent three days at Khok Salung in December, must submit their video clips by January 11, 2021. The winners will be announced later.
The teams are competing for a first prize of Bt50,000. The second place-getter will receive Bt30,000 and the third, Bt20,000. There will also be three "special mention" prizes worth Bt10,000 each.
A conceptual statement supporting the NAVANURAK Story Creator Challenge 2020 said the event aimed to spread stories about the culture and community of Khok Salung: a community that welcomed the new world without abandoning its heritage.
As well, the challenge sought to develop young creators of digital content and to encourage interest in local cultures among members of younger generations, in the belief that they had a key future role to play in passing on knowledge of community cultures.