It is undeniable that we are in the age of AI. However, for Kasikorn Business-Technology Group (KBTG), AI stands for augmented intelligence. 
It is a subsection of artificial intelligence (AI) machine learning developed to enhance human intelligence.
KBTG employs KBTG Kampus to upgrade Thailand's AI ecosystem along with its allies to create AI capability under the concept of human-AI augmentation for AI literacy and AI ethics.
In 2022, KBTG worked with MIT Media Lab jointly conducting research under the "Future You" project, aimed at creating AI technology that enhances human potential. In 2023, they have a joint project to develop K-GPT and Kookid chatbot before coming up with "Kookid by K-GPT".
Regarding the creation of body of knowledge, KBTG is focusing on two areas – improving AI literacy for Thais through its "Thailand AI-Augmented Literacy Guideline" and promoting ethical awareness on AI.
KBTG's AI vision
Back in 2019, KBTG anticipated and started preparing for the age of AI. The company adopted the cognitive banking concept with the use of AI to drive its banking business. As a result, Kasikornbank has seen rapid growth in its products, including the K Plus mobile app, which has about 20 million users and more than 20,000 downloads per day.
KBTG now has nine companies and a total of 2,100 employees (rising to 2,500 by the end of 2023) in Thailand, China, and Vietnam.
KBTG Group Chairman Ruangroj "Krating" Poonpol says his company's announcement of AI vision underlines its key role as a Southeast Asian tech firm with innovations and technological products that serve more than 100 million people.
KBTG began its data-driven transformation in 2019, followed by automation-first transformation and AI-driven transformation. An AI factory for an AI model was created to boost the speed of AI building (its version 2.0 is being developed).
Advanced data analytics is used to help with the decision-making in approving loans, and marketing with the help of technology. Thai NLP (natural language processing) is jointly developed with allies to service customers with chatbot. More than 80% of Kasikornbank's live chats involve Thai NLP, which helps save the customers' time by 300,000 hours when contacting the bank.
KBTG's AI development has been certified with two international standards – iBeta (KBTG is one of three Asian companies to have earned this standard) and the National Institute of Standards and Technology (NIST) standard.
KBTG has worked with MIT Media Lab since 2022, and it is now the first and only Thai company to become a member of the MIT Research Consortium. Its membership allows KBTG to work on joint research projects with MIT Media Lab, which is a research laboratory at the Massachusetts Institute of Technology (MIT), while producing human resources together.
Pat Pataranutaporn, a KBTG fellow, is the first Thai in 23 years to study for a doctorate degree at MIT Media Lab. He has played a key role in AI research and development for KBTG alongside other researchers at MIT Media Lab. This progress should be credited to KBTG's vision that the world was entering the age of AI with accelerated speed.
KBTG's goal is to encourage Thailand's overall AI development for a complete ecosystem of AI R&D in the country. KBTG helps with the production of new AI talents by co-hosting the MIT Media Lab SEA Forum 2022, which inspired many young students interested in science and technology.
"We are entering the age of 'AI first', when AI will be part of everything, in every application and device. As a result, money will be lost by traditional industries. Everyone will have access to AI. KBTG has entered this age since 2019," Ruangroj said.
– KBank, EGAT and KBTG team up to create an energy exchange platform called "Punfai"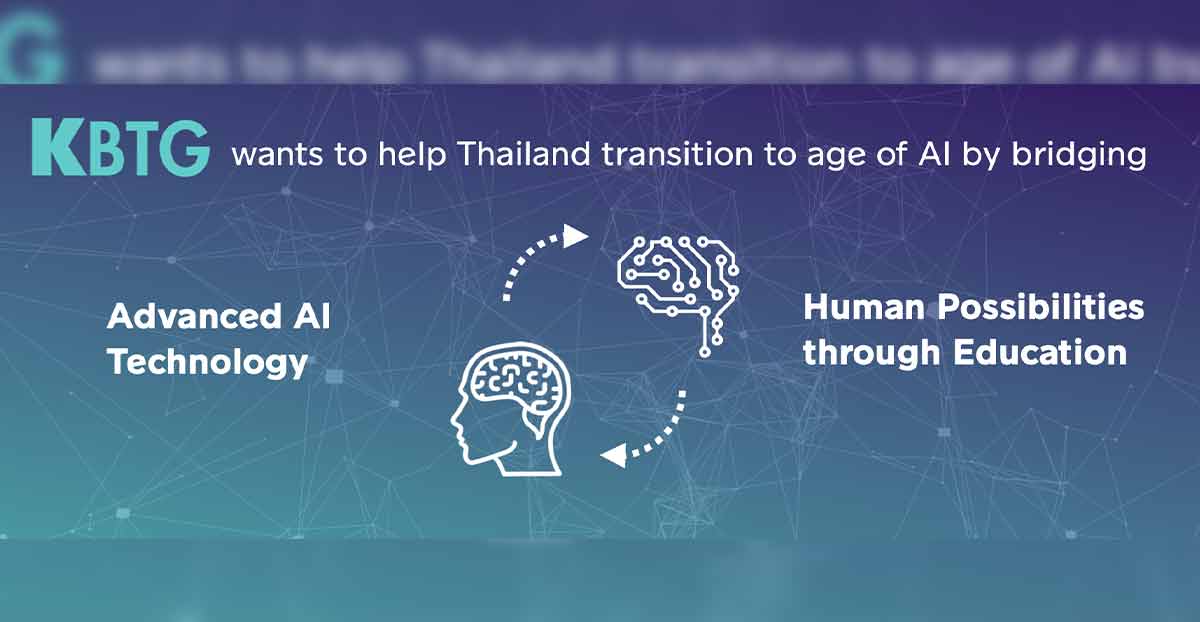 Kookid by K-GPT
Kookid by K-GPT has two major researchers – Pat Pataranutaporn, a KBTG fellow who is a Thai doctorate student at MIT Media Lab, and Kavin Winson, aka "Than Khun", who is an advanced research engineer from KBTG.
Pat said that the collaboration between KBTG and MIT Media Lab has created two prototypes that have not been available publicly – Future You and Kookid by K-GPT.
Future You – a joint research project by KBTG, MIT Media Lab, University of California, and Harvard University – involves the development of an AI platform to help users chat with their "digital twin" in the future. Having conversations with their future self is expected to bring positive impacts to the people involved.
The Future You project involves the use of generative AI for machine learning of the character, information, profile and target of the users to create synthetic memory. This is based on a psychology theory called Future Self-Continuity, which reflects an individual's present self and future self while influencing their future behavior. According to the theory, the more clearly people foresee their future, the more positive behavior they have, regarding their study, finance, mental health, and quality of life.
Kookid by K-GPT is a second project inspired by Future You, which is in English. The goal is to develop advanced AI technology in the Thai context.
The project started with a basic generative pre-trained transformer (GPT), using three contexts of knowledge to train AI – language specific knowledge, specific domain knowledge, and human-centered knowledge. This way, the potential of AI is enhanced for interactions with humans, which results in an architecture called "knowledge GPT", or K-GPT.
Kavin, KBTG's researcher working at MIT Media Lab, said that the K-GPT has been used in many research projects, starting with Kookid by K-GPT, which is designed as an AI thought partner. Two conversational agents are used – "Kana" the blue elephant and "Kacha" the pink elephant – to offer opinions from different perspectives whenever needed.
Information offered by "Kana" and "Kacha" through Kookid by K-GPT has been verified as accurate and correct. They are developed in line with Thai language and cultural principles, giving users involved with conversations with this chatbot the feel of chatting with a friend who is knowledgeable in different matters with a good understanding of context and culture. This could lead to trust by the users looking to change their behavior. This is an example of the collaboration on human-AI augmentation between KBTG and MIT Media Lab.
"There must be two chatbots (Kana and Kacha) to lessen the bias of information and opinion and to keep a balance and variety of views offered to the users," Kavin said.
"Kana" represents someone with high imagination and an adventurous mind, curious and outgoing. "Kacha" represents someone with good logic skills, well organized with orderly mind, and careful of taking risks. They are like complementary forces of yin and yang to help users see contrasting viewpoints before making their decisions.
Kookid by K-GPT is reinforced with body of knowledge from the Future You project in boosting the synthetic memory of Kana and Kacha, allowing the chatbots to provide accurate information all the time while having a good and natural understanding of the Thai language, according to Kavin. He said sensitive messages and unsuitable sentences will be screened out.
KBTG is offering trial use of Kookid by K-GPT.
Dr. Monchai Lertsutthiwong, the principal research engineer at KBTG Labs, said a survey of Future You users discovered that they felt it offered them creative advice that could help them enhance their thinking and making decisions.
Meanwhile, Kookid by K-GPT is a combination of large language models, and its proof of concept found that this AI technology helps users to better make decisions.
"The joint research with MIT Media Lab will lead to actual usage in the near future," he said.
– KBTG Partners with MIT Media Lab in moonshot-research showcase to create inspirations & collaborations for better Thailand
Expediting creation of AI literacy
The heart of an AI ecosystem with diverse components, such as hardware, information, infrastructure, and customer demand, is capable AI talents. These people are in short supply worldwide, Thailand included.
The technological revolution has led to fears that humans will be replaced by new technologies. This rhetoric has existed for more than two centuries, but as it turns out, innovations rather help to improve humans' potential and efficiency. It is estimated that AI will help raise the global gross domestic product (GDP) by at least 7%.
"AI will not replace people, but people who know how to use AI will certainly replace those who don't," Ruangroj said.
That is why KBTG is working with its allies in helping to create AI literacy for Thais, which will help them improve their potential in this age of AI. 
– KBTG Kampus aims to produce 100,000 tech talents, turns Thailand into global tech hub by 2030
"All of us have to get back to the playground however old you are. You have to go back to the classroom and learn for the rest of your life. Things you know today may not be relevant tomorrow. Knowledge can quickly expire these days," the KBTG group chairman says.
The Thai AI-Augmented Literacy Guideline is designed with the "4C" concept for modern education that is centered on humans and AI – co-imagining, co-exploring, co-thinking, and co-creating. This is aimed at allowing more people to learn about artificial intelligence by using and collaborating with AI in improving their capabilities.
"AI does not make people stupid, but it rather turns them into superhumans. We are creating human-AI super learners. Our dream is to see Thai children today build space shuttle in the future by working with AI," Ruangroj said.
He foresaw Thai children aged 13 to 15 to create a great project through their collaboration with AI.
KBTG invites allies in Thailand from all sectors – including policymakers, educational institutions, research agencies, private businesses, and startups – to join the development of the Thai AI-Augmented Literacy Guideline, as KBTG is working on the first draft with MIT Media Lab.
"Thai children in the future must be able survive in the age of AI. They must have AI literacy. It's the duty of us all to prepare the next generation for this," he said.
In addition to AI literacy, there is also an urgent need to create AI awareness among Thais so that they can coexist with artificial intelligence and use it with efficiency.
Anyone interested in joining KBTG's efforts in AI development may contact: [email protected].
Founder aims to turn EcoloTech into world-class earth-saving tech firm
MIH unveils smart city initiative, and innovative Project X prototype