AION introduced its latest electric SUV, the AION Y Plus, to the Thai market. The official pricing for the AION Y Plus was announced during the event, with prices ranging from 1,069,900 Thai Baht to 1,299,990 Thai Baht. In addition, AION has prepared a series of special surprises for Thai customers, including four exclusive benefits: Super Warranty, Easy Financing, Free Home Charger, and Super Gift Package.
These special privileges will further enhance AION's appeal in the Thai market, offering customers a comprehensive and high-quality experience. This launch event not only introduces thrilling new products to the Thai market but also underscores the remarkable accomplishments of GAC as a prominent player in the Chinese automobile industry.
Gu Huinan AION's global leadership in intelligent new energy stated at the press conference, "GAC Group is a leading giant in the Chinese automotive industry with the most complete automotive ecosystem. It ranks 165th in the Fortune Global 500, with annual production and sales exceeding 2.4 million vehicles and operating revenue exceeding 500 billion yuan. As an intelligent new energy enterprise under GAC Group, AION focuses on independent research and innovation, consistently ranking among the top three in global sales and achieving an output value of over 100 billion yuan. It has driven the successful transformation and upgrade of traditional automotive companies."
"AION hopes to not only deliver an exceptional product to the people of Thailand but also collaborate with them to build a world-class new energy automotive industry ecosystem. We anticipate that by 2025, we will gradually achieve local production and localized research and development in Thailand, accelerating Thailand's journey to becoming the electric vehicle hub of Southeast Asia. Our aim is to create a better life, enhanced by AI, for the people of Thailand."
Gu Huinan's speech emphasized AION's prominent position in the new energy automobile industry and its dedication to solidifying a significant presence in the Thai market as part of its active global expansion strategy. Subsequently, Ocean Ma systematically introduced AION's inaugural product in the Thai market, the AION Y Plus, the New Fancy Electric SUV, to all the guests and media journalists.
Ocean Ma announced that AION is set to swiftly expand its network of sales outlets throughout major cities in Thailand, including renowned tourist destinations. AION has already established 30 sales outlets, with 25 located in the greater Bangkok area. The company aims to finalize the construction of 50 sales outlets and service centers by the year's end, ensuring Thai customers benefit from an even more superior automotive service experience.
AION Y Plus is standout star product, capturing substantial attention since its debut. In August alone, it recorded over 26,000 registrations, firmly establishing itself as China's top-selling electric SUV. AION Y Plus offers two trim levels: the 490 Elite Edition and the 550 Ultra Edition.

AION Y Plus achieves these exceptional results thanks to its industry-leading AEP (AION Exclusive Platform). This platform ensures long battery life, high safety, spacious interiors, advanced intelligence, and appealing aesthetics, all contributing to AION Y Plus becoming a best-seller in segment market. Drive AION Y Plus and make every day of your life AMAZING!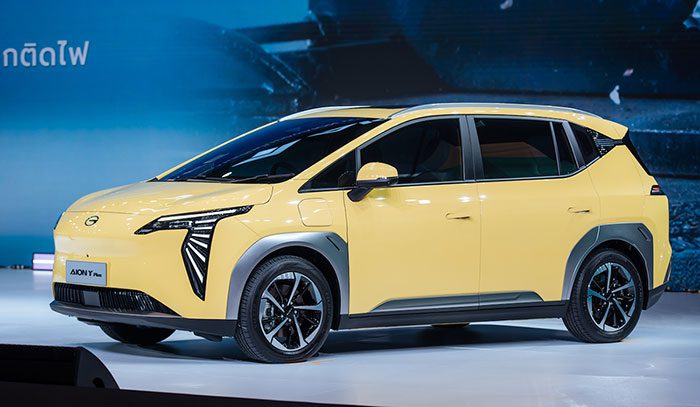 AION Y Plus is designed with dynamic front styling, with unique angel wing headlights, encountering the romantic city of angels, Bangkok. . Equipped with full LED headlights, a palette of seven exterior colors, three two-tone body styles, five interior design themes, and 32 adjustable brightness settings matched with ambient lighting that syncs with music rhythms, AION Y Plus offers an impressive array of 35 combinations for both interior and exterior aesthetics. It's the ultimate choice for those with a keen sense of fashion.
With an extended body, boasting a wheelbase of 2750mm and a platform with spacious full flat floor for rear passengers. emaintaining. What's truly unique is the front seats' ability to fully recline, transforming into a spacious 1.8-meter wide double bed, a class-defining feature. Furthermore, rear passengers enjoy the industry's most generous legroom, measuring up to 1,022 mm. The rear door can open close to 90 degrees, enhancing convenience during getting on and off the vehicle, ultimately elevating the comfort of both drivers and passengers.
AION Y Plus introduces the world's first Magazine Battery Safety Technology, setting a new standard for safety performance. To validate the battery's safety, AION conducted a specialized Bullet Penetration Test, subjecting it to severe impacts to ensure it remains non-flammable. In contrast to the conventional Nail Penetration Test, the Test involved penetration speeds exceeding 980,000 times and wound diameters 7-8 times larger. Remarkably, even under such rigorous conditions, AION's magazine battery exhibited exceptional safety, with no incidents of ignition or explosion.
AION Y Plus's battery cells feature an innovative stacked-shell design, enabling an exceptional range with an industry-leading pure electric capability of up to 550 kilometers. The battery is available in two versions: a 490km range variant with a 63.2kwh capacity and a 550km range option with a 68.3kwh capacity. With an impressive driving efficiency of 92% and minimal energy consumption of just 13.9kwh per 100km, AION Y Plus effortlessly facilitates long-distance journeys. You can embark on round trips of over 400 kilometers from Bangkok to Pattaya without the need for mid-journey recharging. Furthermore, AION Y Plus supports the i-pedal single-pedal driving mode, extending your driving range by up to 23% and enhancing convenience during your travels.
Bangkok Airways announces a new codeshare partnership with Singapore Airlines.
Huawei takes the lead on enabling cloud and AI innovative ecosystems in Thailand