Starbucks Thailand is expanding its plant-based menu selections, partnering with OmniFoods – a leading global plant-based food company to serve hearty and tasty food to Thai customers, providing a variety of choices of both food and beverage options for customers to choose from during the J-festival.
Nednapa Srisamai, Managing Director of Starbucks Thailand, said: "Starbucks' goal is to offer an environmentally-friendly menu that contributes to the company's goal in being a resource positive company and to meet customers' needs on health and wellness. Today, we are delighted to collaborate with OmniFoods in introducing plant-based menu choices to our customers. Expanding Starbucks plant-based menu choices is one of the ways we are pursuing our goal to reduce our carbon footprint by 50% and to provide our customers a variety of choices as part of their Starbucks Experience and we look forward to hearing feedback from our partners (employees) and customers."
In 2018, we launched our first plant-based menu selections in Thailand for both food and beverages in response to the changing lifestyle of our consumers such as health and wellness, and sustainability. Our commitment to being a resource positive company offering an environmentally-friendly menu goes in line with the aspiration of OmniFoods ¬– to offer better and more sustainable choices of product to reduce the impact on our environment."
David Yeung, Co-Founder & CEO from OmniFoods also commented: "Further building on the success of our previous collaboration with Starbucks Thailand in June, OMNI is thrilled to partner with Starbucks Thailand again to launch a new plant-based menu. This collaboration represents an exciting opportunity for us to bring innovative plant-based offerings to even more customers in Thailand. The continued partnership with Starbucks Thailand and OMNI exemplifies our shared commitment to providing delicious, sustainable, and inclusive plant-based food options to diners. We look forward to serving everyone at Starbucks Thailand with this exciting new plant-based menu and contributing to a more sustainable future together."
The plant-based menu selections include the savory Plant-based Strip Gochujang Wrap, a tortilla wrap with plant-based strip gochujang sauce, kimchi mayonnaise, cabbage & romaine lettuce – sparking a burst of flavor in the mouth. Plant-based Strip Pot Pie, a puffed stuffed with diced plant-based strip that mingles with specially cooked tomato sauce. The imported butter croissant dough topped with Parmesan cheese, stuffed with plant-based tuna makes the melty bite of Plant-based Tuna Melt Croissant. Three types of cheese are served with this menu choice: Emmental, Gouda and Cheddar. Plant-based Mozzarella Sandwich, a sandwich stuffed with plant-based meat alternative, served in a baguette and layered with Italian-style tomato sauce, and Mozzarella cheese.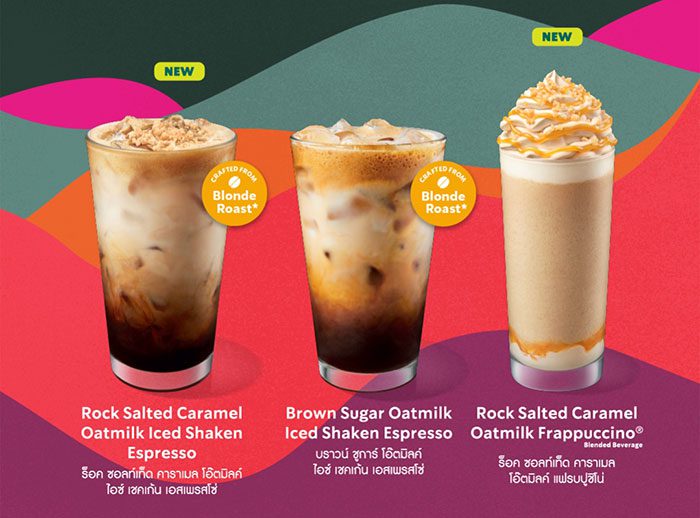 And to welcome the Vegetarian Festival (also known in Thailand as the J-Food Festival), Starbucks is introducing various plant-based bread servings with a yellow (vegan) label. The offerings include Plant-based Tuna Quinoa Salad, Vegan Mixed Mushroom Pie, Vegan Apple Pie, Charcoal Walnut Raisin, and Strawberry and Apple Juice.
To cater to both taste and lifestyle preferences, Starbucks also presents new alternatives for coffee enthusiasts to never miss out on a hearty lifestyle, Rock Salted Caramel Oatmilk Iced Shaken Espresso, a blend of Starbucks® Blonde Espresso – shaken until light and smooth – salted caramel flavor and sugar syrup, crowned with Oatmilk and Himalayan salted caramel sprinkles for an added crunch. Another blend of flavors and textures ready to serve is Rock Salted Caramel Oatmilk Frappuccino®, the icy-cold Frappuccino® blended beverage with creamy caramel coffee whipped cream, fishing off with caramel drizzle and Himalayan salted caramel sprinkles – sparking a new sense of mouthfeel.
The Starbucks favorite healthy drink Brown Sugar Oatmilk Iced Shaken Espresso also makes a return to bring back the signature shots of Starbucks® Espresso, shaken with brown sugar syrup, cinnamon powder and topped with Oatmilk.
These beverages will be available from September 12th to November 1st, 2023, at all Starbucks stores nationwide.
Gartner forecasts 15 million electric cars will be shipped in 2023
CDIP signs MoU with TCELS to develop the products safety center