Frontline medical workers praise additional safety
This is a story about a Thai scientific and medical innovation called Safie Plus. In a world living in fear of COVID-19, Thai researchers have produced what may be the ultimate breathing mask. Laboratories in the United States and Singapore have found it 99 per cent effective in filtering both viruses and PM2.5 dust particles out of the air we breath.
The medical environment could hardly have been more in need of Safie Plus. Just a short few years ago, the deteriorating quality of the air in the cities of Thailand led a health-conscious few to buy, and use, face masks to filter out the smog – clouds of particulate matter less than 2.5 microns in size that threatened the respiratory health of many city dwellers.
If there was ever a 'silver lining' to the lingering PM2.5 cloud, it was its lessons on how to breathe through layers of fabric and filter, because COVID-19 hit Thailand a little more than a year ago, and the air became laden with a much more serious threat – the invisible and deadly coronavirus.
Not one naked face can now be seen behind myriad masks in public places; masks of all shapes, colors and sizes. They are now a part of the 'new normal'; face masks that claim to filter the air we inhale – or protect others from the air we exhale – have become accessories more important than mobile phones, wrist watches or sunglasses. After all, the law never made the latter three mandatory.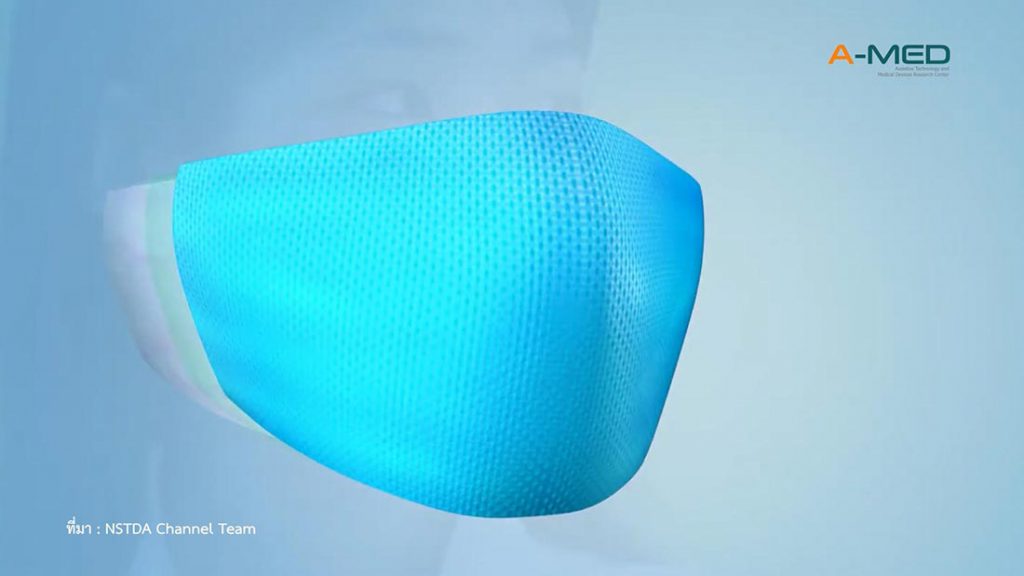 Safie Plus is a four-layer surgical mask. Its development began in the wake of the 2009 influenza epidemic. As researchers then explored ways to prevent the spread of respiratory-tract infections, they innovated the first Safie Plus. But PM2.5 and COVID-19 have meant that its development never really stopped.
Recently, 400,000 Safie Plus surgical masks were produced. The first lot went to medical workers on the COVID-19 'front line': the Health Service Area 5 Office in Samut Sakhon, hospitals in Tak's Umphang, Mae Sot and Mae Ramat districts, the Ban Phaeo General Hospital in Samut Songkhram, the Rayong Hospital, the Hat Yai Hospital and the Health Service Area 2 Office in Phitsanulok.
The birth of Safie Plus
Naruporn Monmaturapoj is a member of a research team for implantable medical devices at the Assistive Technology and Medical Devices Research Cente (A-MED) – a part of the National Science and Technology Development Agency (NSTDA). She got the idea of developing Safie Plus after a medical materials lab successfully produced Hydroxyapatite – a composite material similar to the minerals in human bones. This substance has electrostatic properties making it capable of attracting bacteria, viruses and particles as small as PM2.5 on to its surface. But on its own, it does nothing to decompose its catch. The Safie Plus developers decided to add Titanium dioxide, as a photocatalyst. When exposed to ultra-violet light, Titanium dioxide can decompose bacteria, viruses and PM2.5 particles to a point where they pose no harm to humans. Naruporn chose Hydroxyapatite and Titanium dioxide as composite materials.
"I realized that the efficiency of surgical-masks and protection for wearers would increase if composite materials were added that could filter out viruses and PM2.5 particles. So, I finally developed Safie Plus," Naruporn says.
While general surgical masks have just three layers of material – the outermost to keep water out, the middle as a filter, and an innermost layer to absorb moisture during use. Safie Plus has an additional layer of non-woven filter material. Using a mixture of natural fiber and polyester coated with the composite of Hydroxyapatite and Titanium dioxide, the additional layer lies between the usual outer layer and the middle layer. Normally, different types of fiber, when placed on top of one another, make a good filter. But the special coating makes Safie Plus effective in trapping PM2.5 particles, bacteria and viruses. Better still, it degenerates pathogens and dirt to provide enhanced protection.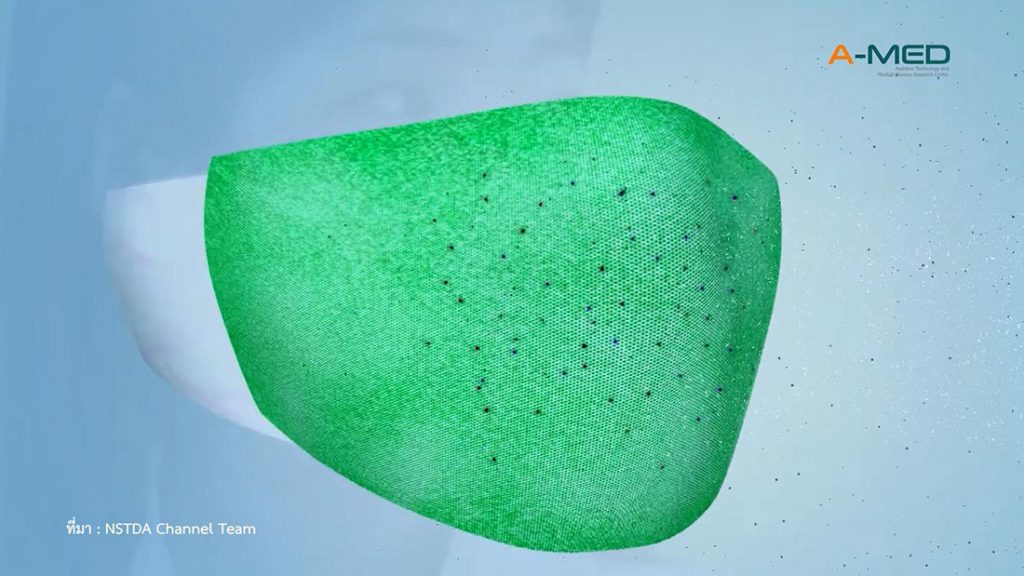 "We have tested the efficiency of Safie Plus at standards laboratories overseas. The Nelson Lab in the United States has confirmed that Safie Plus is 99-per-cent effective in filtering viruses, while the TÜV SÜD PBS Lab in Singapore has found that Safie Plus is 99-per-cent effective in filtering PM2.5 dust particles," Naruporn says.
Innovation inspired by love
Naruporn revealed that she began developing the Safie Plus research when she was a mother with a young baby.
"At the age of just three and a half months, my child had to go to a nursery," she recalls. "My baby caught flu-like sicknesses often and saw a doctor once every two weeks. Then, one day, she developed the symptoms of Influenza 2009. I started thinking about protective gear. I seriously explored what could be used to better protect my daughter and other children from pathogens. So, I came up with the idea of creating a very good surgical mask, capable of protecting our beloved children from respiratory diseases."
At the time, general surgical masks cost Bt0.5 each to produce, and adding a layer of composite materials raised the production cost significantly. So, at the start, Naruporn's research received little more than a lukewarm response. It was only after PM2.5 became a growing threat that her research began to attract serious attention. Her innovation was tested for its ability to filter PM2.5 particles and its shape was adjusted on a 3D model so as to better fit real human faces; to give better protection.
But due to our limited research budget, we could produce only 10,000 prototype masks. Half of them were for adults and the rest were for kids. Our masks were shared among hospitals and schools in NSTDA neighborhoods for trials among their personnel," Naruporn says.
While struggling with the PM2.5 threat, the COVD-19 crisis reared its ugly head. Demand for surgical masks skyrocketed, along with their price.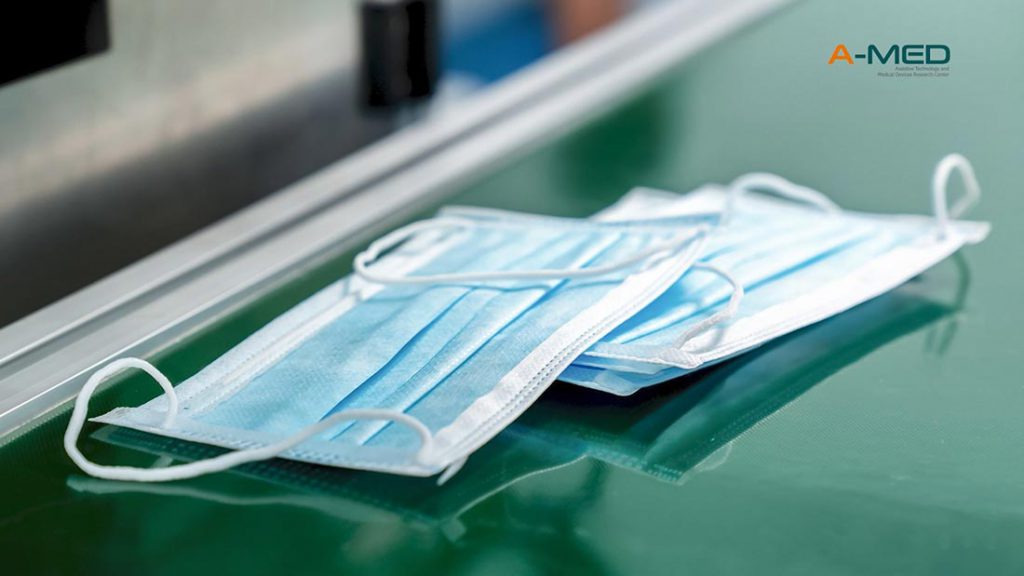 In Thailand, surgical masks are a controlled product, so it was difficult to hire overseas manufacturers and import the masks to Thailand. Most factories in Thailand were not equipped to produce 3D-shaped masks. Even the factory that produced the first prototypes of Safie Plus was unable to help.
The research team refused to give up hope of helping Thailand to battle against COVID-19. It reworked its prototype to return it to a conventional shape for general surgical masks and submitted the revised design to a committee overseeing control of surgical masks, and gained approval.
In July 2020, it hired a manufacturer with ISO 13485 certification (applying to medical devices) to produce Safie Plus. The manufacturer was supplied with the special filter layer developed by Naruporn's team, and it took just one day for the manufacturer to deliver the first batch of 400,000 masks.
"Our production cost was Bt4.5 per piece," Naruporn recalls. "Our main goal was to apply our research findings to help tackle the country's crisis. Production of Safie Plus is now for free distribution only. The manufacturing budget comes from the NSTDA and the National Research Council of Thailand, which granted funds not only for the production of the composite materials, but also for final production. The NSTDA holds a patent for Safie Plus."
Naruporn says her team intends to produce more than 400,000 Safie Plus masks, but final production volume will depend on budget and the capacity of the factory involved. The NSTDA does not have its own manufacturing facility for final products. However, it has the capacity to produce composite materials and upscale coating solutions.
To date, the NSTDA has sent its solution to a coating factory. Rolls of coated layer are then sent from the coating factory to the chosen mask factory, which can produce up to 500,000 pieces a day.
"Even though our role has been relatively small, we trust that our contributions give better protection to medical workers. We focus on medical personnel because they are exposed to higher risks, when compared with members of the general public. At medical facilities, staff may unknowingly get exposed to asymptomatic COVID-19 patients," she says.
Feedback from Safie Plus users
Yongyut Utama, a registered nurse at Umphang Hospital in Tak province, has got first-hand experience with Safie Plus. He says it is thicker than a general surgical mask, so Safie Plus gives him greater confidence at work. Based in the hospital's emergency room, Yongyut is on the frontline, dealing with various types of patients. He admits he has had some concerns about his safety, but wearing a face mask gives him some comfort.
"Normally, I wear a surgical mask eight hours a day. I remove the mask only during my lunch break. On some days, I do both morning and afternoon shifts, and if my surgical mask has been exposed to a lot, I may replace it with a new one. But if exposure to patients is not excessive, I will keep using just one mask," Yongyut says.
Another registered nurse at the Umphang Hospital, Supita Pazu, says people in her profession were wearing surgical masks long before the COVID-19 outbreak.
In the past, nurses usually removed their masks when they did not have to deal with patients, but COVID-19 has made nurses recognize the need to step up self-protection, because nobody knows where the virus is. So, it is best to wear a surgical mask at all times, change them more often than in the past, and dispose of them in infectious-waste bins.
"We get very close to patients – for instance, when bathing them. For such tasks, wearing a four-ply Safie Plus gives me extra confidence in having such close contact. Safie Plus enhances protection of both me and the patients," Supita says.
Dr. Kritiya Peungwattanapong of the Ban Phaeo General Hospital says that during the COVID-19 crisis, healthcare workers have sometimes been using donated surgical masks, and most donated items are thin. Checks must be made to determine whether they have a filter and are water-resistant. Kritiya says the Thai-made Safie Plus fits well on her face and gives her more confidence in carrying out her duties. Even though Safie Plus is thick, it is not uncomfortable. She says Safie Plus can even be worn on top of a substandard N95 mask to increase water resistance when dealing directly with COVID-19 patients.
"All hospital staff look set to need surgical masks from now on," she says. "In the past, surgical masks were used only among staff who had close contact with patients, or dealt with patients with respiratory disorders."
Nurse Yongyut Utama says that after using a Safie Plus for five days, he found no problems. "But I've heard from some of my friends that the masks become threadbare by the afternoon and cause minor irritation. Overall, Safie Plus is good, but I hope the researchers will develop a better contact layer. When it becomes threadbare, it can irritate facial skin."
Nurse Supita Pazu says she has used Safie Plus for five days, and its overall performance is great. "It is thick and firm. My colleagues also say they like the four-ply mask better. Staff feel safer with a thicker mask. But we hope that researchers will improve breathability. When a surgical mask has as many as four layers, it feels stuffier, and when it is hot, we become uncomfortable."
Dr. Kritiya from Ban Phaeo General Hospital says mask wearers with a height of just over 160 cm find Safie Plus fits their face well. But some doctors and nurses are much taller, and those over 180 cm find Safie Plus is too small. So, I think the masks should be available in several sizes to suit users with different physical features."
Researcher and developer Naruporn says the life of Safie Plus masks depends on what environments they are exposed to. If they face lots of dust particles, bacteria or virus, they last just one day. But if the exposure is not heavy and the mask still looks good at the end of the day, they can be reused.
"We are proudest that after receiving government scholarships, we have come back to serve the nation. Our innovation now benefits Thai people, especially medical workers. We were glad when our research proved useful in the battle against PM2.5, but COVID-19 has made it even clearer that our research has much value. It can be used immediately to help people.
"I would like to send my moral support to all researchers who share the same ideology," Naruporn adds. "Please have faith that scientific knowledge can really help our country. Our role may be small, but our determination can take us far in efforts towards national development."
Taking research to the next level
Naruporn says she plans to promote the widespread use of Safie Plus by adjusting its shape to serve as both a surgical mask and an N95 mask. Her plan is to study the pros and cons of all N95 masks on the market and match them with the Safie Plus filter. Her goal is to create various mask sizes and shapes for Thais of all age groups. Her surveys to date have found that there are very limited mask choices for children, and since children are often unable to take care of themselves, they have a greater need for protection.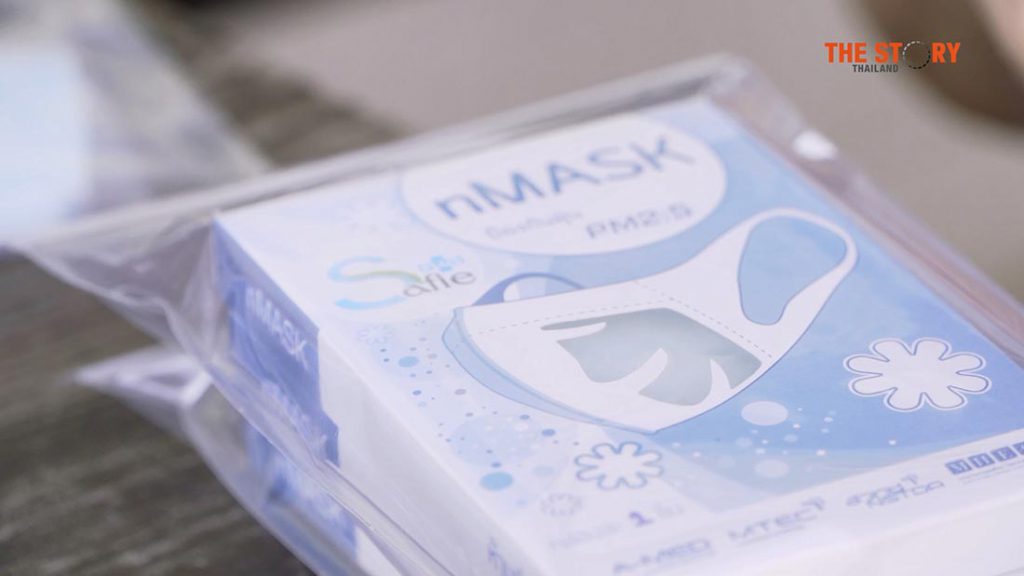 "The masks should be efficient, practical and affordable. The production cost should be about Bt15 apiece."
Naruporn says the Safie Plus masks will be developed as N95 masks, so as to comply with widely-accepted standards and win acceptance from the Food and Drug Administration and the public.
She does not see any need to further develop the composite materials for the Safie Plus filter, because the existing mixture of Hydroxyapatite and Titanium dioxide is good enough. "From now on, our research will focus on mask-application development, not on how to use our composite materials for any other purpose. We believe surgical masks will become indispensable. They will continue to be a basic necessity because of threats from pathogens and PM2.5 particles."