CEO urges big companies to help the "small fish" for mutual post-COVID growth
Every business sector in Thailand has taken a beating from the COVID-19 pandemic. Although the impacts vary from industry to industry, none has been spared, and according to the Chief Executive of Advanced Info Service (AIS), Somchai Lertsutiwong, the impacts of the pandemic have even struck at the country's telecom industry, which has played a big role during the crisis. 
Speaking at an Investment Analysts' Association seminar entitled "The Arrival of Vaccines: Will Thai Businesses Rebound Fast or Slowly?", Somchai recommended a surprising business philosophy for Thai firms entering a tenuous recovery: he urged big firms to avoid being 'predatory', and to help smaller firms to stay afloat so as to contribute to sustainable economic growth. 
But he began by assuring his audience that despite opinions to the contrary, AIS has suffered in the pandemic, just like every other business.
"At first glance, the COVID-19 outbreak seemed set to offer us profit-growth opportunities. But the truth is that while demand for AIS services has grown by 30 to 40 per cent, the company's overall income has fallen," Somchai revealed.
The reason was the fact that AIS could not increase its service fees based on rising demand in the face of consumers' weakening purchasing power. The current market requires AIS to offer a package for between Bt300 and Bt400 which would have fetched between Bt500 and Bt600 in pre-COVID times. Therefore, while the telecom sector should have been enjoying lucrative growth, economic conditions meant AIS had to reduce its rates and accept the inevitability of a COVID-19 impact.
COVID-19 accelerates digital disruption, digital transformation
As an expert with decades of experience in Thailand's telecom industry and winner of a Best CEO Award in the technology category in 2020, Somchai sees some good arising from COVID-19. He pointed out that the pandemic had seriously accelerated digital disruption and digital transformation, and that these things, in the end, would benefit Thailand's business sector.
He said every high-level executive was aware of digital disruption and digital transformation when COVID-19 first emerged, and many had already prepared their organizations for these two tech trends. However, many organizations thought these things could wait, and didn't go ahead at full steam. But the pandemic has changed the whole landscape and has significantly highlighted the need to rapidly embrace digital disruption and digital transformation. All enterprises are now "rushing in", Somchai said, and AIS is among them.
"COVID-19 is forcing all of us to adjust really quickly. In the long run, this adaptation will strengthen our organizations. The use of digital technologies will benefit every business, and not just AIS. Thanks to digital tools, costs will become lower and efficiency will soar high.
"So, COVID-19 does have some benefits," he said. "Don't look at this crisis from a negative perspective only. There are opportunities in this situation, too. Use these opportunities for digitalization, so as to empower our businesses."
At AIS, the COVID-19 crisis has sped up preparations for a 5G network. Earlier, AIS was planning to complete the preparations over the next few years, taking into account that Thailand's ecosystem and related equipment for 5G technology were not yet fully ready. However, in the wake of COVID-19, 5G preparations have gone ahead faster than initially planned.
AIS has now clearly positioned itself as a digital-services provider, and not just a mobile operator. It intends to support all industries and consumers by taking up the mission of making both their lives and work easier.
Over the past year, while most organizations decided to put their investment plans on hold, AIS increased its investments in support of 5G usage. It also supported various industries in their development of artificial intelligence (AI), robotics, automation, internet of things, and cloud solutions for eventual upgrading to Smart Factory status. The solutions have been created to help businesses deal with issues such as labor shortages and unstable production. The integration of 5G technology enables enterprises to continue their operations and pursue their original goals, albeit with some extra steps.
Somchai said that Thailand's tech industry is second-to-none. For example, the country ranks among the first countries in the world to embrace and apply 5G. In this respect, it lags behind just a few countries like China, Japan, South Korea and the United States. However, on the technological front, Thailand does not have Deep Technology to beat other countries.
"We might have been rather slow in the adoption of 3G or 4G. But after the dawn of the 5G era, we acted really fast and we are far ahead of many nations. Importantly, Thai consumers are now quick to adopt technologies. Thais may not be so savvy in R&D or innovations, but speaking of users, Thais have an intense passion for tech," Somchai said.
To put it simply, Thailand may not be the world's leading innovator, but Thais know how to apply technologies to their lives.
Digital platform a new core business 
In the turmoil of COVID-19, enterprises in many industries – including AIS – became acutely aware that a similar crisis may hit again in the future. AIS is now determined more than ever to be farsighted and well prepared. Fortunately, it nurtured such an attitude and work approach well before COVID-19. Its digital transformation plan, for instance, was hatched six years ago.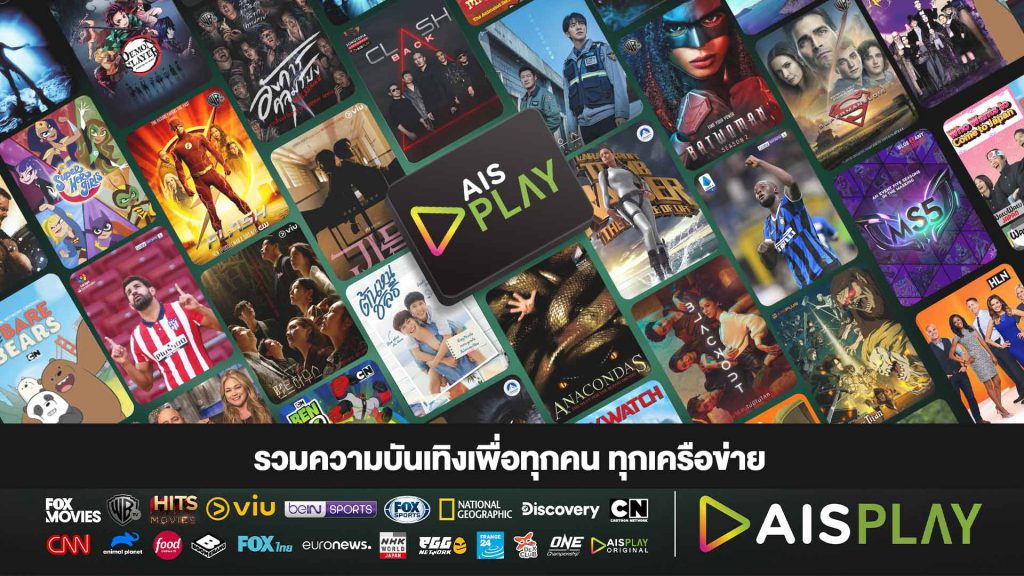 "I am not saying that I am very capable. It's just that I have opportunities to see what has been happening in countries with more advanced technologies. We have foreseen that customers will use our services, not just for communications, but also for digital services that improve their lives and their work," Somchai told the seminar.
In his view, digital solutions are a certain growing trend, so AIS is determined to transform to meet this trend and strengthen its core telecom business. 
"There are two things AIS will pursue. Firstly, we will improve everything about the "connection" business, such as Fixed Broadband and AIS Fibre. Secondly, we will develop digital platforms, because this has been our pursuit for a long time. We really want to develop great digital platforms, something we have already seen in the world, but are not successful on this front yet," Somchai said.
He pointed out that digital platforms like Facebook, Google, and YouTube have already become super lucrative, with massive inflows of income. Therefore, AIS is keen to develop a remarkable platform, and if such a venture succeeds, it will be a huge source of revenue, easily surpassing that from its current core business. Moreover, successful digital platforms promise to bring AIS into various other industries, such as banking, the financial sector and advertising. The company's digital-platform development is therefore about AIS using its existing strengths to enter various other industries.
However, Somchai is quick to point out that while AIS intends to step into other industries, it has no intention to dominate them. Recognizing that its expertise is now limited to its current industry, AIS believes collaboration with highly-experienced players in other industries will be more fruitful. It intends to offer its technology or a platform as a business model that operates on the basis of revenue sharing, and a successful collaboration on this front could double its revenue.
"For this business model, I believe AIS will have to accomplish three things: First, we must identify a new digital service for our new business. Second, we must acquire new skill sets by recruiting, compiling or developing talents. When we plan for a new business model, we will have to get new skills to support it. For this, we may develop our staff, or if new skills are very specialized, we will have to attract new talents. Third, and importantly, we will have to create an ecosystem whereby we offer our expertise in support of our business partners for the sake of mutual growth and more," Somchai said.
He added that after getting a new business model, new skill sets, the right partners and a great eco-system, AIS would definitely contribute to the growth of the whole business sector. 
"We are not sure yet whether our pursuits will be successful. But we are acting on our ideas. AIS will enjoy huge growth if we successfully implement this new business model. But even if our venture is not a success, we will at the very least learn from it. It is better than sticking with the old way of doing business. If we continue with our old approach, AIS will still grow but at the rate of just between one and two per cent higher than the country's GDP growth rate," he said.
From its digital transformation, AIS has already created some tangible results. For example, AIS PLAY is now an increasingly popular service. It charges neither a service fee nor advertising fees because it wants to firmly build its customer base. To date, AIS PLAY has attracted eight million users, and half of them are active subscribers. This high number of users hints that if AIS keeps going with a clear focus, there is a good chance that it will develop an advertising model on this platform for massive income. Moreover, AIS has the prospect of partnering with banks for the delivery of expanding Mobile Banking services. If these partnerships grow, AIS's business will grow along with them.
Speaking about international competition, Somchai admitted that it was not possible for Thailand to compete against global players because they were not operating at the same level. He said there was no point in sending a school football team from a rural province to a compete against a world-class football squad. However, he emphasized that he does not consider Thailand lacking. Rather, he believes that players should understand the level at which they are playing. The digital platforms being developed by AIS will focus on Thai market only. They will not be developed to compete against international platforms.
"Today, YouTube is very popular in Thailand. So far, between 80 and 90 per cent of content viewed by Thais on YouTube is Thai. Just 10 to 20 per cent of content they view is overseas content. So far, Thai YouTubers have to rely solely on YouTube. After investing Bt100 in producing their content, they upload it to YouTube, and revenue from the platform, calculated on the basis of YouTube's revenue-sharing model, may not allow them to recoup their investment. Things will be very different if there is a Thai version of YouTube. If Thai audiences agree to use this Thai platform, Thai YouTubers will be much happier. If their content on the platform earns Bt100, we (the platform owner) will ask for just between Bt10 and Bt20. The rest will go to the content producers. This is what AIS intends to do," Somchai said.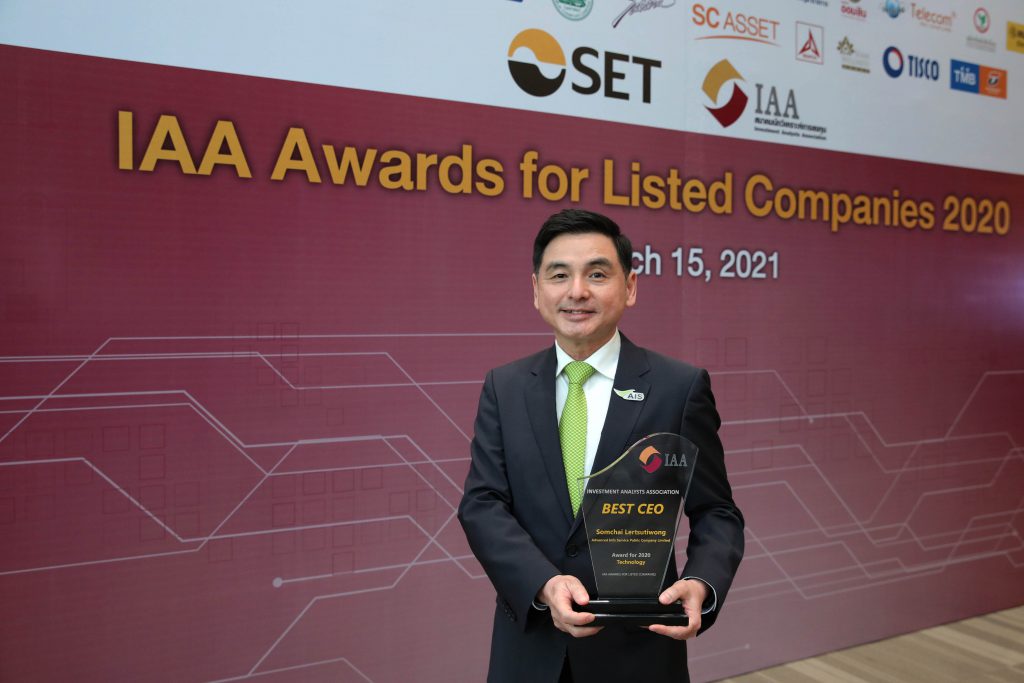 He concluded that AIS would transform itself and compete against itself. His firm understands full well that it should not compete against global players. In Somchai's view, it is best for AIS to compete in a market in which it has experience. But while staying in this market, AIS has seen the need to transform itself and search for new business opportunities.
Somchai said investors, old and new, could have confidence in AIS's growth potential. As a listed company, AIS might not show significant growth, but it always paid dividends. Now, it is seriously transforming itself into ​a digital-service provider without abandoning its core business.
AIS has a firm conviction that every industry will need a digital transformation, so it intends to step into all other industries and support their transformation. 
"Our vision is to be a digital-service provider to bring better life and better work for Thais. We hope to give our partners the tools they need for digital transformation. When they collaborate with us, they won't have to search for tools and solutions on their own. We will be there to support them. Together, we will be able to enjoy long-term mutual growth," he said.
The winner of the Best CEO Award (Technology Category) in 2020 then urged other organizations to share AIS's vision of not being a "predatory big fish".
"I would like to encourage big fish, or big firms, to support smaller firms. Lead the small fish in the right direction and help them to beat strong waves and wind. Our business structure should be geared for supportive collaboration. Helping small players stay afloat will contribute to sustainable growth. What AIS is trying to achieve is not about raising its own value several-fold. In essence, it is about increasing the value of all other industries, helping them to survive, and supporting growth in the digital age," Somchai concluded.