The Singapore government has also remained steadfast in the commitment to innovation, through economic cycles. In the five years to 2025, they are committing US$19 billion to research, innovation and enterprise. 
Heng Swee Keat, Singapore's Deputy Prime Minister and Coordinating Minister for Economic Policies, said at the opening of the Singapore Week of Innovation and Technology 2022, that the adoption of digital technologies – AI, robotics, IoT and more have picked up pace during the pandemic, driving economic recovery. Emerging technologies, including Web 3.0, have the potential to unlock new possibilities and create new waves of change.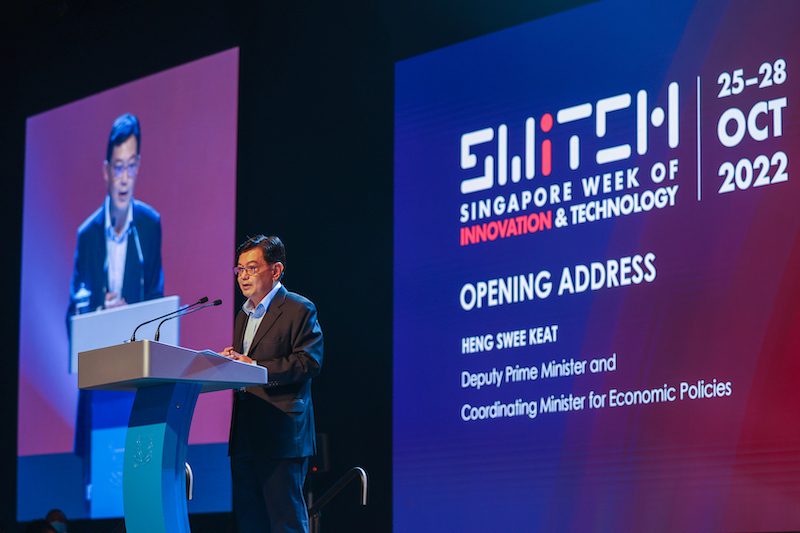 Coming out of COVID-19, the momentum for global innovation is now under some pressure due to the global economic environment.
"For global innovation to thrive, we must continue to work as an international community as we did before and during COVID-19," said Heng Swee Keat.
Singapore's start-up ecosystem remains vibrant, although overall investments have come under pressure.
Singapore is a Global-Asia node in this international innovation community. Singapore is home to 29 unicorns, including four minted this year. The country run co-innovation programmes with 37 countries to catalyse cross border collaborations, with close to 300 companies participating so far.
"Through the Global Innovation Alliance, or GIA, we are connected to 15 innovative cities around the world, with 2 more connections to be announced later at SWITCH, said Heng Swee Keat.
SWITCH is another way for global minds on innovation to connect. This is a year-round event, with an annual conference in Singapore. SWITCH 2022 is an 18,000 strong community, with participants coming from more than 90 countries.
"As we gather today, we should not only discuss new opportunities, but also how we can tackle our collective challenges together," said Heng Swee Keat.
He also said that the three key ones are the barriers to innovation included talent is not enough; tech is too fast; and green is too slow.
Talent is not enough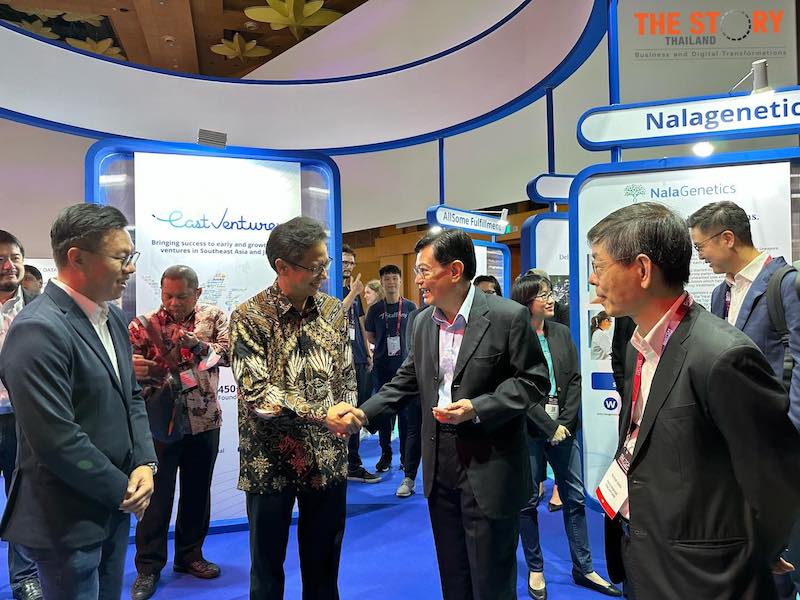 For many innovative firms and start-ups, talent is probably in greater scarcity than funding. While they could more easily go to market for capital, talent is not something that is instantaneously available.
In fact, talent is not fungible like capital, as the skills needed are very specific – from coders to UI experts, to deep tech expertise such as AI, cyber and automation.
Educational systems around the world are struggling to keep pace with skills needs, especially in the frontier areas of innovation. The challenge is a structural one.
The traditional feedback loop for developing new skills – from industry to academia to curriculum – and years of full-time learning by students before they graduate simply cannot cope with the pace of change.
In Singapore, industry plays a key role in developing human capital.
From defining the emerging skills required, to providing opportunities for skills upgrading, to helping mid-careerists switch to new roles in growth sectors.
"For ICT, we have the TeSA programme, which was started six years ago. This is an industry partnership comprising multinationals, start-ups and companies based here. So far, TeSA has placed and trained more than 12,000 mid- careerists into tech jobs, and upskilled more than 160,000 through tech courses," said Heng Swee Keat.
TeSA is a continuing effort – to ensure that skills stay current, anticipate new ones, and help more mid-careerists transit into growth jobs.
Singapore announced an additional US$50 million for AI manpower with the aim to double the number of AI apprenticeships in the next five years.
Singapore has invested more than US$450 million in AI R&D over the last five years. But talent is a critical bottleneck in AI development.
"We started the AI Apprenticeship Programme several years back, to enlarge the pool of AI engineers. So far, over 200 apprentices have been trained, with strong industry demand and good employment outcomes," said Heng Swee Keat.
In addition, the government will also create a new NRF Fellowship for AI to attract top researchers to pursue breakthrough research in Singapore, who can in turn draw in and mentor emerging talent.
And, the government to encourage top talents to set up base in Singapore.
"This way you can tap on the growing talent base here and in turn contribute to growing the talent pool. Wherever you are based, you can also work collectively as an industry to grow and nurture talent in the cities you operate in," said Heng Swee Keat.
This is a virtuous circle to collectively ease a critical innovation bottleneck, and make good careers available to more individuals.
Tech too Fast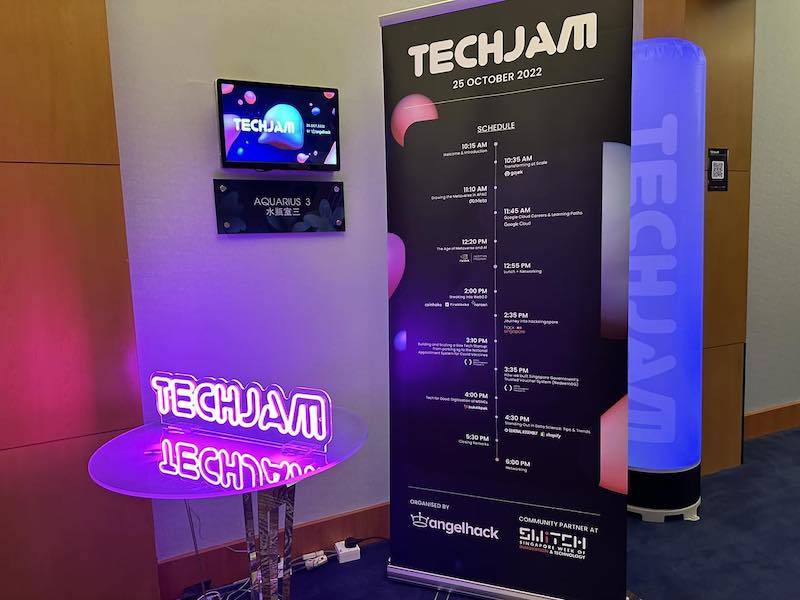 For frontier sectors, manpower is the key bottleneck. But for many SMEs around the world, tech is moving too quickly, and it is difficult to keep pace with and access new technology.
SMEs make up 90% of businesses worldwide, and 50% of global employment.
Global innovation will not be complete if it cannot help SMEs embrace tech and scale solutions, and ensure that the benefit of tech reaches the large majority.
Going online has allowed many SMEs to keep their businesses going during the pandemic lockdowns.
"The key is to equip them with at least a basic level of digital capabilities. In Singapore, we started SME Go Digital, which has benefitted more than 80,000 companies so far. But we still have a long way to go," said Heng Swee Keat.
Once a SME goes online, there are many more possibilities, including access to new markets. One B-to-B marketplace is Business Sans Borders, a meta hub that connects different platforms from around the world.
This marketplace, which was developed in Singapore, helps SMEs access a larger ecosystem of suppliers and buyers. Today, BSB serves over 400,000 companies from 18 economies.
Enabling SMEs to go digital is one foundational aspect. But for SMEs to thrive, they need to innovate, so that they can develop new products and solutions.
For many innovating SMEs, what they need is access to mature, ready-to-scale technologies and facilities where they can test out new products. This is where the eight Centres of Innovation, or COIs, in Singapore come in, each specialising in a different tech.
They provide one-stop support from lab facilities to consultancy and training to developing and testing tech projects. To date nearly 300 innovation projects have been completed.
One such collaboration was by Organic7days. It started out as a distributor for baby food. And with the support of the Food Innovation & Resource Centre, a COI located at Singapore Polytechnic, it started to conceptualise, develop, and mass produce locally flavoured ready-to-eat baby food.
Today, their products are sold under the brand name Deliciously Bib and are carried by major retailers in Singapore.
"Building on these early successes, we will be launching three more Centres of Innovation in built environment advanced materials, urban agriculture, and beauty and personal care," said Heng Swee Keat.
All three are growth areas, with an increasing number of companies, who are keen to innovate and try out new ideas. These three new COIs will be hosted in Polytechnics, and will support up to 1,500 SMEs in the next five years.
"There is no one way to help our SMEs innovate and thrive. But we must address their specific needs and circumstances, so that innovation is pervasive and benefits many more people," said Heng Swee Keat.
Green too slow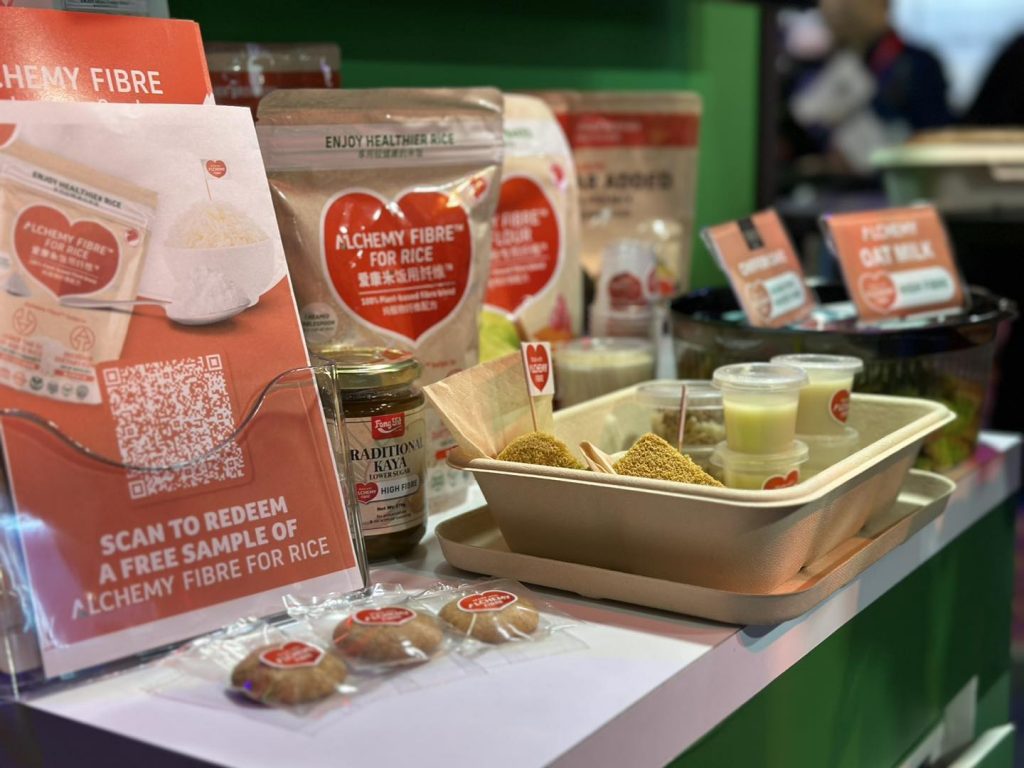 The green movement is moving too slowly. Climate change is now a much more urgent crisis. It is seeing more extreme weather patterns, and the world is not on track to meet the 1.5 degrees Celsius target.
The green revolution is progressing too slowly. While many hoped for a green recovery from COVID-19, the current energy crisis has put some brakes on momentum.
"We can do more to put sustainability back on track, to put green at the front and centre of what we do, said Heng Swee Keat.
The first way is to ensure that the externalities of emissions are priced right. Carbon tax is one of the most efficient ways to do so. Singapore is the first country in Southeast Asia to introduce carbon tax.
The second way is to catalyse financing of the green transition. A tremendous amount of capital is needed. This is estimated at US$2 trillion in Southeast Asia alone for this decade.
As a global financial centre, Singapore is well placed to contribute through green financing; and facilitating the trading of high-quality carbon credits through carbon exchanges such as Climate Impact X.
"The third way is to coalesce our efforts around key problem statements. Open innovation is a good way to do so. Amongst the various national challenges is the Sustainability Open Innovation Challenge," said Heng Swee Keat.
Last year's edition attracted more than 600 ideas. One of these areas is in renewable energy.
Sustainability is a major challenge for the world. But it is not the only one. Singapore is also focused on tackling other major issues such as ageing and food resilience.
"Working in collaboration with partners from around the world, we can collectively make the world a better place," said Heng Swee Keat.
Tech and innovation have been instrumental in steering the world out of the COVID-19 crisis. The world is now going through another difficult patch.
"But if we work closely together, we can strengthen the global innovation movement – with greater emphasis on developing human capital, to meet talent shortfalls," said Heng Swee Keat.
By ensuring that tech adoption is more pervasive, benefitting many more people and adding to the green momentum, as we redouble our efforts to tackle the climate crisis.