Singapore, an island state with a population of 5.9 million and a total land area of 734 square kilometers, imports more than 90% of its food while less than 10% is produced locally.
In order to boost its food security, the country has come up with an ambitious plan to raise the locally produced food supply to 30% by the year 2030.
That is part of the three strategies devised by the Singapore Food Agency (SFA) to ensure sufficient food supply for the country – diversifying food import sources, growing locally, and growing overseas.
To reduce the risk of over-reliance on a single supply source, Singapore diversifies its food sources to over 180 countries and territories, allowing importers to ramp up supply from other sources if the supply from any source country is disrupted.
Singapore experienced disruptions to chicken and pork supplies following Malaysia's chicken export ban in 2022 and the African Swine Fever incursion in Indonesia earlier this year.
Malaysia is one of Singapore's biggest food sources, supplying more than 50% of its eggs, 40% of its fruits and vegetables, 34% of its chicken, and 25% of its seafood.
Indonesia supplies 15% of pork and 17% of seafood consumed in Singapore.
Buffer for supply disruptions
Local food production is expected to mitigate Singapore's reliance on imports and provide a critical buffer during supply disruptions due to global pandemics, geopolitical situations such as armed conflict, or other factors.
Singapore is working to build up its agri-food industry's capability to produce 30% of domestic nutritional needs by 2030. Known as the "30 by 30" target, this goal is featured in the Singapore Green Plan 2030 launched in February 2021.
The ambitious scheme came after the Covid-19 pandemic, which severely disrupted the global food system. The pandemic underscored the importance of local production for Singapore's food security and having a buffer in the event of global supply disruptions.
However, Singaporean farms striving to help the island state achieve its "30 by 30" target are facing challenges from construction delays, manpower shortages, and higher energy prices which raise their business costs, according to the SFA.
The agency's third strategy of "three food baskets" involves encouraging Singaporean food production companies to set up overseas and export their produce back to the country. By venturing overseas, those companies can overcome land and manpower constraints at home while accessing new and larger markets elsewhere.
Singapore's agriculture is a small industry, representing only 0.5% of the total gross domestic product (GDP), while food and beverage services accounted for 0.9% of the country's GDP in 2022, according to government figures.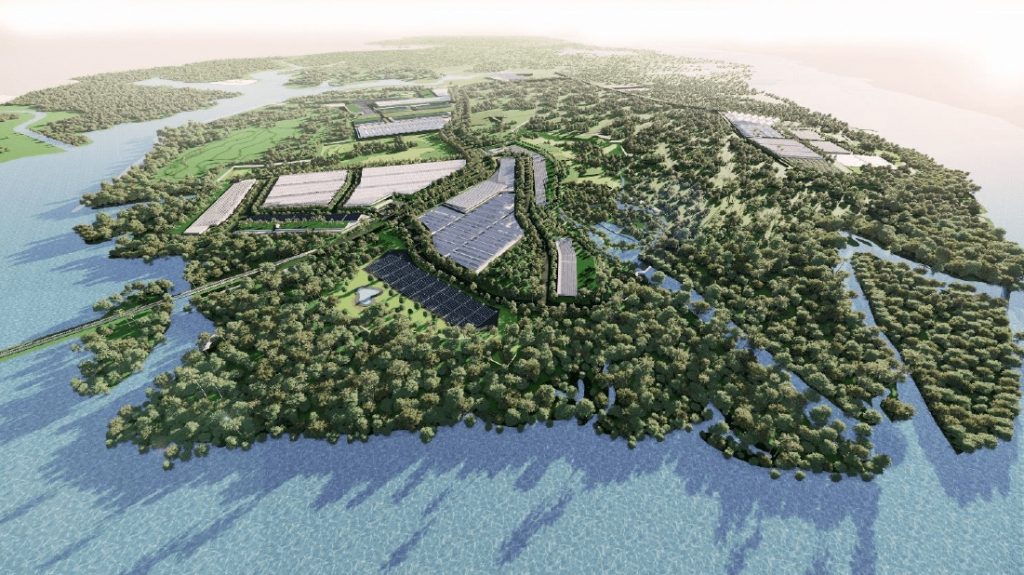 On track to achieve the target
Singaporean Minister of Trade and Industry Gan Kim Yong said recently that his country is "on track" to achieve the "30 by 30" target.
The minister explained that the goal was to ensure a sufficient supply of carbohydrates and protein to meet the population's dietary demand. Gan admitted that Singapore is unable to produce enough rice for domestic demand, so it needs to find a substitute as imports continue.
Minister Gan was speaking to a group of Southeast Asian journalists during the Singapore Week of Innovation and Technology (SWITCH) 2023 early this month. The media trip was organised by Enterprise Singapore, an agency under Gan's ministry promoting enterprise development.
SWITCH 2023, held at the Marina Bay Sands Expo and Convention Centre from October 31 to November 2, drew about 15,000 participants and some 350 exhibitors from the global technology and innovation community.
Separately, a Singaporean executive in the food sector estimated that the "30 by 30" target has been about 50% completed. He said the plan focuses on boosting the supply of eggs, vegetables, and fish – which are commonly consumed food items in Singapore.
Being land scarce, the island state relies heavily on imports for food. Rice consumed in Singapore is mainly supplied by Thailand and India, for example.
During his visit to Singapore on October 12, Thai Prime Minister Srettha Thavisin offered to support the island state's food security. While meeting his Singaporean counterpart Lee Hsien Loong, PM Srettha expressed his willingness to facilitate and promote the export of Thai food and agricultural products to Singapore, further enhancing food security for Thailand's southern neighbor.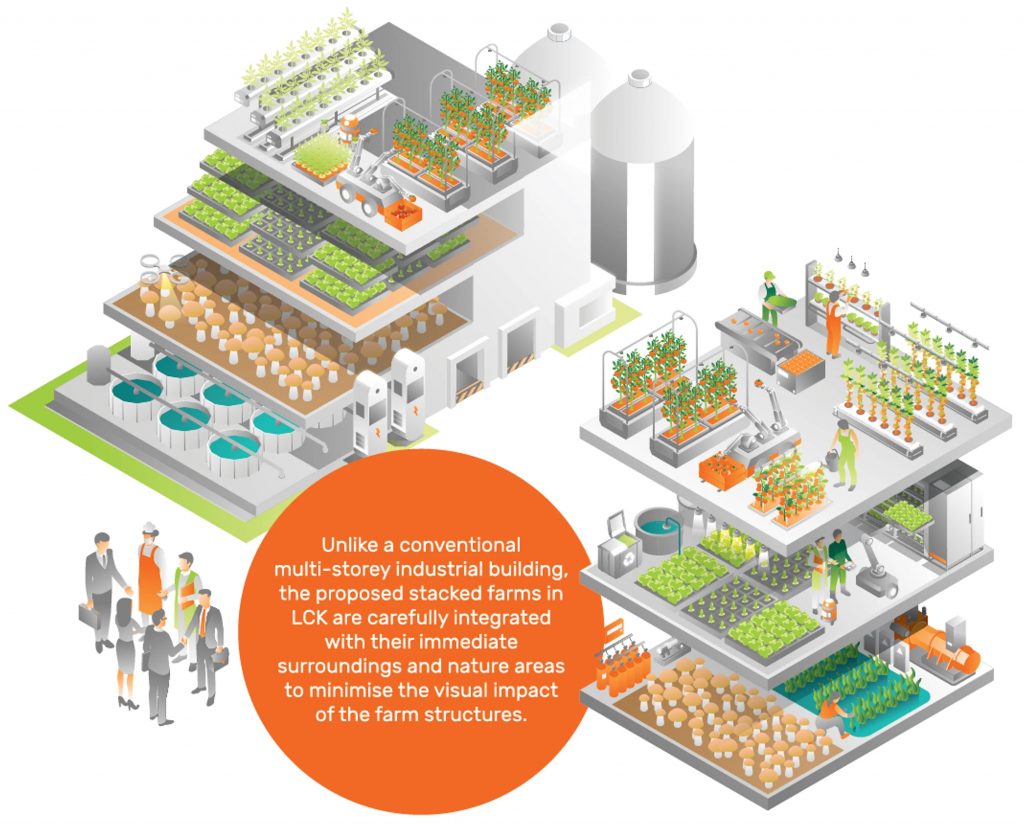 Food tech and innovation
At this year's SWITCH event, Singapore's state agencies including the SFA and the Agency for Science, Technology and Research (A-STAR), joined several startups in showcasing their projects on food innovations.
Among the projects featured at SWITCH 2023, described by Singaporean Deputy Prime Minister Heng Swee Keat as "Asia's leading startup festival", was an agri-food production hub that is highly productive, climate-resilient, and resource-efficient.
The SFA master plan calls for the transformation of Lim Chu Kang village in northern Singapore into an agri-food hub that can optimize farming spaces by "growing more with less" through innovation and technology. This is a big challenge as only 1 per cent of Singapore's land is set aside for agriculture.
The bustling farming site has served as the island state's main food production centre since the 1950s.
This farming area – with 390 hectares (2,437 rai) of land – is being turned into a high-tech agri-food zone to produce leafy vegetables, mushrooms, and fish in a climate-resilient, energy-efficient way. The plan includes a "stacked farm approach" to intensify land use, growing produce in underground caverns to guard against rising sea levels, and using solar panels in greenhouses to harness renewable energy, the Straits Times reported.
The planned stacked farming approach consists of three layers. The basement is for indoor aquaculture farms and growing mushrooms that require no sunlight and can thrive in humid conditions. The first level is meant for indoor farms for leafy vegetables. And the top level can be used for food production that requires natural sunlight, such as in greenhouses for fruited vegetables like tomatoes.
The Singaporean government also encourages the use of alternative spaces for commercial farming, including vacant land and state properties, so as to overcome the issue of land constraints.
Carpark rooftops at many locations across the island state have been used for commercial urban farming to help with the food security effort.
Singaporean households are also encouraged to grow edible plants at home in support of the "30 by 30" target. The government has provided households with the seeds of edible plants since June 2020 and more than 460,000 seed packets have been distributed.
Singapore finTechs expand their footprint in Australia
Singapore VCs see tremendous opportunities in Southeast Asia startups