For the first time in Thailand, LINE Thailand is organizing the LINE Conference Thailand 2023, or #LCT23, along with announcing the vision, direction, and strategies for developing and implementing new LINE technology in the upcoming year. They aim to become an "open platform for Thais," providing opportunities for seamless technology integration while emphasizing Thai user understanding, partnerships, and developers. This underscores their role as a life infrastructure in the digital era.
Dr. Phichet Rerkpreecha, Chief Executive Officer of LINE Thailand, revealed that in over 12 years, LINE Thailand has become an integral part of people's daily lives, pursuing the mission of "Closing the Distance" through a platform and services used by over 54 million people. They are committed to strengthening the local developer community to drive innovations for a Smart Country using Hyper-Localized technology, enabling Thais to grow digitally in a stable and sustainable manner.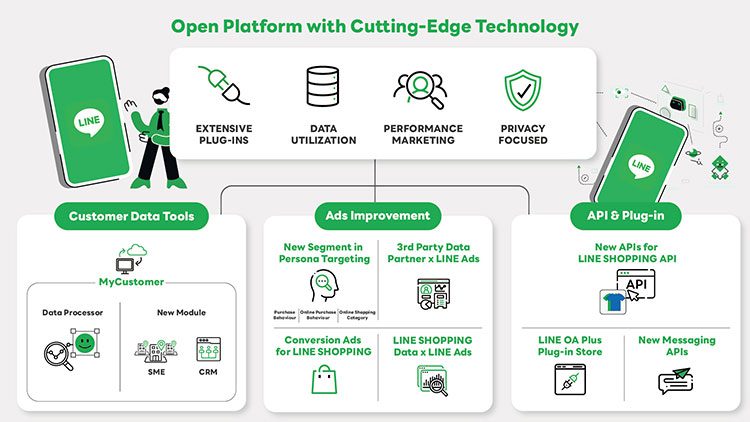 GROUP CHAT to stay firm with Group Work solutions on LINE
Norasit Sitivechvichit, Chief Operating Officer of LINE Thailand, also highlighted the continued development of the basic 'chat' service, particularly LINE GROUP CHAT, which is highly popular among Thai users. The statistics show over 56% growth in the past 10 years, with an increasing rate of sending various message types, including images, files, audio, and video, surpassing global averages.
In the research conducted by LINE Thailand, the most popular categories for Group Chats were Friends (82%), Family (80%), Work (77%), and School (27%). This demonstrates the diversity of user groups and usage patterns. Over 77% of users mentioned that family chat groups helped improve generation gaps among family members, while LINE GROUP CHAT also expedited work processes, resulting in a more efficient work environment, which helped enhance national productivity. Therefore, LINE is committed to developing solutions to uplift work group with work-life-family balance for Thais.
Moreover, Norasit introduced LINE STICKERS PREMIUM, a monthly/yearly subscription-based LINE STICKERS service, offering a wide range of LINE STICKERS at a cost-effective pricefor Thai users. This option aims to enhance user experience and is part of LINE's efforts to develop its digital communication platform further.
The first-ever technology vision by LINE Thailand.
Weera Kasetsin, Chief Product Officer of LINE Thailand, emphasized the importance of continuous technology development for LINE Thailand as an organization dedicated to the Thai people. Over the next five years, LINE aims to become an "open platform" capable of integrating a wide range of cutting-edge technologies to create products and services that align with the behaviors of Thai users, both in terms of consumers, businesses, and partners. This will base on four key strategies:
Extensive Plug-Ins: enable a variety of plug-ins for effortless integration with data solutions, both developed by LINE and external partners or general developers. This will enhance the efficiency of creating products and services that cater to the diverse needs of Thai users.
Data Utilization: promote greater access to data for partners and developers, focusing on both quantity and quality. This will allow for the genuine use of data to drive growth.
Performance Marketing: increase the effectiveness of marketing on the platform by strengthening data management and analysis. This will lead to sustainable business growth through various LINE solutions.
Privacy Focused: maintain a strong commitment to user security and privacy, ensuring that these aspects are treated with the utmost care.
Furthermore, LINE Thailand will elevate technology through the following three roadmaps:
Customer Data Tools: enhance its capabilities to help business managing their customer data more efficient through MyCustomer tools. This includes collecting 1st Party Data from consumers, granting businesses greater access and management of data within the boundaries of consumer consent. LINE plan to introduce MyCustomer for small and medium-sized enterprises (SMEs) and, for businesses looking to manage data for CRM purposes in the future.
Ads Improvement: improve advertising tools to enable better analysis and utilization of brand-acquired data for business growth. This includes new segmentation in Persona Targeting and allowing businesses and shops to access and utilize data from LINE SHOPPING for more accurate and comprehensive advertising through LINE ADS.
API & Plug-In: expand and diversify API connections to meet specific needs comprehensively, for example, new LINE SHOPPING API and New Messaging API etc.  Also, LINE plan to introduce the LINE OA Plus Plug-in Store, which will be a platform for showcasing new solutions from external developers as well as offering an opportunity for Thai businesses to find solutions tailored to their needs.
LINE Thailand is committed to continually improving its solutions and services to meet the specific needs of the Thai people. Through its open platform, LINE aim to provide opportunities for developers both within and outside the organization to actively participate. This had been geared towards advancing the nation and creating transformative changes seamlessly in people's lives through technology.