High tech improves the efficiency of Thailand's fight against COVID-19
In early 2020, when an advancing microscopic enemy known as SARS-CoV-2 threatened to invade Thailand, bringing with it the swelling tide of infection known as COVID-19, the Department of Disease Control (DDC) – the country's warriors confronting the coronavirus – made ready their "army and weapons".
They were on high alert and took strict measures to prevent a local outbreak.
In line with international standards, procedures were adopted for screening cases of suspected infection, and patients who tested positive were sent to hospital for treatment. People in contact with these patients were identified and tested. 
However, when these contact cases returned a negative result, it did not mean that they were completely free of the virus. They had to remain under observation for at least 14 days, during the disease's incubation period. People in this high-risk group had to observe self-quarantine, under strict recommendation from the DDC. It was in this procedure that a weak point soon became obvious in Thailand's fight against COVID-19.
The self-quarantine procedure requires a high level of cooperation and responsibility on the part of those in the high-risk group. Violations of quarantine were soon reported in the media, accentuating the "big gap" that the DDC perceived in the country's quarantine policy. The department needed some tools or mechanisms that would ensure that people required to undergo self-quarantine actually did so.
In order to find a solution, the DDC worked with researchers and developers from the Assistive Technology and Medical Devices Research Centre (A-MED) and the National Electronics and Computer Technology Centre (NECTEC), both of which operate under the National Science and Technology Development Agency (NSTDA).
They came up with "COVID Tracking", a tracking and risk-evaluation system to monitor people at risk of infection and infecting with COVID-19. The system was later renamed "DDC-Care".
Monitoring and evaluating people who may be infected
The director of the DDC's Information Centre at the Public Health Ministry, Dr. Yongjua Laosiritaworn, said that before DDC-Care, officials from his department had to keep monitoring people in the high-risk group and occasionally call them to check on their location and the state of their health. This was both time-consuming and labor-intensive.
Despite the strict monitoring efforts, officials still failed to fully enforce the self-quarantine process. Violators were not punished. With the limited number of health personnel, the DDC was unable to provide proper care for real COVID-19 patients.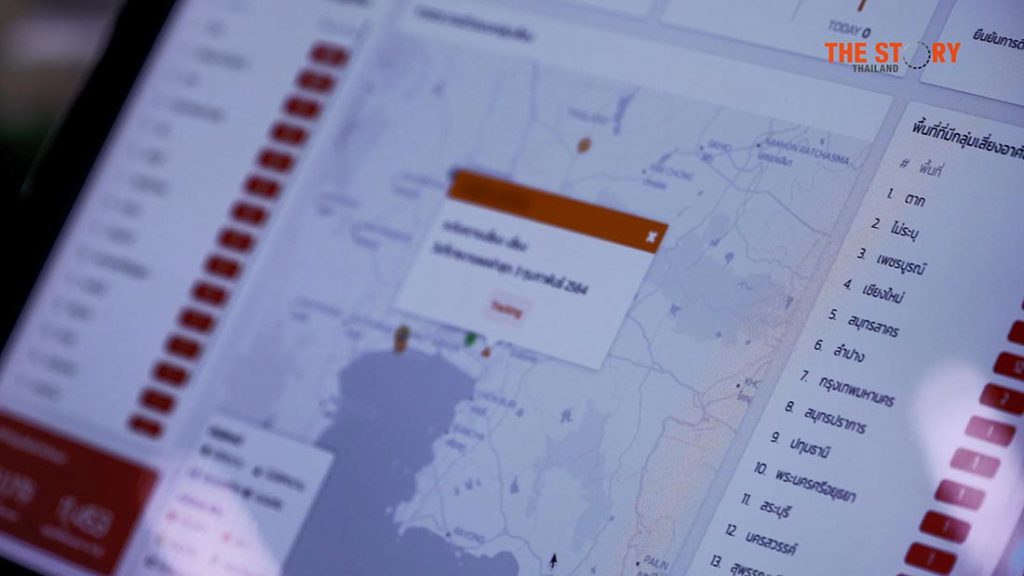 "Public-health officials sometimes made their visits accompanied by security personnel, to collect information about symptoms. That was a big burden. So, we consulted the NSTDA about adopting technology to control the disease effectively," he said.
In the DDC-Care system, technology was applied to lessen the burden of the monitoring task. This allowed health personnel more time to work on matters that could not be substituted by technology.
DDC-Care is able to refute claims by people who are suspected or confirmed of being infected, and are in strict quarantine, who claim that they cannot remember, or attempt to cover-up inappropriate behavior. As a result, searches for people with a high risk of infection or direct or close-contact cases have become more efficient – whether the people concerned are aware of the system, or not.
The Director of the DDC's Disease Prevention and Health Innovation Centre, Dr. Phathai Singkham, said that people who failed to follow the safety guidelines in a situation such as that posed by COVID-19 could represent a serious threat to society as a whole. Without a strict self-quarantine process, high-risk people could spark an uncontrollable spread of the disease.
"We thought of a tool that could bring us more confidence, while assuring Thai communities that local self-quarantine cases were being closely monitored and followed. Therefore, DDC-Care has become an alternative tool to control diseases, particularly COVID-19," he said.
DDC-Care – a system for monitoring and evaluating people who may be infected with COVID-19 – was developed jointly by the DDC, A-MED and NECTEC, with a focus on health reporting, quarantine monitoring and location tracking.
The head of A-MED's Accessibility and Assistive Technology research team, Nattanun Thatphithakkul, said DDC-Care was initiated by the need to locate people who were required to undergo self-quarantine.
The system is composed of three parts: the DDC-Care App, a mobile application for people in the high-risk group to install on their smartphones; the DDC-Care registry, a web application for public-health officials to authorize the registration of DDC-Care App users; and DDC-Care Dashboard, a web application for authorized officials to monitor the symptoms and locations of registered people.
"Its main purpose is to monitor people who need to be in self-quarantine. It allows officials to see whether these people are still in good health and whether they are staying inside the area designated for their quarantine."
NECTEC researcher Naiyana Sahavechaphan said the Dashboard is an important tool that facilitates the tracking and evaluation of people at risk of COVID-19 infection by public health personnel.
"DDC-Care gives users a current overview, including how many high-risk people are in the system, how many of them are in quarantine, and the condition of their health," she said.
"A map shows the location of these people, whether they have completed their quarantine period, whether they have turned off the GPS function, and whether they have gone outside their living area. Officials can monitor these high-risk people both individually and overall."
For risk cases such as those returning from overseas, having been to a populated community, having contact with confirmed patients, or showing symptoms, the DDC-Care Dashboard highlights them as "cases of concern". A DDC official can then phone them to ask about their symptoms.
When people are suspected of leaving their quarantine areas, the system notifies authorities. The DDC then sends out officials to warn them and seek their cooperation.
"The main benefit of DDC-Care Dashboard is in helping public-health personnel to monitor the health conditions of people with risk of COVID-19 infection, so that they can be given timely assistance. Also, high-risk people can be monitored during their period of self-quarantine period in order to restrict an outbreak to a controllable and manageable area," she said.
People identified as being "at risk of COVID-19" are registered by the DDC-Care system. They are notified by hospitals or health officials at immigration checkpoints to install the DDC-Care app.
They are then required to give personal information, the history of their infection risks, and a health report. Thereafter, the system records their locations and sends GPS information to authorities every ten minutes. The data are analyzed under the DDC's guidelines to determine levels of risk.
The app's researchers and developers were aware of the need to protect the privacy of people with risk of COVID-19 infection – particularly their sensitive personal details. Therefore, the Dashboard limits access to personal data, with six levels of access rights: department, region, province, district, tambon, and hospital.
The DDC's Dr. Phathai said DDC-Care stood out among tracking apps because of its "live location" feature, for real-time location tracking with an acceptable level of errors regarding time and location. Also, its Dashboard Visualization feature displays an analysis of results for immediate use. One official is therefore able to simultaneously monitor several people in the high-risk group who require home quarantine. This helps the DDC to save time and personnel for more important tasks.
As people and the situation change, the "system" will also need to change
The most difficult factors in disease control – particularly during an outbreak – are incidents that are beyond expectations and situations that keep changing all the time. In the case of COVID-19, the official focus was on preventing the import of the virus from overseas, dealing with local outbreaks, implementing a national lockdown, and controlling the disease while still allowing economic and social activities.
According to Dr. Phathai, DDC-Care has been upgraded since its first use, which focused on tracking people in the high-risk group. It has since been adapted to handle three major situations involving COVID-19.
First, the 14-day quarantine and health observation for close-contact cases or travelers to and from outbreak areas. Second, tracking people who are at risk of infection due to their work transporting cargoes across provinces or borders, and third, the outbreak in Samut Sakhon province which required quarantine in limited areas between homes and workplaces.
According to Panlop Siripanlop, a specialist at the DDC's Office of Disease Prevention and Control Region 2, DDC-Care was used to track cargo-truck drivers along border areas in Tak province's Mae Sot district, particularly those transporting goods between Thailand and Myanmar. "Thanks to DDC-Care, we were able to quickly intercept a truck driver who contracted COVID-19 after delivering his cargo in Myawaddy, on the Myanmar side," he said.
"With the program's records of that person's locations and contacts, as well as his timeline in different places, we could determine areas for control and restriction."
The DDC's Information Centre Director, Dr. Yongjua, said his department makes use of DDC-Care in three areas: home quarantine, disease investigation, and daily health reporting.
In home quarantine, DDC-Care can verify if people are actually at their designated place of quarantine, and this gets rid of the need for visits by officials.
For disease investigation, the timelines of infected people show where they have been and who they had contact with. This helps to overcome problems of failure to remember or intentional covering-up of the timeline. Also, people with a risk of contracting the virus can be tracked and identified.
In cases of daily health reporting, officials can monitor the symptoms of people who have been in contact with confirmed cases. This helps to reduce the chance of a wider outbreak, as suspected cases can be tested and sent for treatment if found to be infected.
DDC-Care lifts disease control to a new level
After having used the DDC-Care system for more than a year, the DDC and researchers from A-MED and NECTEC all agree that the system has the potential and capability to control outbreaks of emerging and re-emerging infectious diseases, as well as non-infectious health risks such as high levels of PM2.5 particles in the air.
"After COVID-19 disappears, there could be outbreaks of other infectious diseases in the future. Due to the COVID-19 situation, we discovered that the country needs a tool like this," A-MED's Nattanun said. "We have discussed further development of DDC-Care as a national platform to control emerging and re-emerging diseases in the future with the Department of Disease Control and the Digital Government Development Agency," he said.
DDC officials have given positive feedback about DDC-Care, which they say has reduced the time and workload involved in monitoring people in the risk group. Dr. Phathai says it gives them more time to care for cases that really need attention.
"If it is highly effective [with COVID-19], it should be used with other diseases. It can be an efficient channel of communication between health personnel and people in risk groups," he said.
Dr. Yongjua revealed that the system's original name, "COVID Tracking", was changed to DDC-Care when its potential to be adapted for more general use in disease control became obvious. He said the department works with researchers regularly to further improve the program and expand its capabilities.
"In addition to helping to control diseases [in certain areas], DDC-Care can be used to set policies on disease control in a larger social context."
For instance, if quarantine is required for two groups of people in the future after a new COVID-19 outbreak, data collected by DDC-Care can help policy-makers determine which of the groups needs to be dealt with strictly or compromisingly, based on records of their behavior during the current outbreak.
Another example is the use of DDC-Care when reopening the country to foreign tourists. It can be used as a tracking system to ensure that tourists stay within designated areas, and to reduce the risk to local residents while allowing them to earn from tourism.
Moreover, adoption of the DDC-Care system can benefit the country's economy, Dr. Yongjua said. At present, disease control and the economy are intertwined, and the ideal situation is that disease control should not worsen the economy.
The Public Health Ministry's conviction is that good disease control brings a good economy.
The DDC's duty is to find a balance between economic stability and disease control while making sure that disease control does not impact people's living conditions, he said.
The agency is well aware of the difficulty of freeing the country from COVID-19 infections as long as a complete lockdown is out of the question. However, what can be done is to trace the sources of infections and block them from expanding.
"DDC-Care has enough functions to prevent a disease outbreak. Its ability to track the timeline of patients allows us to contain an outbreak quickly. Quick disease control means fewer patients in a new outbreak. This allows our economic activities to continue without the need for a lockdown," Dr. Yongjua said.
"We just need to identify all of the people with infections and people who are at risk of contracting the disease, and deal quickly with those who need to be quarantined. People who need to be quarantined may be affected, but there's actually very little effect on the general public."
He added that Thai people in general can continue with their daily lives. They only have to follow the Public Health Ministry's basic instructions of washing hands, wearing masks and social distancing.
"From a small beginning, the DDC-Care app has grown substantially over the past 13 months. A lot of improvements have been made since the first version. The cooperation between DDC and NSTDA is a small step with great success," Dr. Yongjua said.